Happy, happy new year! I think it's safe to say that 2021 was something of a rollercoaster, but it ended on a high note for us here at XM Institute. We closed out the year by publishing Expert Answers, a page where XM Institute faculty and experts from around Qualtrics tackle some of the most common questions we hear from XM professionals. Wondering whether you should be using a 5-point scale or a 7-point scale? Which questions to include on your employee engagement survey? How to measure the ROI of CX? We've got answers to all those and many more! 
But Expert Answers wasn't the only thing we published last year. In 2021, we added 74 new assets to this site, bringing the total number of resources in our XM Library to a whopping 625 (and counting). Which is a lot of content to navigate through! So to help you narrow down which resources you should check out first – and to celebrate the end of 2021 – I'm going to highlight 21 of our top, most unmissable pieces of content from the year. The list is divided into three groups: our most popular new resources, my favorite new resources, and our all-time top-performing resources. (If you rightly think that all our resources are "unmissable," you can sign up to receive daily or weekly emails notifying you whenever we publish new content.)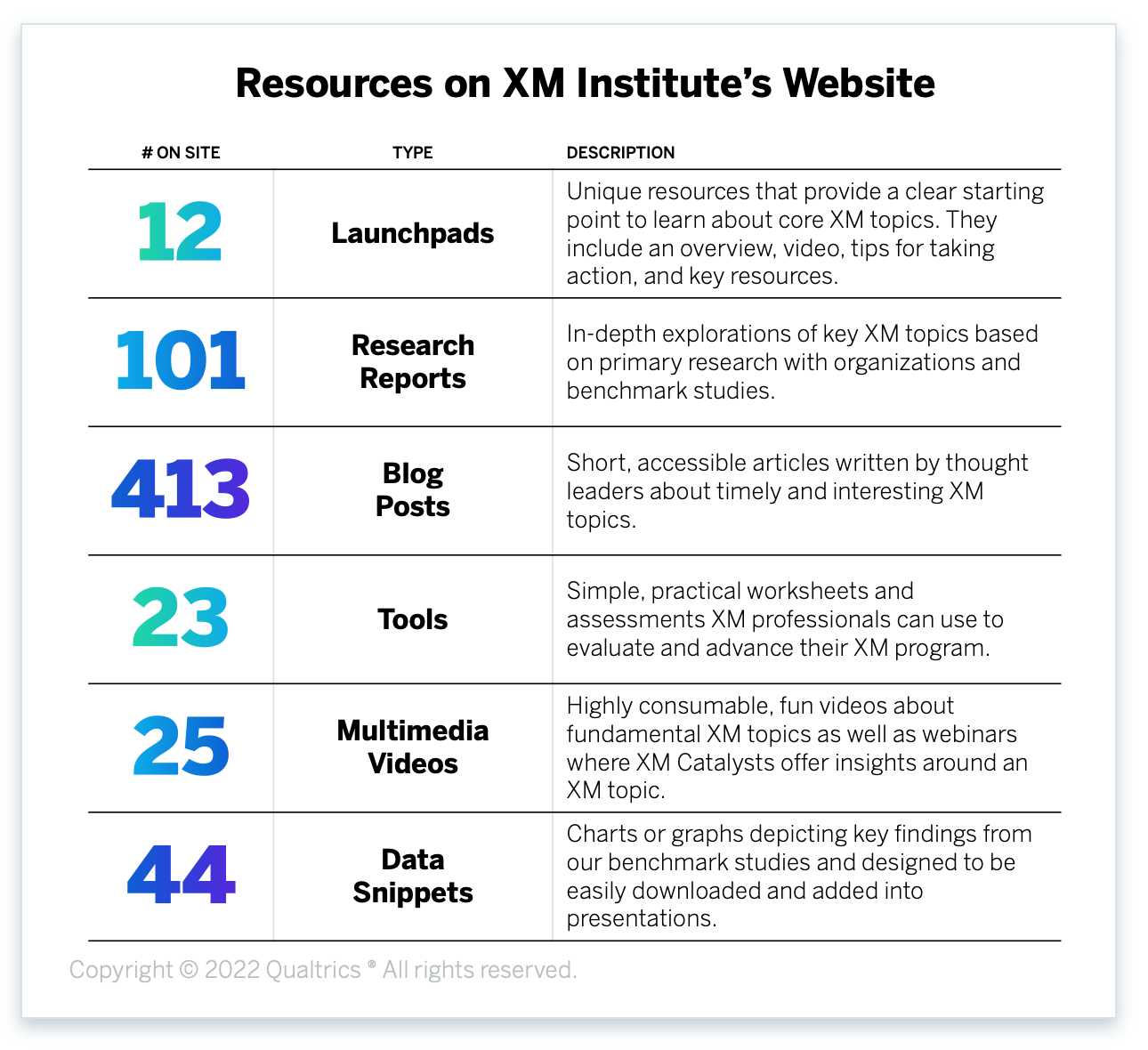 The Rising Stars: Most Popular Content of 2021
Of the 74 resources we published in 2021, the most popular assets were:
The Unsung Heroes: Isabelle's Personal Favorite Content of 2021
Here are the seven pieces of content that, while they may not have attained the same towering heights of popularity as the resources above (though some are close!), I believe still offer powerful insights for any organization looking to build and mature its XM program:
The Heavyweights: All-Time Most Popular Content 
If you follow XM Institute content even casually, you've probably stumbled across these resources in some fashion before. These assets, which often embody some foundational piece of our XM philosophy, have enjoyed enduring popularity since we first launched the site eighteen months ago:
Hopefully, this list introduced you to at least a few valuable resources and ideas that you can use to shape and improve your XM program in the coming year. To stay up to date with all our latest content, sign up to receive our monthly newsletter, the XM Journal.
The bottom line: We are looking forward to bringing you even more great content in 2022 and beyond!
Isabelle Zdatny, XMP, CCXP, is an XM Catalyst with the Qualtrics XM Institute