We're very excited to announce that Qualtrics XM Institute is launching the XM Professional (XMP) Certification. This certification is the world's first credential that recognizes an individual's professional experience and expertise in the discipline of experience management (XM). You can learn a bit more about the XMP certification in this video.
Why We Created the XMP Certification
We created XMP Certification because we really care about the XM profession!
XM Institute's mission is to build a thriving global community of XM professionals who are empowered and inspired to radically improve their organization's ability to deliver breakthrough experiences. XMP Certification is a key ingredient in helping us achieve that mission. 
XM is a rapidly growing area of focus around the world, which means that there will be increasing demand for XM professionals who can successfully define and lead XM programs. The XMP propels the growth of these key people in three ways, as it:
Establishes the "XM Profession," by defining a clear domain of XM expertise

Recognizes and celebrates the people who are mastering the XM discipline

Motivates people to enhance their XM skills and aspire to become XM Professionals
We look forward to XM professionals around the world proudly displaying their XMP credential!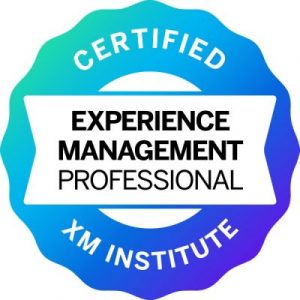 Visit the XMP Certification Site
How the XMP Certification Works
The XMP Certification is open to anyone with real-world experience managing one or more core experiences of business – customer, employee, product, or brand – and has had primary responsibilities that cut across the six XM competencies. Applicants with a four-year undergraduate degree must have three years of full-time XM work experience. Individuals without a four-year degree will require 5 years of full-time work experience in XM.
Qualified candidates can pay a $595 fee (we're discounting it 20% through September 30, 2021) and sit for the XMP Certification exam, which is administered through our online proctoring partner. The exam, which is an 80-question multiple-choice test, covers an applicant's knowledge across the four areas of the XMP Certification Blueprint, which you can see below. To earn an XMP Certification, candidates will need to correctly answer at least 70% of the questions. If candidates don't meet that level, then they can retake the exam for a $195 fee.
An XMP certification will be valid for two years from the exam pass date. During that time, certified XMPs will be expected to demonstrate a continuing commitment to growing their expertise and staying current on new developments and trends within the profession.
XMP Certification Blueprint
At the heart of the XMP Certification is the certification blueprint. This defines the domains of XM expertise that XM professionals are required to master. We've also listed below the weighting of those domains within the certification exam. There are four XM Domains, broken down into 17 topics. 
Domain 1: Understanding Human Experiences

(15% of exam). XM is focused on understanding and catering to the needs of people. To master XM, professionals need to understand how human beings make decisions and respond to experiences. The key topics in this domain are

experience processing

,

behavioral science

, and

research methods

.

Domain 2: XM Foundations

(15% of exam)

.

XM professionals need to know what XM is all about. This domain is about understanding the core structure and underlying elements of XM. The key topics in this domain are

XM as a discipline

,

organizational culture

, and

technology as an enabler

.

Domain 3: XM Competencies

(50% of exam)

.

To implement XM, professionals need to master a set of skills. This domain covers six distinct XM competencies. The key topics in this domain are

leading a multi-year transformation program

,

realizing value from XM

,

activating an organization for change

,

enlightening the organization with insights

,

responding to insights with actions

, and

disrupting the status quo with design

.

Domain 4: Applying XM

(20% of exam)

.

XM professionals need to deploy XM across a number of different areas. This domain covers the basic elements of different experience areas and use cases. The key topics in this domain are

Customer Experience

,

Employee Experience

,

Product Experience

,

Brand Experience

, and

XM expansion
You can learn more about the XMP Certification, including how to apply, what resources are available to help you prepare for the exam, and what to expect when taking the exam (and more) in the XMP Certification Handbook and on our website.
Ready To Get Started? Begin Today!
Answers to Some Anticipated Questions
How much does the certification cost and are there any discounts?
The XMP Certification exam fee is $595 USD and is payable online with a credit card. We offer only one standard discount, which is a $95 USD discount on the initial exam fee for any applicants that also hold an industry-recognized certification and include that information in the application. This discount is currently offered to holders of the CCXP, SHRM-SCP, and SPHR certifications.
*** For a limited time to celebrate the launch of the XM Professional Certification we will offer all applicants a 20% discount on their initial exam fee. This discount offer ends on June 30, 2021. NOTE: This promotion has been extended and the discount offer will now end on September 20, 2021. All existing promo codes will still work until then.  ***
How is XMP different from other professional certifications in the field, such as CCXP and SHR-SCP?
The XMP is complementary to other industry-recognized, experience-based certifications like the CCXP, SHRM-SCP, and SPHR designations. These other certifications are more narrowly focused on managing and leading experience-specific programs, but they operate like the XMP in that attaining those designations is based on experience and expertise independent of a specific learning event. An individual who holds one of these complementary certifications and then becomes a certified XMP is demonstrating mastery of critical knowledge areas across a broader spectrum of experiences. Qualified applicants who also hold an active CCXP, SHRM-SCP, or SPHR certification will be eligible for a $95 discount off their XMP certification exam fee.
Who can get certified?
The certification is open to anyone. Both Qualtrics clients and non-clients may apply. To be eligible to take the exam, applicants must meet experience requirements that have been set to ensure those pursuing the XMP certification have the practical, real-world experience of managing one or more core experiences of business: customer, employee, product, or brand.
Applicants with a four-year undergraduate degree (in any field) must have three years of full-time experience as an XM practitioner or consultant, or five years of work experience without a four-year degree.
What type of "experience" qualifies someone for taking the exam? 
Since this is a professional certification, we only recognize hands-on experience that people have designing, leading, or operating an XM program, which can include CX, EX, BX, and/or PX programs. We also recognize the experience of people who consult or advise companies about their XM programs in topics covering each of the six XM competencies in the certification blueprint. We do not consider working for a company that is in the XM field (such as a vendor or consultancy) as qualifying experience unless the role is specifically and primarily focused on working directly with organizations to improve their XM programs.
What's the XMP certification process?
There are three steps to earning and maintaining the XMP Certification:
Submit Application.

The process begins by applying for certification and documenting relevant XM experience, in order to demonstrate that you meet the eligibility requirements. 

Schedule and Take Exam.

If your application is approved, you will receive a link to schedule your 80-question, multiple-choice exam directly with our online proctoring partner, who will provide you with details on what you will need to do to prepare for the exam.

Renew Certification

. The XMP certification is valid for two years, after which time XM Professionals will be able to renew their certification. The handbook provides more details about the renewal process and requirements.
You can find more detailed information in the XM Professional Certification Handbook.
What is the difference between the XMP Certification and Qualtrics product certifications?
The XMP Certification focuses on an applicant's ability to design and manage an XM program, and has no connection with any specific vendor's technology platform. It validates that an individual possesses the required professional experience and that she also understands the related body of knowledge, as outlined in the four domains in the certification blueprint. The XMP Certification is not a test that is linked to a specific set of training modules. Qualtrics' product certifications focus on an applicant's understanding of how to use the XM platform, and are attained by first completing a specific training program and then completing an associated exam.
How can someone prepare for the XMP exam?
The certification handbook includes suggested resources an individual can use to prepare for the exam, but there is no required guided training program that precedes the exam. Also, the XM Institute website provides a rich source of content where you can enhance your knowledge across the domains of the four domains of the blueprint. 
The bottom line: Showcase your XM expertise with an XMP certification.  
Visit the XMP Certification Site
Updated on July 28, 2021, to reflect the extended launch discount.