Get ready for radical change in contact centers!
That was my realization after listening to Qualtrics clients share some of their efforts during what we've called, The XM Discover Tour. Over the last two weeks, I've visited four cities for a series of events highlighting the Qualtrics XM Discover product, which is based on the conversational analytics engine from the Clarabridge acquisition.
In each city, I opened with a speech about customer journeys, Fabrice Martin and Sid Banerjee gave an overview of the XM Discover platform, companies shared their stories about using XM Discover, and then we had some fun activities and a happy hour. The Qualtrics marketing team did a great job creating an amazing experience in every city. It's been a lot of fun.
It was invigorating to see people in person again. There's an energy from being together that can't be replicated on Zoom. I really enjoyed seeing many of my old friends and making connections with many new ones as well. It reminded me of how lucky I am to work in the Experience Management profession with so many awesome people.
A big thanks to Adobe, American Family Insurance, BCBS of Kansas City, Because Market, eBay, Fidelity Investments, GM Financial, HCSC, Presbyterian Healthcare Services, and Strategic Education for sharing their stories.
Unlocking The Contact Center Goldmine
Customers often interact with contact centers about topics that they really care about. In a recent study of customer journeys that matter the most, we found that customer service had the highest impact on loyalty in 11 of the 22 industries that we studied. Yet most companies harvest only a tiny bit of insight from these critical interactions.
We've been "preaching" about the untapped value of contact centers for a long, long time. There's a gold mine of insights about customers that never get used. In 2015, we wrote Unlocking Customer Insights from Contact Centers, and most of the recommendations in that report are still very applicable. In 2013 I wrote a post, Contact Centers Must Morph into Relationship Hubs where I laid out these nine imperatives:
Enable journeys, not just handle interactions

Focus on customer success, not just cut costs

Have multichannel conversations, not just answer phone calls

Blend with self-service, not just deflect calls

Route to best agents, not just to available ones 

Predict needs, not just respond to requests

Gain business insight, not just analyze interaction quality

Evolve based on feedback, not just survey customers

Engage agents, not just hire people
All of these imperatives remain true today, but they are now much more practical to achieve given the capabilities enabled by a platform like Qualtrics XM Discover. 
The Rise of Conversational Analytics
One of the fascinating slides that Fabrice and Sid have been presenting shows the growth of data that customers have put into the XM Discover platform over the previous four years. Between January 2018 and December 2021, the number of surveys has grown from 1.7M to 94M, an increase of almost 50x. Over that same period, the ingestion of speech records grew almost 650x to 1.2 billion, becoming the largest type of content by far that is analyzed in the platform.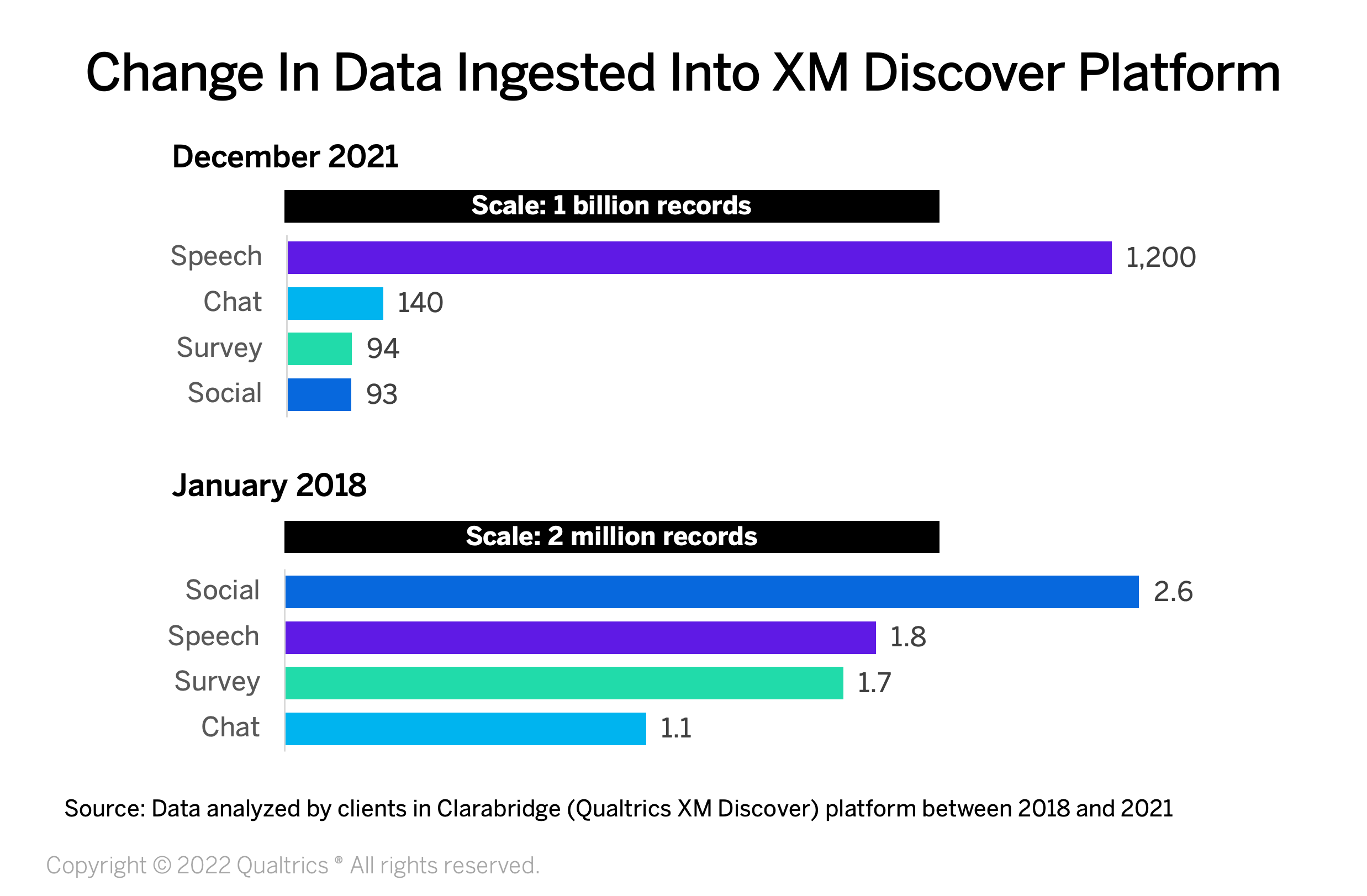 Companies are increasingly analyzing contact center interactions directly, and not just relying on customer feedback and agent notes. This shift represents a completely different paradigm… 
From delayed insights based on a limited sample to real-time insights based on every interaction.
Today, most of the insights come from a subset of customers who respond to surveys, summaries provided by rushed agents, or a small number of contacts that are reviewed by a quality team. The ability to use conversational analytics that can decipher speech, chat, email, and other interactions with customers at a large scale provides the foundation for some amazing new ways of working in a contact center. Let's look at one simple item, the topic of an interaction.
It's common knowledge that you can't rely on agents to identify the correct topic for a conversation, and it becomes even more problematic when interactions involve multiple topics. The unreliability of just this one data point alone can cripple the identification of many of the most important insights. Without it, you can't figure out what volume of interactions should be shifted to self-service, which types of interactions are causing the most issues for customers, which topics are causing long handle times, which topics are starting to become problematic, and which agents are performing best and worst across different types of interactions.
XM Discover can not only automatically identify topics, it can also associate sentiment and effort with those topics for every interaction reliably at the scale required to meet the needs of high volume contact centers. In addition, it uses natural language processing to detect specific agent behaviors like empathy-building and cross-talk. On top of that core analytics engine, XM Discover has built some interesting capabilities. Here are a couple:
Intelligent Scoring. The platform can dissect a customer conversation into many components and then evaluate those elements across multiple dimensions, such as customer sentiment and agent behaviors. You can use this analysis to create objective scores for customer experience or agent quality management, without relying on any solicited feedback from the customer.
Intelligent Call Summarization.

You can create an automated summary containing key events, reasons, and resolutions for every interaction. Many contact centers attempt to do this by asking their agents to write a recap, spending three to five minutes on this "after call work." Without any effort by an agent, you can provide a succinct summary of conversations that can be used to review customer interactions more efficiently.
When these two capabilities are combined with other Qualtrics capabilities such as  Experience iD (robust customer profiles) and xFlow (point and click automation), they open a myriad of ways to trigger actions based on those insights and to create personalized workflows.
A New Model: Adaptive Contact Centers
As I listened to the stories about how companies are using XM Discover capabilities, I saw a pattern emerge. While each of the individual changes that companies discussed was quite valuable, they collectively represent an evolution to an entirely new model, which I'm calling an "Adaptive Contact Center," and is defined as: 
A contact center that proactively improves its experiences, quality, and operations based on actionable intelligence from every interaction.
Adaptive Contact Centers will connect analytics with automated workflows to act quickly on important insights. This ongoing flow of insights will drive an entirely different approach to customer experience, quality management, and contact center operations. Here are some of the practices that companies are already starting to enable:
Hyper-targeted agent coaching. Coaches and supervisors are alerted about specific areas where specific agents need help and are provided with specific segments of interactions to review. They are also alerted when problems start to emerge across agents. Agents will also have the tools for "self-coaching," since they can get immediate feedback on their interactions, track their quality scores, and review specific components of interactions where the system identifies that they need improvement.
Real-time CX tracking. Companies can develop a customer experience score for every interaction and use that data to track how those metrics are trending versus goals. The data can be analyzed across customer segments, topics, and agents to immediately identify areas of concern, and provide the ability to dig into problematic interactions.
Customer health monitoring. Combining insights from interactions with other

operational and experience data

, the company can evaluate the strength of its relationship with every customer. This analysis can help spot issues driving down customer health and identify potential segments of customers where you may be having problems. It can also trigger activities based on those healthiness levels, such as reaching out to a critical customer that may be at risk of not renewing.

Insightful continuous improvement. By understanding the contact topics, agent performance, and customer perception of every interaction, companies can better prioritize decisions such as where to focus on deflection to or containment in self-service, where to invest in new systems, tools, and training, and how to staff agents.
Proactive customer recovery. If the platform identifies that an interaction doesn't go well, either based on an assessment of sentiment, effort, or agent behaviors, it can trigger some follow-up or customer recovery activities. So the company can recover even without any complaint from a customer. Over time, this analysis can be used to adjust an interaction in mid-stream.
Active compliance monitoring. If there are some agent behaviors or topics that may be viewed as extremely sensitive or problematic, the system can detect when those occur. Based on that finding, it can immediately inform the group responsible for monitoring those activities, or trigger a workflow based on the severity of the issue.
Distributed signal sensing.

Stakeholders from across the company can get access to the insights that matter the most to them, quickly and continuously. A product manager can see a summary of the interactions that mention a feature they care about or has negative sentiment about any key product features. A pricing analyst can see what people are saying about a new price change the day after a competitor introduces a new product, even if they didn't know it had happened. 
Adaptive Contact Centers Enable Agility
As unpredictability becomes the norm for the environment that most companies must operate within, it is increasingly important to quickly sense and respond to changes. That's why XM Institute has labeled 2022, The Year of Agility. It's time for organizations to shift from a focus on maintaining stability to an obsession with enabling agility. Adaptive Contact Centers are a critical foundation to this agility, as many of the most important signals about changing customer needs and preferences are sitting in contact centers. The ability to tap into insights from every conversation may be the difference between capturing a wave of demand or being blindsided by a surging competitor. 
The bottom line: Every interaction is an opportunity to learn and improve.
Bruce Temkin, XMP, CCXP, is the Head of Qualtrics XM Institute