Introduction to the Activate Competency
Experience Management (XM) is about much more than improving a handful of experiences. It's a discipline that's woven across an organization's entire operating fabric. To adopt this discipline, organizations must ensure that their entire workforce possess the right knowledge and mindsets to continuously design and improve experiences.
In this report, we examine the Activate Competency – one of the Six XM Competencies that are foundational to the discipline of XM. This particular Competency is about:
Making sure people have the appropriate skills, support, and motivation to achieve desired XM results.
When organizations put time and attention into the Activate competency, they gain the ability to:
Overcome organizational inertia.

People are creatures of habit. As a result, the strong pull of "how we've always done things" can block the adoption of new mindsets and behaviors. The Activate competency focuses on shifting people away from the status quo.

Involve the entire organization in role-appropriate ways.

Rather than taking a one-size-fits-all approach engaging employees in XM transformation, this competency helps organizations connect with people in ways that align with their role, their needs, and

their motivations

.

Support employees' contribution to XM success.

For XM to be successful, employees need to adjust how they do their jobs. Activate ensures that employees get the training, coaching, and tools they need to be successful.

Expand the network of internal XM advocates.

The Activate competency enables

XM core teams

to create broad buy-in and a groundswell of enthusiasm for XM. The creation of internal advocates – or champions – can be particularly helpful in building grassroots support for a broad array of changes required for driving XM.
Mastering the Three Skills of the Activate Competency
The Activate competency is about equipping the organization with the appropriate skills, support, and motivation to achieve desired XM results. It  combines a number of approaches for engaging employees, partners, and other key players in the XM ecosystem so they consistently deliver on the XM vision. There are three skills within this competency:
Ecosystem Communications.

People are more likely to stay aligned with transformation efforts when they understand

why

things are changing. This skill is about

keeping employees and partners informed about the value and progress of XM efforts.

Expertise Building.

XM requires people to learn a new set of capabilities and practices. This skill is about

creating organizational mechanisms to build, spread, and enhance key XM skills across the organization

. 

Role-based Enablement.

Companies must ensure that their employees and partners have what they need to successfully adopt XM-centric behaviors. This skill is about

ensuring that people have the knowledge, training, tools, and motivation to successfully adopt XM-centric behaviors

.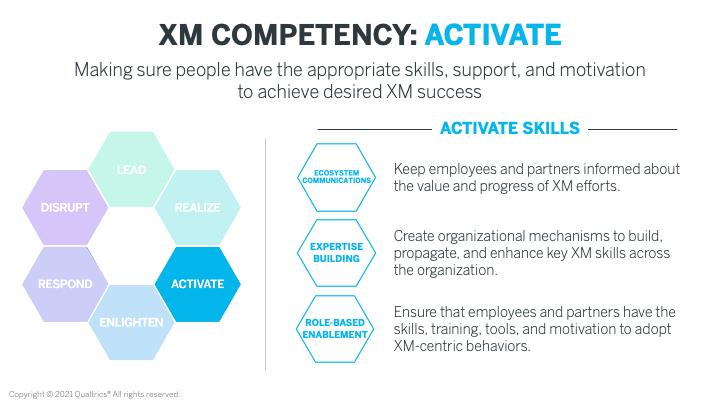 XM Skill: Ecosystem Communications
Organizations tend to flood employees with a constant flow of information vying for their attention. Within this crowded communications environment, XM programs need people to hear, understand, and internalize a myriad of important XM-related information.
 That's why organizations need to leverage the skill of Ecosystem Communications which is about keeping employees and partners informed about the value and progress of XM efforts. To put this skill into practice:
Define a formal communication strategy.

Any organizational initiative can easily get off track when employees get too little information, are exposed to disjointed messaging, or miss out on compelling content like success stories. That's why XM program roadmaps need to include a

formal communications strategy

. To ensure the right information gets to the right people in the right form, the strategy should identify target audiences, critical top-line messaging themes, delivery channels, and frequency . This strategy shouldn't be static, as it will need to be adjusted over time as the program evolves. There should be a clear owner of this workstream who leads cross-functional coordination, which would include getting sufficient support from the internal communications team and assigning specific responsibilities to key leaders for communicating and reinforcing key messages. One technology company manages its XM communications with a 12-month editorial calendar that identifies its internal stakeholder groups and key messages including executive communications, client profiles, employee stories, field notes, and project and metrics updates. Champions from HR and Marketing help to jointly manage this calendar and ensure it's directed towards building connections across the business that enables them to deliver better experiences to their customers and employees.
Tailor messages to specific audiences.

If you want to influence people, then the information that reaches employees, partners and others in your XM ecosystem has to be interesting and relevant to them. Since different groups have distinct information needs, the communication strategy must personalize key themes and messages for different audiences. To ensure the content is motivating, it's critical to

share

why

XM is important to each group, not just

what

the company is doing. A global software firm produced a communication series to promote its new customer advocacy objectives to employees by highlighting wins and successes. Each entry in the series told the story through the eyes of the specific employees involved and provided them a platform to share what they observed, why and how they got engaged, and how they improved the customer's experience. Stories were curated by role so whether someone was in sales, field operations, global services, or other areas, it was easy for employees to find stories relevant to their work. 

Establish internal feedback loops. To ensure communication efforts are hitting the mark, organizations need to put in place avenues to hear back from employees. Without these in place, they may discover too late that messages are confusing, not resonating with some groups of employees, or miss out on helpful insights from inside the organization. A variety of employee social platforms can help shift the typical top-down approach to corporate communications to an interactive dialogue that surfaces employees' reactions to information and enlists employees at all levels in communicating . For example, one financial services company regularly uses its employee intranet to announce changes to products and member services. On one such occasion prior to introducing a new self-service tool for customers, the internal announcement generated such a high volume of comments from employees saying the change did not reflect member feedback that the company paused the roll-out. Another firm used a more localized approach within its online discussion platform to gather employee input to enhance its employee experience (EX) efforts by identifying training practices, tools, and career development suggestions along with local volunteer opportunities or services. The company observed that seeing peers participate in the idea exchange often encouraged employees less likely to give input to take part in the dialogue.
XM Skill: Expertise Building
As organizations build their XM maturity, there's an increasing need for employees to learn new skills. This includes not only the XM core team, but also the employees across the organization who use insights to guide decision-making, those who need to address XM deficiencies by designing or improving experiences, and the ones who need to embody brand promises that bring the organization's desired experiences to life.
To close the capability gaps, organizations need to master the skill of Expertise Building. Since this skill is about creating organizational mechanisms to build, spread, and enhance key XM skills across the organization, organizations need to boost capability-building across three areas:
Build XM core team capabilities.

The

XM core team

is the key group for driving change across an organization. This team serves as coordinator and catalyst, overseeing collective goal setting, enforcing standardized approaches and tools, and cross-pollinating ideas and best practices . To be successful, these XM professionals need to leverage all elements of the

XM Operating Framework

: technology, competency, and culture, along with having an understanding of human behavior and expanding the use of XM across their organization . The XM core team also needs to build a set of  "

soft skills

,

" like being able to connect with and understand the needs of their stakeholders and building their enterprise intelligence with organizational awareness. This expertise is built through a mix of tactics, including (1) formal synchronous and asynchronous development programs from vendors, associations, and training providers, (2) network knowledge sharing with fellow XM professionals in structured communities or at events, and (3) on-the-job practice taking what they learn from working with consultants or other experts and applying it on their own.

Build insights users' capabilities.

A lot of effort often goes into the collection of data and the creation of insights. However, organizations often don't focus enough on preparing individuals to successfully understand and put the insights to use. While some people may naturally understand and use the insights, not everyone in the organization will have a

data-centric mindset

. That's why XM teams need to work with key insight users and help them build this expertise through training and coaching. This extends beyond explaining how to click through dashboards to include how to interpret the data (and how not to), tactics for diagnosing what the data means, and the best ways to address implications with their teams. XM teams should build an enablement approach that combines structured training, ad-hoc assistance, observation and practice, and ongoing reinforcement . 
Build enterprise-wide capabilities. Even with experts on the XM core team, organizations cannot underestimate the importance of everyone in the organization understanding XM and how they each play a role in the success of the XM strategy. This relies on distributing some "universal" XM skills and mindsets to augment the work done in each specific role, including capabilities like XM goal alignment, empathy orientation, and improvement focus . Federation of these capabilities is often most successful in interactive or application-oriented sessions that help people connect the content to their roles. To enhance organizational

empathy

, a US-based health system used

Empathy Board Workshops

to frame discussions around negative patient feedback with employees. Using patient personas depicting what they may be hoping/fearing/expecting at the hospital, small groups of employees brainstormed ways to address the negative scenarios and then those ideas were tested to see if they could be authentically delivered. A moving and logistics company gamified the spreading of knowledge, taking popular board games and modifying them to bring frontline and back office employees together to explore stakeholder needs, understand pain points, and incorporate those learnings into their own work processes.
XM Skill: Role-Based Enablement
As with any strategic transformation, XM requires employees to change what they do and how they do it. So it's critical for employees to know what they need to change and feel supported in making those shifts. If not, then employees won't act consistently with the XM vision and will be much less likely to proactively support the change efforts.
To ensure that people are prepared to make changes that connect with the XM vision and strategy, organizations need to embrace the power of the Role-Based Enablement skill, which is about ensuring that people have the knowledge, training, tools, and motivation to successfully adopt XM-centric behaviors. Here's how to bring this skill to life:
Define a set of XM-centric behaviors. A key step in activating employees is to make sure they understand what changes they need to make. This starts by defining the expected behaviors and explaining how employees across different roles can change their operating routines to support the organization's XM strategy . One municipal government enhanced its citizen experience by defining a set of

quality service guidelines

through a three-phased process that included input from the city's executive team, middle managers, and frontline employees. Building upon an internal values assessment, employee representatives first brainstormed ideas across 10 categories, which were then reviewed and distilled through a ranking process that resulted in an ideal representing each category. Once approved by the city's leadership team, these ideals were incorporated into employee training and other activities to influence desired behaviors. 

Motivate the adoption of XM behaviors. To sustain new XM-centric behaviors over time, organizations need to keep them top of mind with employees. That's why it's important to embed these behaviors within ongoing activities such as hiring, performance management, learning and development, and recognition programs. There are a variety of ways to motivate desired employee XM-centric behaviors, particularly by tapping into intrinsic motivators — competence, purpose, choice, and progress — with non-compensation incentives, including peer-to-peer "social" recognition, on-the-spot acknowledgement, team celebrations, and formalized XM recognition . One services organization established a four-pronged "people pledge" intended to drive business performance by putting people first through

leadership, focus, talent,

and

caring.

The tactics included a dedicated leadership assessment and development e-series designed to prepare leaders to support the employee-focused philosophy and explicitly fulfill their role as performance coaches. Within its core competency model, the organization defined the knowledge, skills, and behaviors by level to deliver desired results, which were then shared with employees via personalized roadmaps and trained through monthly e-learning courses. The entire people pledge was integrated into its talent management platform so that it and the competency model were reflected in performance evaluations, succession planning, hiring processes, and recognition programs.  

Cultivate a group of XM ambassadors.

To create sustainable change, XM core teams must extend their reach and generate grassroots support for the changes they are catalyzing. One effective tactic for propelling change is to build a group of internal advocates, often called an

Ambassadors or Champions Program

. XM Ambassadors help build momentum from the ground up by amplifying XM communications within their teams, modeling and encouraging XM-centric behaviors, providing input and feedback to the core team, and surfacing and sharing success stories and best practices.  One telecommunications company tapped into its ambassadors to develop employee involvement, communication, and recognition plans tailored to meet the needs of their specific workgroups. This collection of 100+ volunteers, working under the guidance of the XM core team, focused on encouraging and incenting employee participation in XM activities within their workgroup. 
This content is locked
Please register to gain access to all XM Institute resources.