Experience management (XM) professionals regularly ask me how to discuss XM with their senior executives. Since I'm often providing thoughts on the topic, I decided to share my approach in this post.
Rather than trying to convince senior executives to care about XM, I engage them in a dialogue about things they already care about—and then show them how XM can be a valuable capability for achieving their goals. That's why I don't lead with topics such as Experience Economy or experience data (X-data). Instead, I aim for a discussion that flows through these stages:
Setup

: Establish Change As an Ongoing Reality

Inspire

: Explain How XM Enables Organizational Agility

Reinforce

: Provide Success Stories and Data

Elaborate

: Describe the XM Journey

Nurture

: Share Informative XM Content
Setup: Establish Change As an Ongoing Reality
My first recommendation is to make sure that executives understand why they should care about XM. I don't start by pushing the concept of "experience." Instead, I explain that XM is a capability that will improve their organization's level of agility. To help make this point very relevant, I ask the senior executives to think about two questions about their future:
Do they expect that customers will become more or less demanding?

Do they expect that employees will become more or less demanding?
As you can see in the chart below, most senior executives expect customers and employees to be more demanding, and very few expect them to become less demanding.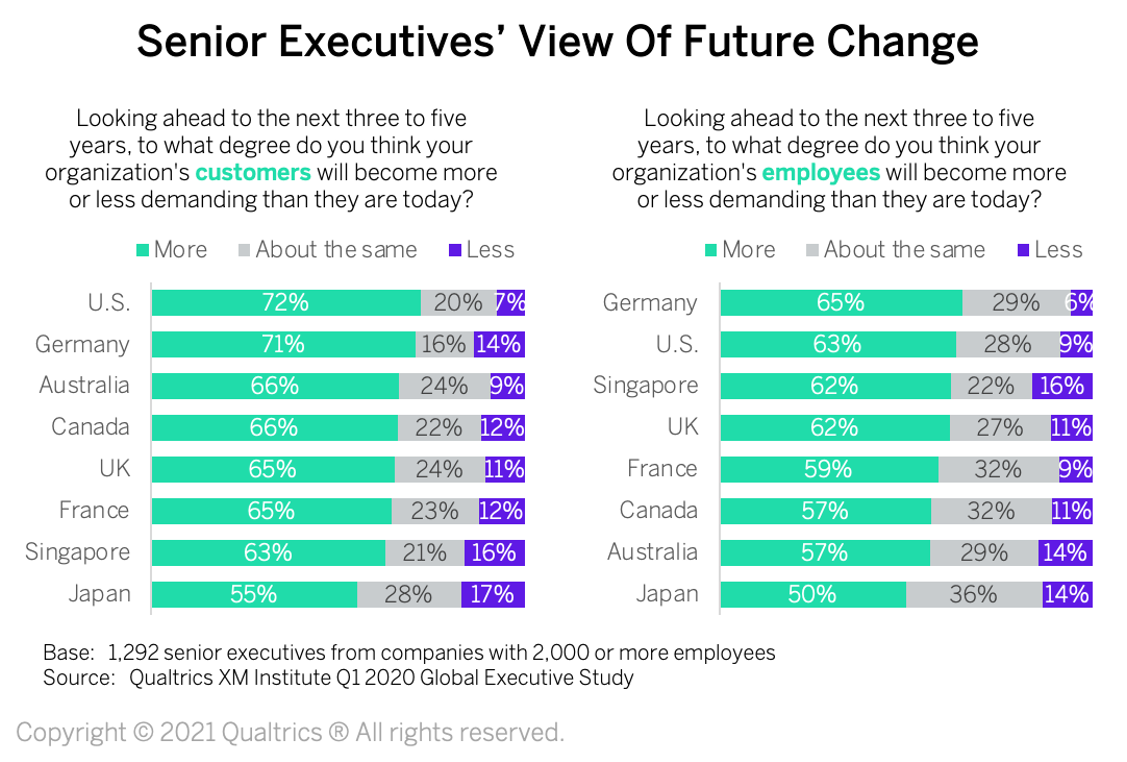 To amplify the need for agility, I also ask executives to think about the previous year with the pandemic and reflect on how important it was for them to understand the shifting needs of their customers and employees. Looking ahead, I recommend that senior executives prepare for more of these disruptive changes.
Inspire: Explain How XM Enables Organizational Agility
Hopefully, I've been able to make the case that there will be a growing need for the organization to sense and respond to changes. So now I move on to the next part of my argument… how XM creates agility.
I explain to executives that organizations historically use operational data (O-data) to run their operations, but this only provides a backward-looking view into what has happened and lacks insights into why things are happening. XM augments O-data with X-data, which is how people are thinking and feeling. This combination of data can fuel a richer and more actionable set of insights that can be used to make better, faster decisions.
It's now important for the senior executives to understand that XM is not an isolated set of activities, but a discipline that should be embedded across every function and within every process across the organization. That's because XM enables three critical capabilities:
Continuously learn

. XM enables organizations to discover and interpret signals about how all of the people throughout their ecosystem are thinking and feeling in an ongoing fashion. 

Propagate insights

. XM enables organizations to share relevant, actionable insights with people across an organization. 

Rapidly adapt

. As the flow of actionable insights increases, XM efforts empower organizations to quickly and meaningfully act on that information.
This chart shows some examples of how XM agility plays out across an organization.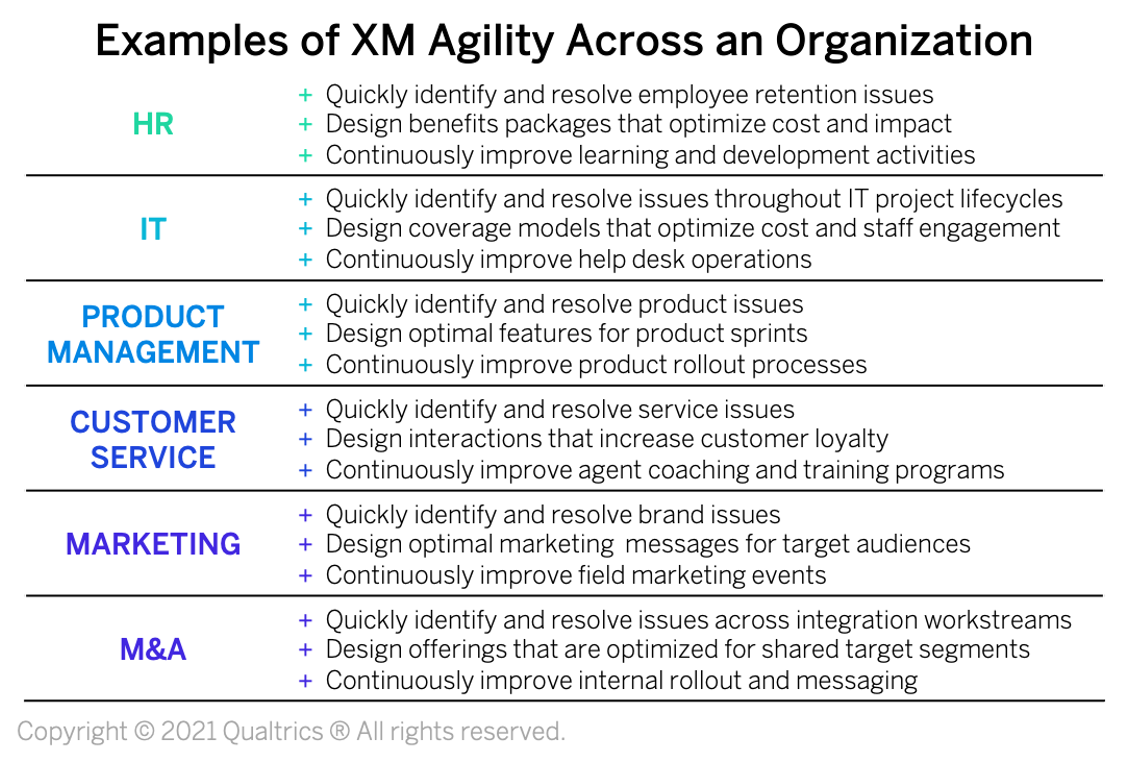 Reinforce: Provide Success Stories and Data
Once an executive understands how XM provides agility through the ongoing design and improvement of experiences, it's time to reinforce their interest by sharing examples of XM success. A good source for this information is case studies like the ones you will find on the Qualtrics website. I will usually show one of the videos since they often show how XM creates agility (the BMW video is one of my favorites).
Another source of success is industry data. You can find this type of research on the XM Institute website in the ROI category. Here is an example of downloadable "Data Snippets" that you can use to share with your senior executives (you can download this Data Snippet here).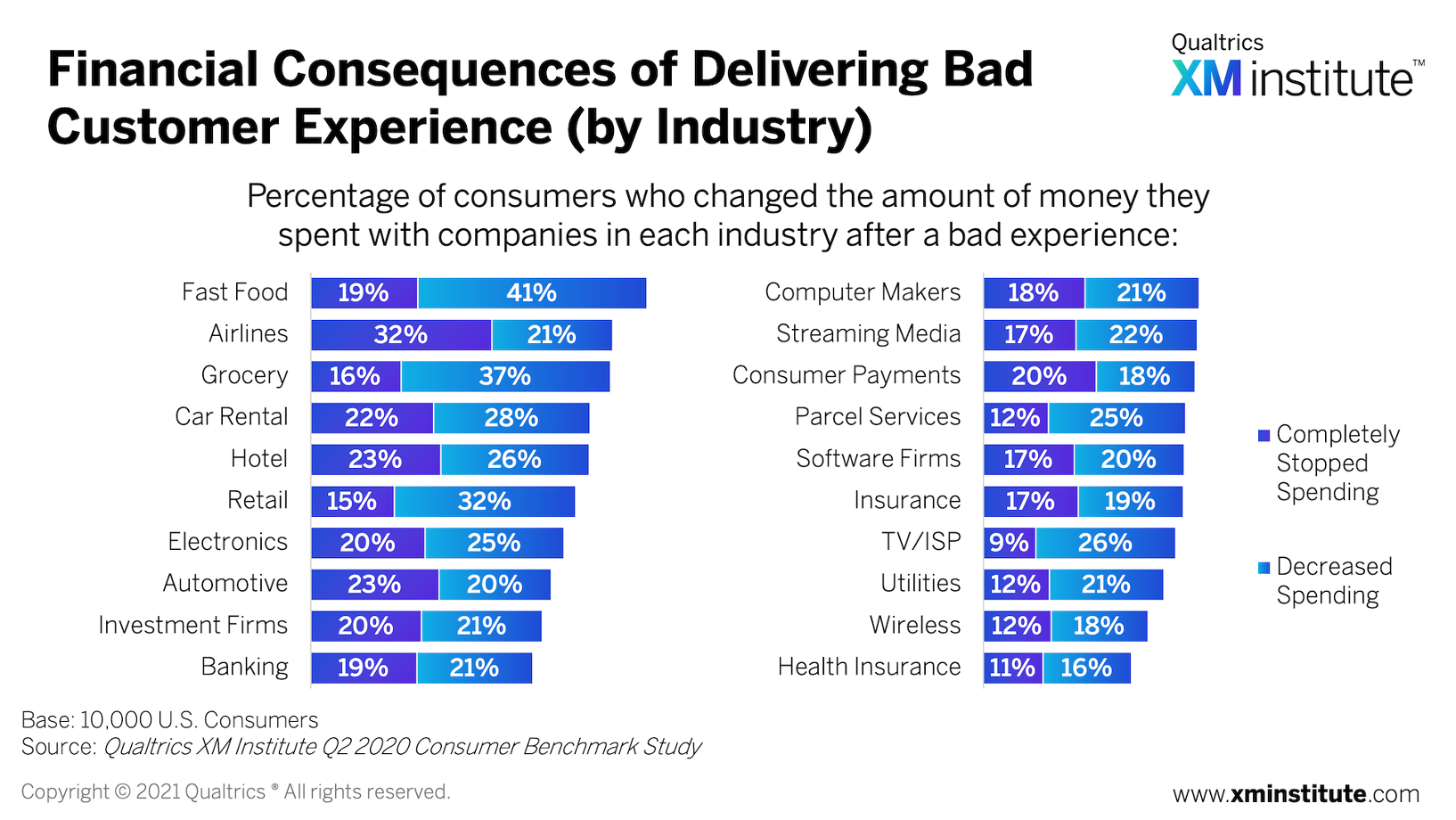 Elaborate: Describe the XM Journey
Once I've piqued senior executives' interest in XM, it's time to explain some of the details about XM. At this point, I want them to understand that the path to XM maturity requires a multi-year transformational journey that is built on the three foundational elements of the XM Operating Framework:
Technology

: The technology platform that empowers an organization to collect, understand, and take action on insights and data. A powerful XM platform is an essential component of any XM effort as it allows the company to capture, analyze, and distribute a constant flow of insights to the relevant people and processes. Without such a platform, companies won't be able to scale Experience Management capabilities and practices across the entire business.

Competency

: The skills and actions that establish XM as a discipline. At the end of the day, to realize value from Experience Management, companies are going to have to alter the way they operate in a number of different ways – from how they collect and use insights, to how they design experiences, to how they engage leaders and employees in their change efforts. This element is made up of six XM Competencies: Lead, Realize, Activate, Enlighten, Respond, and Disrupt.

Culture

: The mindsets and beliefs that encourage and nurture XM-centric behaviors across the organization. A company's culture will either accelerate or inhibit the spread of XM-centric behaviors and practices. So, if XM is going to thrive across the business, organizations must create an environment that fosters XM-centric mindsets and behaviors in its leaders and employees.
Nurture: Share Informative XM Content
At this point, senior executives should have a good initial understanding of XM and will hopefully be interested in learning more. I look for ways to keep them interested and build up their XM knowledge by sharing relevant information. Here is some XM Institute content that is particularly well suited for educating senior leaders:
Bottom line: XM helps executives create agility to thrive in an unpredictable future.
Bruce Temkin, XMP, CCXP, is the Head of Qualtrics XM Institute