Employee Experience Is More Important Than Ever
Employee experience (EX) has always been critical. Engaged employees are the start of a virtuous cycle that drives better customer experiences and stronger business results. However, the current environment has magnified the importance of EX. The combination of COVID and societal shifts has thrown aside decades of employment norms and structures. There are few, if any, organizations that can operate as they did just 18 months ago. Leadership teams around the world are being forced to rethink their employee strategies as they deal with:
Managing a return to office.

Starting in 2019 when COVID hit, many organizations closed their offices and asked employees to work from home (or from wherever they could get an Internet connection). Workplaces across the globe are now finding their own unique balance where they can rediscover the value of a co-located workforce, in a way that prioritizes employee safety, wellbeing, and expectations. So many leadership teams are navigating the timing and process for bringing employees back to their offices, even while COVID continues to create a fluid environment.

Refining hybrid work models.

The previous 18 months have proven that many employees can be engaged and productive while working from home. Starting as a temporary arrangement, many employees have adapted to this new way of integrating work and life, shifting their expectations of how they want to work into the future.  And many companies are looking to adapt to this new model. But it's not as simple as continuing as-is. Organizations need to rethink location-based compensation models, define requirements for in-person meetings, establish ongoing home office expense policies, and redesign their operating norms to make the most out of this new permanent work model.  

Navigating the "great resignation."

According to a

recent Qualtrics study

, 44% of employees say they plan to look for a new job in the next year. Given the last two years of both personal and professional disruptions, it's not surprising that people are looking for something new. With so many employees open to new opportunities and many of them likely to depart, leadership teams need to enhance their efforts in retaining key employees and recruiting high-quality replacements.

Prioritizing Diversity, Equity, and Inclusion.

Organizations have experienced a significant increase in the requirement for more diversity, equity, and inclusion (DEI) within their workforce. These expectations aren't just coming from employees, as organizations also face rising pressure from customers, governments, and society in general to take responsibility for their role in creating equitable outcomes. DEI is a relatively new area of focus for many organizations, so there's a lot for them to learn and to do better.

Nurturing employee wellbeing.

The last couple of years have taken a toll on just about everyone. From the medical threat of the virus to the challenges of self-isolation and other lifestyle changes, people have faced unprecedented personal and professional stress. In this environment, many employees are more mentally and emotionally fragile than at any time in recent history. Organizations need to factor this human reality, and the role they play, into all of their plans.
It's Time to Modernize Your EX Program
Organizations plan for change, but they currently face an unprecedented shift in employees' needs, concerns, and expectations. In this environment, leaders are being forced to venture into unknown territory as they reimagine the future of work in their organizations. Given the uncertainty and pace of change, it's more important than ever to understand and respond to the shifting needs and feelings of employees. That's what Experience Management (XM) is all about. We define XM as:
The discipline of using both experience data (X-data) and operational data (O-data) to design and improve human experiences.
XM programs need to focus on all of the stakeholders of an organization from suppliers, to employees, to customers. When the effort is focused on EX, organizations build the capabilities to:
Continuously Learn. XM helps organizations more effectively sense and interpret what's going on all around them, collecting and analyzing signals from the actions and feedback of employees, partners, vendors, customers, and even competitors. Employee XM is all about understanding the

preferences, expectations, perceptions, and attitudes

of employees.

Propagate Insights. XM helps organizations put actionable intelligence in the hands of people across their ecosystem who can use it, creating seamless access to the right information in the right form at the right time. Employee XM is all about helping leaders understand the key issues and opportunities across a workforce and providing managers with actionable insights about their employees.
Rapidly Adapt. XM helps organizations act on the insights they've uncovered at an increasingly faster pace, finding ways to create new experiences and renovate existing ones. Employee XM is all about optimizing decisions and triggering workflows like customized manager training and fixing employee portals based on employee insights.
Components of a Modern XM Program
Most organizations already listen to their employees in many different forms, which can often include an annual or semi-annual engagement survey and ad hoc employee listening. These foundational and often disconnected approaches are not enough in a rapidly changing environment. Instead, organizations need to embark on a journey towards a more modern XM program built around four areas: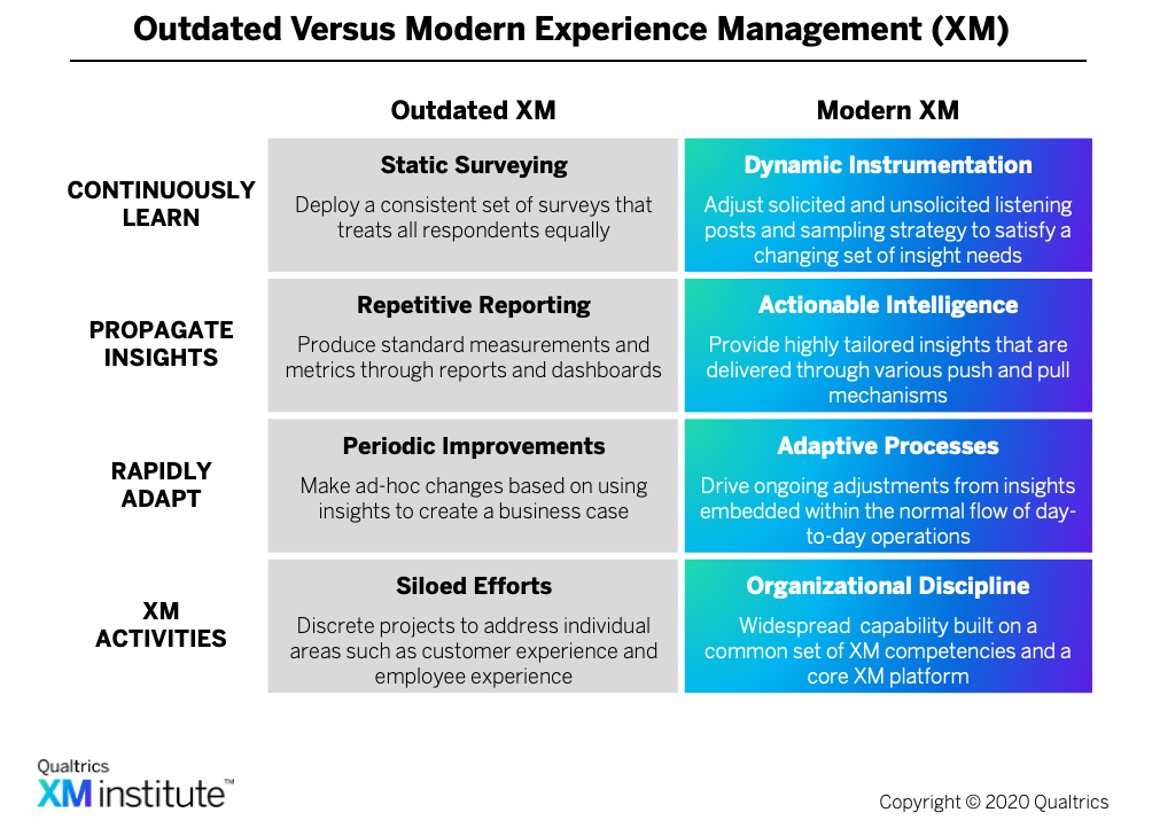 Dynamic Instrumentation. Organizations often deploy a consistent set of surveys to the same grouping of people. This static approach breaks down as an organization's priorities and operating environment change over time. Modern XM efforts take into account the organization's shifting priorities to adjust solicited and unsolicited listening posts and sampling criteria to meet a changing set of needs.
Actionable Intelligence. Organizations often focus considerable energy on producing standard measurements through reports and dashboards. While metrics can be valuable, they only

become valuable when they lead to improvements

. Instead of this repetitive reporting on past activities, Modern XM efforts focus on the future by providing highly tailored actionable insights that are timely and relevant to the people who receive them. As the combination of experience data and operational data grows, they use more advanced and automated analytics to uncover important and emerging patterns in both structured and unstructured data.

Adaptive Processes. Most organizations use their XM-based insights to develop the business case for making changes. But these periodic improvements only capture a very small fraction of the potential value. As the flow of actionable insights adapts to the business operating rhythm, organizations will differentiate themselves based on their ability to quickly absorb and respond to them. This isn't about adding more items to a prioritized wish list. It's about meeting managers as leaders where they are, by embedding insights within their normal flow of day-to-day operations.
Organizational Discipline. Organizations often start their XM journeys with a set of siloed projects, without making any real connections across areas such as customer experience and employee experience. They use a number of different systems, doing very similar types of activities. While these one-off efforts can be valuable on their own, they don't deliver the pervasive change that comes from leveraging and enhancing a set of XM capabilities across the entire organization. Modern XM efforts establish a widespread and engrained capability built on a

common set of XM competencies

and a core XM platform.
Five Recommendations for Modern EX Programs
Modern EX programs must go well beyond the traditional realm of employee engagement, as organizations need to deal with many aspects of the employee lifecycle, from recruiting to termination. We recommend that organizations set their EX sights on these five areas: 
Monitor critical employee attitudes.

Organizations need to continuously monitor how their employees are feeling. This requires establishing a set of employee attitudes that the leadership team endorses as indicators of organizational performance. If you don't have these defined, consider starting with the

Qualtrics EX25

, which covers five areas:  Engagement, Experience vs Expectations, Intent to Stay, Inclusion, and Well-Being. In a modern program, this monitoring is more than an annual survey as it should include rapid and distributed action-taking, along with ad hoc pulses that dig into targeted issues and opportunities.

Continuously improve employee journeys.

The work life of employees is filled with moments that matter such as onboarding, performance reviews, training, returning from extended leave, coaching, and benefits selections. All of these experiences represent opportunities to either engage or disenfranchise your workforce. Gathering and responding to feedback from employees during these moments in their journey enables organizations to prioritize significant improvements in the areas that your analyses show as being significant drivers of key employee outcomes.

Nurture employee-multiplying leaders.

One of the most critical elements to engaged employees is their managers. So an EX program needs to both inspire and empower leaders to better serve their teams. Strong leaders not only improve EX, but they generate much better performance through their

multiplier behaviors

. Organizations need to provide managers with the information they need about their leadership impact, along with resources, recommendations, and motivation for improvement. Consider regular 360-degree reviews and collaborative action planning tools for enhancing manager effectiveness.   

Create employee-centric benefits and policies.

Whether it's determining the future of work plans or designing employee benefits, organizations make many decisions that impact employee experience. While there are always business constraints involved in those efforts, the final results are always better when they include input from employees. Consider using tools such as MaxDiff and Conjoint analysis to understand the trade-offs and sensitivities associated with employee preferences. The need for employee involvement does not end once you pick a direction. It's critical that you

apply good experience design skills

to the communications and rollout of every decision you make, rapidly responding to feedback along the way. This final step is an area where many organizations fail.

Enable opportunities for ALL employees to thrive. As we all work our way towards the establishment of some new definitions of normal, leaders need to remember that many employees will struggle to adjust and that changes will affect some groups of employees much more than others. Given that

human beings are naturally self-centered

, leaders need to become ultra-sensitive to the reality that their "instincts" may not serve them well. Instead, EX programs should include mechanisms for gathering and amplifying minority voices, whether they are from underrepresented groups, geographically separated teams, or employees with different life situations. 
The bottom line: Modernize your EX program to navigate this rapidly changing environment.
Bruce Temkin, XMP, CCXP, is the Head of Qualtrics XM Institute
Dr. Cecelia Herbert, XMP, is the Head of EX Advisory Services, Asia Pacific