Embedding CX Within Five B2B Processes
XM Institute research shows that business-to-business (B2B) organizations are increasing their focus on customer experience (CX), but their efforts remain relatively immature.1
To meet their CX goals for increasing retention and expansion, B2B organizations need to embrace Experience Management (XM) as an organizational discipline. While many early-stage XM efforts rely on repetitive surveys and standard dashboards, modern XM programs enable an entire enterprise to continuously learn from the feedback and behavioral signals of individuals they interact with, propagate insights in tailored formats to the people who need them, and rapidly adapt around what it learns about individuals' changing needs and expectations. 
 As B2B organizations modernize their CX efforts, they need to account for the inherent complexities of their environment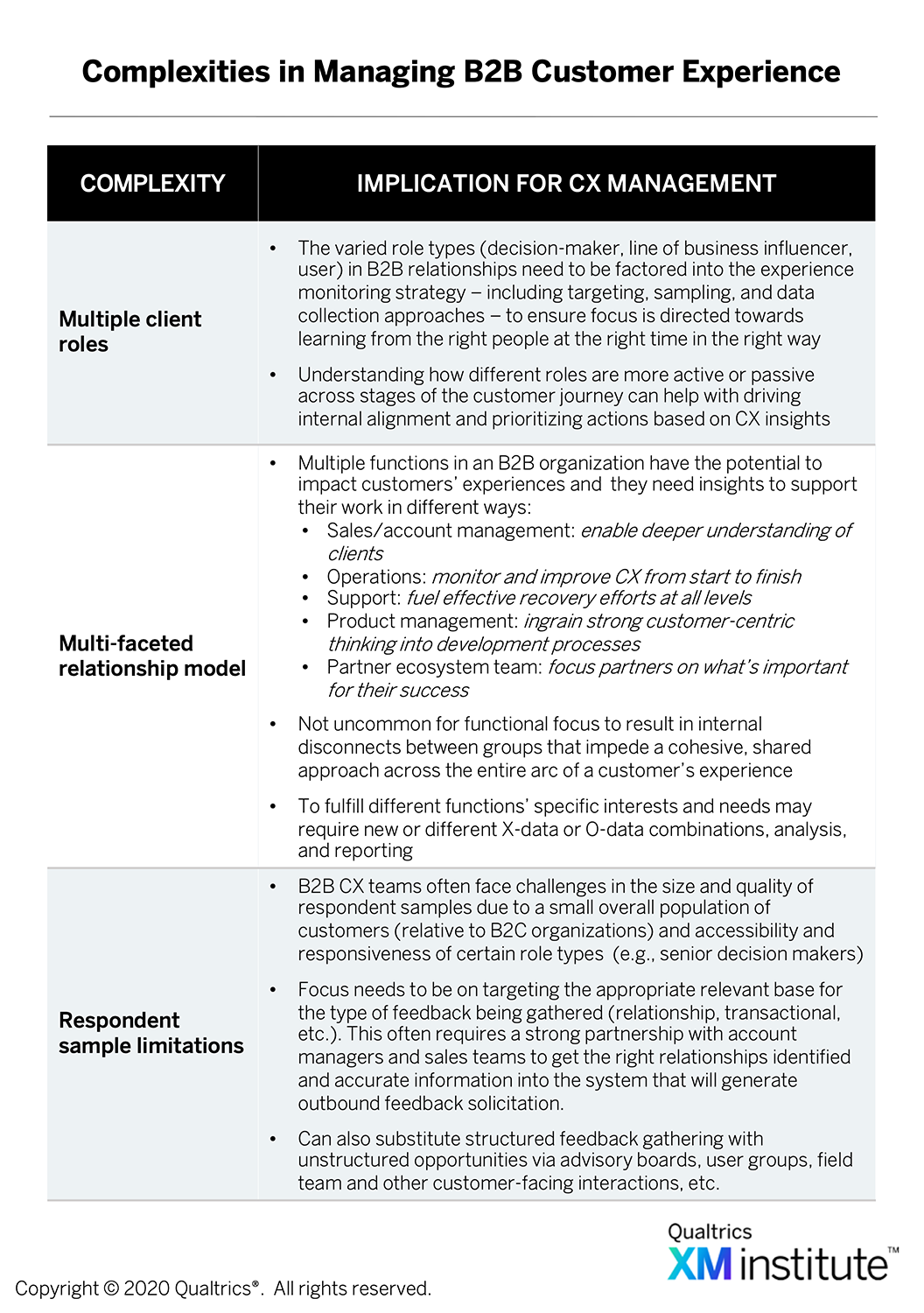 . Rather than viewing CX as an entirely new set of processes, B2B CX teams should embed the XM capabilities into existing business rhythms. What does this look like? We've identified how to infuse CX within five key B2B processes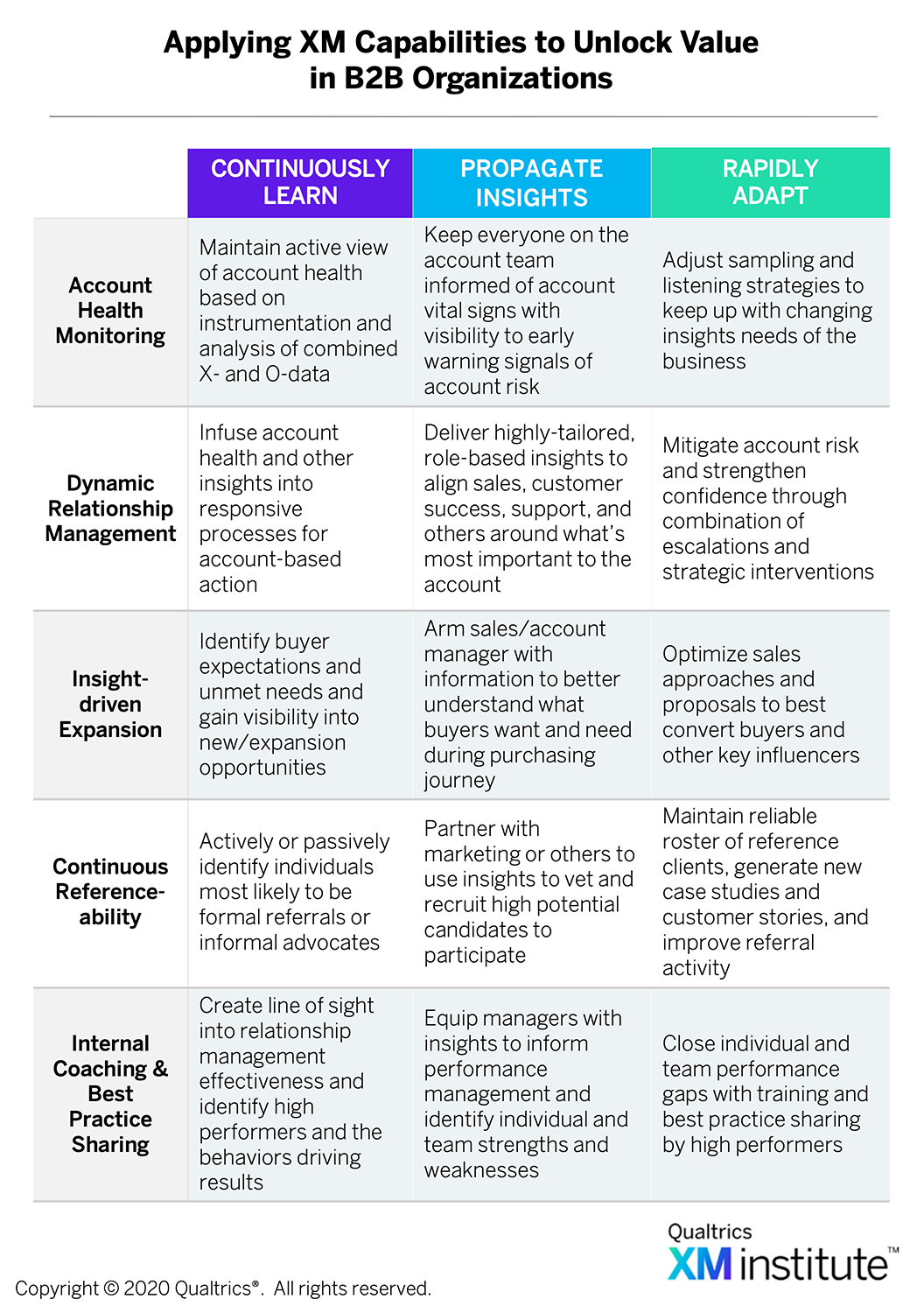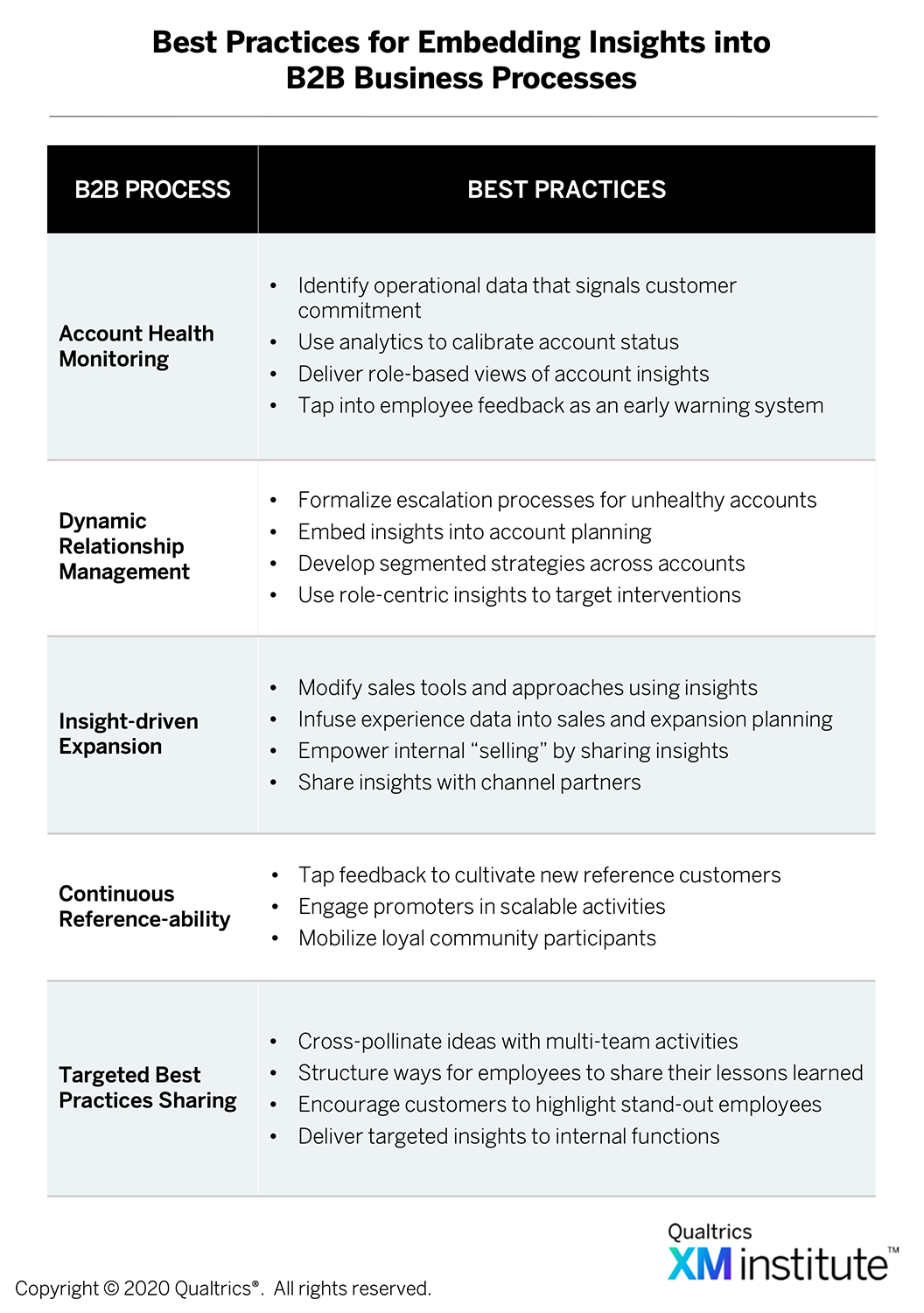 : 
Account health monitoring.

The conditions of a client account can change daily, so B2B organizations can't wait for a periodic business review or rely on limited insights to understand the status of those relationships. B2B account teams need to monitor critical signals based on an ongoing flow of experience data (X-data) and operational data (O-data).

Dynamic relationship management.

As X-data and O-data insights reveal changes to perceptions and loyalty drivers within accounts, smart B2B organizations won't simply rely on periodic reviews to trigger their actions. CX leaders will redesign account management and customer success processes to quickly respond to situations that potentially affect customer retention or growth.

Insight-driven expansion.

B2B organizations rely on expanding sales within existing accounts, as this path is often more efficient than acquiring new customers. To drive more of this growth, account teams should tap into insights to uncover customers' unmet needs and then craft approaches to re-sell/up-sell/cross-sell against those opportunities.

Continuous reference-ability.

B2B clients want to learn directly from their professional peers who are solving similar business challenges. So it is critical for B2B vendors to have a pool of customers who formally and informally promote the organization. Rather than jumping into gear every time there's a request for a reference, B2B organizations should use insights to fuel an ongoing program of identifying, nurturing, and activating the organization's customer advocates.

Targeted best practice sharing.

To succeed with any CX effort, an organization must help its employees succeed in their roles. For B2B, this is particularly true for client-facing groups such as sales and account management/customer success. CX teams should not only quickly identify areas that need improvement, but also leverage best practices from high performers to close capability gaps.
Account Health Monitoring
To acquire, retain, and grow B2B relationships, account management and customer success teams need to actively monitor what's working and not working for each of their customers. This requires more than the typical account-level insights that summarize client survey results on a periodic basis. As B2B firms build stronger CX programs, they must provide a more comprehensive, ongoing view of customers' vital signs derived from X- and O-data. Here are some examples of what companies are already doing in this area:
Identify operational data that signals customer commitment.

While X-data usually gets most of the attention when it comes to CX programs, O-data can be extremely helpful in spotting weak spots in a relationship. As part of its work to assess the long-term commitment of customers, one B2B SaaS company identified that support ticket activity was one of a few key metrics that increased the probability of account renewal. Although it may seem counter-intuitive, their analysis revealed that "no tickets did not equal no problem." This lack of tickets often indicated customers' declining product usage, a halt in maturing their program using the product, or a lack of engagement in the relationship overall. This data point combined with other indicators of commitment, like community portal participation, webinar and training registrations, user group attendance, and product usage, complemented traditional CX metrics to provide a strong read on the likelihood of renewal. Another technology firm uses a customer confidence score, based on data ranging from product release status to performance on service requests to help sales teams prioritize account outreach and gauge when to introduce new offerings.

Use analytics to calibrate account status. Multiple factors and experiences need to be evaluated together to understand the strength (or weakness) of a B2B relationship. This often requires analytics to provide account managers with the indicators they need to see . One global B2B SaaS technology vendor taps into robust operational data on feature adoption to give account teams access to reporting and predictive analytics that alerts them to clients that are struggling relative to benchmarks against the client's deployment goals, industry peers, and ideal deployment paths based on the vendor's top-performing clients. The alerts, which are integrated into the vendor's CRM system, include suggested interventions for the account team based on the client's current state. A network infrastructure provider monitors performance based on a variety of metrics and applies predictive analytics based on

Net Promoter Score

®

(NPS

®

)

, hardware returns volume, support call history, and other criteria to forecast a customer's temperature ("cool" to "hot").

2

 If the predicted temperature gets into the "warm" or "hot" ranges, it drives specific interaction guidance, escalation workflows, and service level expectations for any new issues that come into the support team.

Deliver role-based views of account insights. Insights users across a B2B organization have a variety of needs based on their roles. That's why CX teams should design dashboards to meet the specific needs of different groups of end-users . This information can be useful to drive action at the 1:1 level while revealing overarching themes and gaps to key executive stakeholders whose groups need to be involved in root cause analysis and continuous improvement efforts. One B2B technology vendor wanted to use an update of its approach to CX metrics as a chance to shift the focus of internal employees from "what's the score" to "what's the customer saying about us and what can we do to improve it." To accomplish this with its account-facing employees, the organization created comprehensive account dashboards that provided more than just relationship and transactional survey data, but also open return authorizations, technical support activity, and other operational data across the customer lifecycle. Team managers were equipped with dashboards that provided aggregated views of the X- and O-data to highlight breaks in trends and other indicators of the need for broader interventions, along with the ability to drill into account-level or team member-level performance.
Tap into employee feedback as an early warning system.

When it comes to fully understanding the health of client relationships, employee feedback can provide early signals and extremely useful context. One global financial services organization has identified that its technical services team often is the first to spot emerging customer issues. The CX team uses both digital intercepts in the team's workflow application and regular meetings with pods of technical services employees to gather first-hand feedback about what experiences are broken and what needs to change. One B2B business services organization calibrates account health during quality reviews by having managers and supervisors answer the same questions customers respond to around satisfaction, effort, and issue resolution. This "customer-centric score" is reported on the team's scorecard alongside customer and operational metrics. This approach helps encourage employees to examine the relationship from each customer's point of view.
Dynamic Relationship Management
B2B relationship management requires a balanced focus on both service recovery and value delivery. While B2B organizations may recognize this need, they struggle to break out of reactive mode when it comes to understanding different stakeholders' feelings about the relationship and rapidly addressing opportunities and risks related to renewal, expansion, and churn. Here are approaches companies are taking to use insights to increase their  responsiveness:
Formalize escalation processes for unhealthy accounts.

When signs emerge that the health of a client account is declining, successful organizations will trigger clear escalations across the organization. Based on a combination of NPS

®

by role, along with indicators derived from social media analysis and transactional surveys, customer success managers at one technology company create escalation plans for detractors and non-respondents. The initial round of escalation planning is done in conjunction with regional directors to prioritize where to take action at a relationship level vs. which insights need to be elevated for broader, enterprise-wide attention. This escalation approach runs in parallel with a closed-loop process with top tier targets, all of whom get contacted after providing feedback regardless of NPS

®

classification. When feedback on a service or support escalation indicates an issue, another global B2B technology company sends account managers an automatic alert to respond and then track root cause and action plans. The CX team audits these closed-loop actions.

Embed insights into account planning.

Once B2B organizations gain a deeper understanding of their customers, they need to infuse that knowledge into how they manage and grow those relationships. One technology manufacturer converts its account-level feedback into an actionable plan through a template that coaches account managers through the process of assessing the relationship and developing a strategy for the future. The plan covers the current state of the relationship, future goals for the next 12 to 24 months, and client issues to address, all plotted against a relationship map. Another B2B firm begins account planning before a contract is signed so that clearly defined business objectives are set in place with the client's team and the client success manager assigned to the account. To support these account plans, client success managers can draw from free support services to offer clients, a set of approach playbooks built around common client scenarios, a ready pool of experts to draw into client conversations, and dedicated training and coaching on having the right conversations fitting specific scenarios across the client's lifecycle.

Develop segmented strategies across accounts.

In order to take the right actions with accounts, B2B organizations need to understand what's uniquely important across different segments of customers. One construction technology company used customer operational data and feedback to define five archetypical client profiles based on satisfaction, level of product knowledge, and willingness to partner with the firm. These profiles are used to identify client engagement improvement opportunities, by profile type, across their respective lifecycles. For example, their analysis revealed that for some profile types the currently available product support and training weren't meeting their needs, which created opportunities for account teams to step in to address those gaps until the deficiencies were addressed at the company level. When new product releases are launched, one enterprise technology firm documents how the new features and enhancements align to the needs of its key customer segments so that customer success managers can better promote and support adoption to the best-fit targets amongst their customers. For each segment, the documentation also highlights the innovation level, usability considerations, and compliance relevance to equip customer success managers to handle expected questions from each respective segment. The segment orientation also influences how customer training is designed and curated, ensuring knowledge base articles, learning programs, and other documentation are easily matched to people by their profile.

Use role-centric insights to target interventions.

B2B teams need to understand how individual roles in a customer account (e.g., financial decision-maker, end-user) connect and influence each other, in order to align internal resources and actions. One telecommunications company creates reports that focus on the unique roles of people involved in the account, what's important to each group, and what is likely to influence decisions around additional purchases and renewals. One finding of this analysis was identifying a direct relationship between the perceptions of those involved in handling technical support and billing interactions and the attitudes decision-makers in the account have of the relationship. This clarity on the influence of the people involved in support and billing interactions helped account owners re-balance their relationship management efforts between that group and key decision-makers for each account. This segmentation by customer role type also equips the CX team with the right types of insights to engage different groups across the organization (operations, service delivery, technical support, client services) with guidance on how to make their interactions with specific role types more successful.
Insight-driven Expansion
Rather than helping customers uncover their true needs, many B2B firms push buyers through their sales campaigns, funnels, and processes. B2B organizations should tap into insights to uncover organic expansion opportunities and tailor approaches to better resonate with buyers. Here are some examples of how B2B companies are using insights to fuel their business expansion efforts: 
Modify sales tools and approaches using insights.

To ensure a consistent sales experience for all of their buyers, most B2B organizations invest in embedding common methodologies and tools across their sales force. CX teams should identify how to advance those approaches based on what CX insights reveal. One enterprise technology company has triangulated data on customer needs, value expectations, and product/feature usage and applied its findings to design over 100 role-based demonstrations around compelling, engaging stories that resonate with specific individuals involved in the buying process. Each demo reflects the target role(s), what things targeted buyers value, and their most likely unmet needs to match up the appropriate products and features most likely to expand the account. To help its sales organization move from a product orientation to a solution orientation, one B2B manufacturer took what it was learning about how buyers' expectations were changing and worked with sales leadership to modify its approach with buyers. Improvements centered around buyers' increasing interest to understand where the organization's product roadmap was heading and how to plan to leverage that future direction. In addition, the CX team was able to share information on who customers see as industry thought leaders, the other vendors customers work with, and what companies best provided customers with the experiences they desired. These insights provided sales teams with stronger talking points earlier in sales cycles with current clients and prospects.

Infuse experience data into sales and expansion planning.

B2B CX teams can work with sales and marketing teams to identify and gather insights they may not otherwise have available to inform their strategic and tactical planning. One global manufacturer's B2B CX team contributed experience data for the marketing team's segmentation analysis. The typical segmentation focused on value/revenue, orientation towards supplier relationships, and other demographics. By aligning some of its CX research design and sampling with the organization's key segments, the CX team was able to help uncover insights about the "key decision-maker" role and, as a result, helped the other teams better understand how to reach their targets and how to personalize their approach. A global financial services company uses customer journey maps to get clarity on "who" the organization is talking to at different stages of the buying journey. Using its sales account survey, it is able to extract insights about the buying journey from those directly involved and combine that with relationship insights gained from other influencers and users. Because of this journey-centric perspective, the organization better understands what pain points exist for what roles and are able to address those in RFP responses and proposals, targeting specific audiences with appropriate information and messages at the right time in the buying process.

Empower internal "selling" by sharing insights.

Advocates within a client account often do as much selling as a B2B organization's own sales and account teams. That's why it's important to share insights on the health of the account with those "internal sellers." One B2B technology company conducts account-level analysis to provide its internal champions (primary point of contact) with enough information to help them make the case to the other decision-makers, making sure to highlight the accomplishments the individual was able to achieve thanks to the investment their company made in the product. Leading up to the first renewal, the mix of insights includes highlights of the first problem the vendor helped the customer solve/first value delivered, some ROI modeling, and other tangible outcomes, like audit compliance, specific to the product and the interests of key decision-makers the team wants to influence.

Share insights with channel partners.

Many B2B organizations sell through a partner network, making it important to focus on the customer's indirect buying experience. A technology hardware manufacturer analyzed feedback from both customers and partners to look for similar patterns from both groups. It identified areas where partner pain points translated into end customer experience gaps – for example, customers indicated they had pricing concerns at the same time partner feedback revealed they struggled on how to price deals. The CX team and partner account managers were able to work together to address that issue among others, along the entire relationship lifecycle. When one employee benefits provider identified a need to improve a pain point for companies offering its benefits packages to employees, it brought together its top broker partners who shared this same pain point when selling to these organizations. The partners help the benefits provider better understand employers' and end customers' needs, the decision-making process when selecting providers/plans, and typical selection trade-offs. Together they designed a more effective plan selector tool for helping employees choose their coverage.
Continuous Reference-ability
In an environment where over 80% of B2B buyers turn to their peers for advice during the first 6 months of the purchasing journey and where reviews rank among the top three evaluation criteria, it's essential to understand which customers have the potential to be advocates, and put steps in place to foster that support.3 That's why B2B firms need to use insights as an input throughout the advocacy lifecycle, from spotting advocates to enlisting and nurturing references. Companies can take the lead from some of these practices to activate promoters:
Tap feedback to cultivate new reference customers.

While many loyal customers are happy to advocate on a preferred provider's behalf, B2B organizations need to be cautious of over-using the same individuals. To help keep a reference program supplied with fresh participants, the CX team at one technology firm identified screening questions to use in its relationship survey to identify potential reference customers. If these questions are answered positively, the customer is shown a brief description of the reference program and asked about their interest in talking to the reference team. If the customer is interested, the reference team is automatically alerted and follows-up with the client. Another B2B CX team applies text analytics to comments provided during customer relationship surveys and a subset of its transactional surveys to identify individuals with a strong positive disposition for the company across key themes of interest to prospective buyers. The marketing team then segments these customers by product usage, size, industry, and other characteristics to help fill gaps in its reference inventory and reaches out to account managers to confirm selections and aid in recruitment.

Engage promoters in scalable activities.

While references that advance individual sales opportunities are helpful, promoters can also add value by participating in CX, marketing, and public relations initiatives. One B2B organization invites key customers to not only share their stories as one-to-one references, but also in case studies, webinars, and advertising. A B2B technology company had undertaken an extensive customer journey mapping effort involving a number of groups of customers who participated in mapping sessions. These same customers were invited to join CX team members as "guides" in a customer journey room at the company's annual user conference. The customer guides engaged with other customers to explain the customer journey map they helped create and encourage discussion around their questions and feedback about the map. CX team members shadowed these interactions to capture the questions and feedback to factor into ongoing prioritization and action planning to improve CX across these journeys. These structured interactions between guides and customers organically evolved into unstructured sharing during the rest of the event.

Mobilize loyal community participants.

Customer communities have become increasingly valuable to B2B organizations to both uncover insights and foster advocacy. One organization has found that its community has proven to be a good way to bring customers together to help each other, while also serving as a channel to reduce inbound support calls and to mine for product and service improvements. It has also become a primary place to identify customer advocates among participants. These advocates are engaged in a variety of ways, including recognition at the organization's annual user conference. Another B2B firm invites a small group of customers to be involved in its "champions" advisory board, which gives them a front seat to share their needs and the trends affecting their business to help shape the firm's innovation efforts while meeting and engaging with their peer group. In return for the opportunity to be part of this exclusive group, these champions are asked to do an additional activity each year, from speaking at one of the firm's events to serving as a reference with prospective customers.
Targeted Best Practice Sharing
B2B firms have a great opportunity to infuse experience management more fully into customer-connected processes, but to do this successfully they must develop the right capabilities in employees involved in those processes. One of the ways to accomplish this is to incorporate approaches in their CX efforts to identify and spread the practices of top performers to spur action across broader groups of employees. Here are some ways companies can do this:
Cross-pollinate ideas with multi-team activities.

Because it can be common for CX issues to be relevant to multiple teams, periodically bringing a mixed group of employees together to share ideas on how to adapt their work based on insights is important. As one professional services firm's CX efforts matured, it introduced feedback learning workshops to help business units answer the question, "Now that we know the scores, what do we need to do differently?" These workshops brought together employees from across engagement teams and offices to review client feedback and define action plans. Using both aggregated feedback and a sampling of individual surveys, participants prepared and shared personal experiences and recommendations for how to add more value to the client experience. One global supply chain company hosts an internal CX advisory board three times a year to bring together diverse groups of employees representing a mix of functions across the company. The CX team facilitates the board and uses customer insights to identify the topics of the meeting and shape the discussion. The participants are asked to share perspectives representative of their teams and generate ideas and potential actions that are needed. Following the meeting, board participants are accountable for sharing insights back with their teams and helping to drive cross-functional collaboration across the actions the group agreed upon.

Structure ways for employees to share their lessons learned.

Organizations that want to spread examples of good behaviors need structures in place that make it easy for employees to connect and share with each other. The CX team at one financial services firm hosts an internal podcast where it invites different employees across the organization to participate in a 10-minute interview about what they do for their customers in their role. The team also partners with its implementation teams as they come off of projects to review customer feedback and then co-design training and tools for other teams to use on future implementations. One global manufacturer has created a network of employee volunteers to host job shadowing for other employees and to record videos or participate in training sessions to help make their experience on the frontline with customers very tangible for employees who don't have that level of customer interaction. Employees are supported by and connected with their global peers using a social platform that encourages them to ask questions, submit ideas, and share pictures and videos so they can learn from each other. 

Encourage customers to highlight stand-out employees.

Customers themselves can be a useful source to identify the employees and actions that are delivering the most positive experiences. Because of account managers' importance to retention and account growth, one business process outsourcer gathers feedback on key performance attributes including responsiveness, keeping the customer informed, and how well they meet timing expectations for quotes. Account managers get insight into their own performance through individual scorecards and ratings feed into the employee performance management system. Feedback themes are summarized and reported to sales leadership to educate them and get their involvement in driving necessary behavior change in their teams. A professional services firm gives its clients an opportunity in its post-engagement survey to recognize employees by name for going above and beyond. Alerts are sent to the employee and their manager, as well as the executive in charge of the account, and are used to individually recognize and reward those employees. Employees who are recognized through this process also have the chance to send the client's feedback to others and recognize additional employees whose efforts contributed to the client's positive experience. A program like this is useful for identifying behaviors that are repeatedly recognized by highly engaged clients and ensure they are integrated into performance management models and reinforced in training and on-the-job coaching.

Deliver targeted insights across internal functions.

Customer-facing employees are not the only ones who benefit from using customer feedback to adapt how they deliver experiences. To coach its web team on how to improve the digital experience and address issues like using customer-friendly language and making written and video content easier to consume, one technology firm's web team uses a combination of digital feedback, social media and voice analysis, and customer advisory board input. After identifying how a customer judges a satisfactorily resolved issue, a B2B logistics company used those insights to coach its customer care teams to understand the critical elements of a support call that lead to a successful outcome in the customer's eyes. As each care team practices this new approach, it reinforces learnings by identifying and sharing best practices up to the customer care leadership team to disseminate across each region. This intervention has resulted in a reduction in average time to resolve issues and positive impacts on overall NPS driven by the new resolution processes.
Your Next Steps
As a starting point for embedding CX into key processes, B2B CX teams should:
Review current dashboards and alerts.

In order to provide relevant, role-based views to everyone from customer success managers to sales leadership, co-design dashboards with stakeholders to help them address new questions they're trying to answer and better drive action from the insights.

Refresh your closed-loop process.

Much of the success of B2B CX is effectively closing the loop with customers based on insights triggered by some combination of feedback or operational data. Make sure individuals responsible for the follow-up are trained on best practices for holding productive conversations and have access to clear escalation paths.

Separately examine first-time and repeat buying journeys.

B2B organizations often overly focus on the journey from prospect to new customer and mistakenly assume the journey is the same for existing customers. Given the assorted roles involved in a B2B client, that's not always the case. To get the right insights from the right individuals, take time to investigate and adapt experience monitoring approaches based on how customer roles differ when it comes to repeat or subsequent purchases and renewals.

Inventory your customer reference roster.

Rather than jumping into analysis that ends up activating promoters randomly, collaborate with the marketing and sales teams to identify where there are gaps in reference companies to meet current and anticipated demand. Their guidance should inform segmentation approaches (by company type, geography, industry, product(s) purchased, etc.) to find the best-fit candidates the company needs.

Listen to employees. When setting out to improve CX, don't overlook what employee feedback can reveal about organizational strengths and weaknesses. Be sure to put in place formal and informal employee listening posts early in your XM roadmap to create a flow of actionable insights from their observations and ideas on what's working and not working when it comes to the organization's customer experience.
This content is locked
Please register to gain access to all XM Institute resources.