Digital CX is Integral to Business Success
In today's world, every single business is a "digital business." In the wake of the pandemic, we've moved beyond the Digital Transformation Era and are now firmly in the Digital-first Business Era, where digital technologies, strategies, and capabilities are fundamental to how an organization operates and competes.
In this environment, digital channels are:
The primary interaction channel. Customers expect to be able to complete an increasingly broad array of activities with organizations through digital channels. While COVID undoubtedly accelerated this trend, it's not slowing down as the pandemic recedes. In fact, XM Institute recently surveyed over 33,000 consumers from 29 different countries, and we found that 41% of them expect to do more activities online in the coming months, compared to only 19% who expect to do less. The difference results in an average online momentum index of +22.
A major source of revenue. Digital channels are now a major source of revenue and engagement for organizations. A recent Qualtrics study found that 70% of companies say that digital channels contribute to at least 40% of their revenue, and 85% of respondents expect that number to grow in the coming months. On the other side of the equation, another XM Institute study revealed that gaps in the digital experience cost organizations an estimated 8% loss in revenue each year.
The principal source of data and feedback. As the world becomes increasingly digitized, almost every single action someone takes leaves a digital footprint. As the amount of available digital data grows exponentially – along with organizations' capacity for capturing and analyzing this information – these environments become an increasingly rich source of customer and market insights.
A sandbox for innovation. Because they take place in controlled, flexible environments that are capable of reaching large numbers of people at once, digital channels provide a highly effective medium that organizations can use to uncover, test, and iterate on new experiences at scale. This can include everything from expanding their product portfolio to refining their marketing communications to even updating their go-to-market strategy.
It's Time to Modernize Experience Management Programs
Over the last several years, we have seen organizations establish efforts to better listen and respond to the needs of customers and employees, which have increasingly focused on digital channels. These Experience Management (XM) programs help organizations establish three fundamental capabilities:
Continuously Learn. XM helps organizations more effectively sense and interpret what's going on all around them, collecting and analyzing signals from the actions and feedback of employees, partners, vendors, customers, and even competitors.
Propagate Insights. XM helps organizations put actionable intelligence in the hands of people across their ecosystem who can use it, creating seamless access to the right information in the right form at the right time.
Rapidly Adapt. XM helps organizations act on the insights they've uncovered at an increasingly faster pace, finding ways to create new experiences and enhance existing ones.
Components of a Modern XM Program
Organizations have high XM ambitions, but most are still in the early stages of Experience Management maturity. While nearly every brand has at least some XM activities underway, often in the form of surveying some customers or employees and reporting on a set of metrics, they remain a long way away from fully mastering the discipline of Experience Management. To help organizations envision – and ultimately build – a best-in-class XM program, XM Institute has created what we call "Modern XM," which defines a path forward across four areas: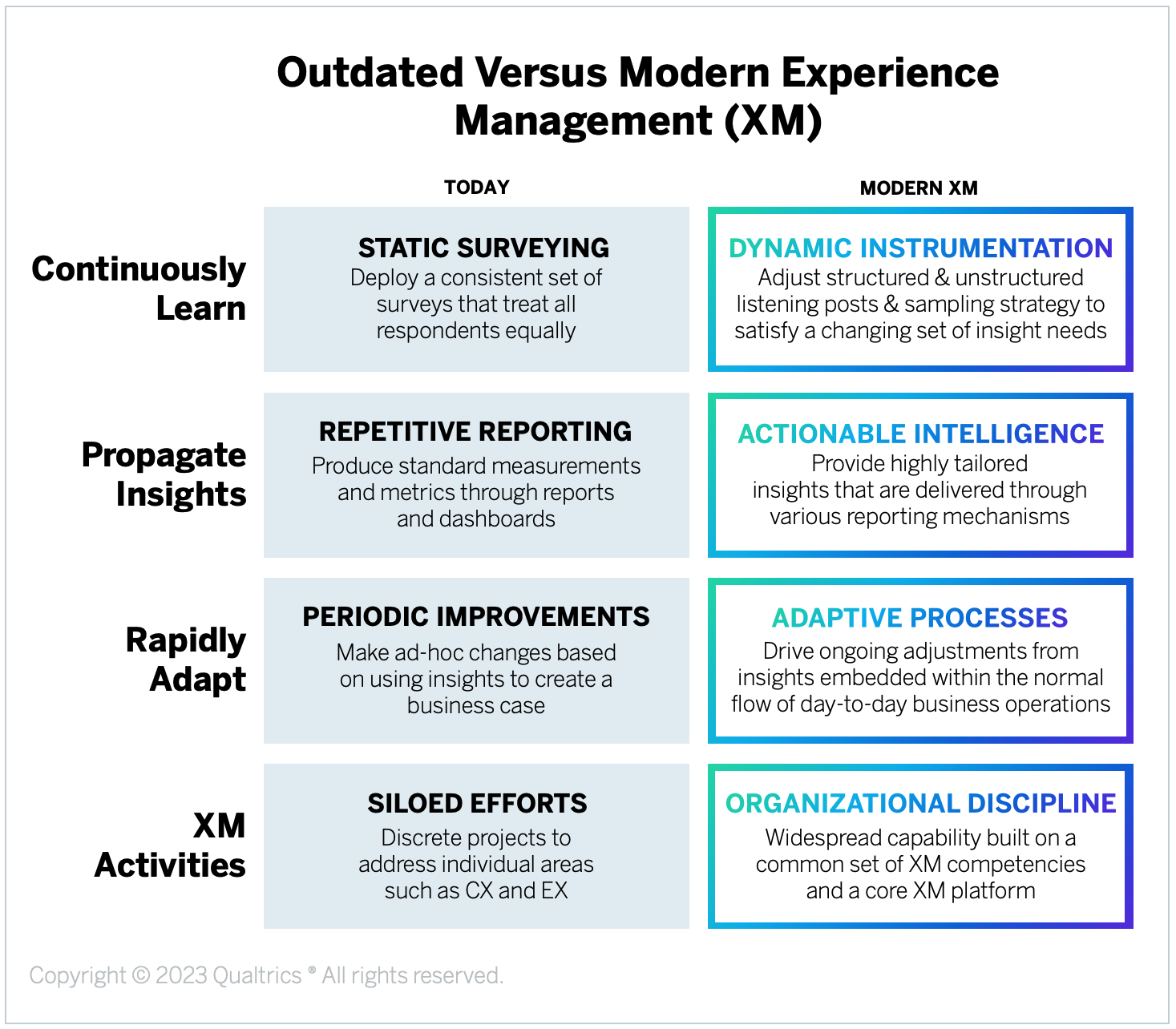 Dynamic Instrumentation. Organizations today often deploy a consistent set of surveys to the same grouping of people. This static approach breaks down as an organization's priorities and operating environments change over time. Modern XM efforts take into account the organization's shifting priorities, adjusting their solicited and unsolicited listening posts as well as their sampling criteria in order to meet a changing set of needs.
Actionable Intelligence. Organizations often focus considerable energy on producing standard measurements through reports and dashboards. Metrics can be valuable, but only when they lead to improvements. Instead of this repetitive reporting on past activities, Modern XM efforts focus on the future by providing highly tailored actionable insights that are delivered through various push-and-pull mechanisms. As the combination of experience, behavioral, and operational data grows, they use more advanced and automated analytics to uncover important and emerging patterns in both structured and unstructured data. 
Adaptive Processes. Most organizations use their XM-based insights to develop the business case for making changes. But these periodic improvements only capture a very small fraction of the potential value. As the flow of actionable insights increases, organizations will differentiate themselves based on their ability to quickly absorb and respond to them. This isn't about adding more items to a prioritized wish list. It's about embedding insights within the normal flow of day-to-day operations. To do this at scale, organizations set up automatic workflows triggered by these insights. 
Organizational Discipline. Organizations often start their XM journeys with a set of siloed projects, without making any real connections across adjacent areas, such as digital and contact center use cases or customer and employee experiences. Instead, these groups work in isolation, using various different systems to do very similar types of activities. While these disparate efforts can be valuable on their own, they don't deliver the type of pervasive change that comes from leveraging and enhancing a set of XM capabilities across the entire organization. Modern XM efforts establish a widespread and ingrained capability built on a common set of XM competencies and a core XM platform.
The Path to Building a Modern Digital CX Program
While many organizations have some foundational Digital CX elements in place, these programs are not yet optimized for the current Digital-first Business Era – let alone for an increasingly digitized future. In fact, the quality experiences delivered through digital channels continue to lag behind that of their offline counterparts. To succeed in this environment, organizations need to embark on a journey towards a more modern Digital CX program, with concrete plans to enable Dynamic Instrumentation, Actionable Intelligence, Adaptive Processes, and Organizational Discipline.
Dynamic Instrumentation
Most organizations today take a static approach to digital listening. They collect experience data from visitors through fixed, generic surveys that are triggered at set moments across the brand's digital channels. They also often track some basic operational data from web analytics platforms and enterprise applications like CRM. While these two inputs can provide significant value in the early stages of maturity, as we move further into the Digital-first Business Era, they suffer from persistent issues – like narrow scope, low response rates, and frequent data lags – that limit their ability to keep up with the rapid pace of change. 
To establish a modern Digital CX program, organizations need to build an agile, responsive listening infrastructure – one that is capable of continuously adapting both its listening posts (solicited and unsolicited) and its sampling strategy to account for the ever-changing needs of its customers and its business. Achieving Dynamic Instrumentation requires three shifts:
Data sources become more unstructured

. A modern Digital CX program has an expansive listening portfolio capable of ingesting data that are packaged up in a variety of different formats and collected from a variety of different channels. This portfolio includes new

types

of data, capturing real-time

visitor behavioral data

like rage-clicking and mouse thrashing,

Zero-Party Data

– where customers actively share their preferences, often during onboarding or enrollment – as well as the more traditional

operational and survey-based experience data

. A modern digital listening portfolio also diversifies the

format

of the data it collects. While it continues to collect structured, quantitative data, it also capitalizes on the explosion of

unstructured feedback

, which includes open text, video/audio files, PDFs, and images. The quantity and variety of

channels

this listening portfolio draws from also grows. It extracts relevant data from both its own company's processes and customer conversations (e.g., open-ended survey comments, support transcripts, in-product feedback) alongside insights from external sources (e.g., social media platforms, review sites, community forums, third-party research). This "open-door" approach to digital listening will facilitate more organic conversations with customers and, ultimately, enable the organization to uncover insights and patterns they didn't even know to ask about. 

Listening mechanisms are increasingly targeted

.

Today's digital listening programs tend to treat customers like anonymous strangers. Beyond some basic contact frequency rules, their feedback requests use the exact same set of triggers and questions for every visitor, regardless of that person's journey, segment, preferences, or real-time behavior. A modern Digital CX program dynamically adjusts the questions, channel, and timing of its feedback requests, tailoring them to each individual. This shift often starts with behavior-based triggers, like deploying an

intelligent intercept

to ask a customer why she is abandoning her cart in the middle of the checkout experience. But as a digital listening program becomes more sophisticated – as it is able to draw from increasingly robust, real-time profiles of individual customers – it is able to hyper-personalize its feedback requests based on a nuanced understanding of who each customer is, the context surrounding their experience, and the current insights needs of the business. This level of personalization, which is based on maintaining unique customer profiles, will enable organizations to target the data they need to fuel their most important decisions and actions.  

The listening perspective shifts to omnichannel journeys

. Early-stage digital listening programs tend to take a disjointed approach to listening-post design, establishing collection mechanisms that reflect the narrow interests of a certain group within the company, like marketing or product teams. As a result, the customer signals and feedback collected through digital channels are often analyzed in isolation, without any consideration of the broader context surrounding that interaction. A modern Digital CX program, by contrast, architects its listening strategy by first understanding key customer journeys – many of which span channels and departments – and then

establishing listening posts

at the moments along those journeys with the most outsized impact on customer loyalty and business performance. This not only produces insights that more accurately reflect how customers actually view their experiences, but using journeys as a blueprint for listening post design also drives cross-functional partnership and accountability, it results in

higher response rates

, and it generates CX data that is clearly tied to the business outcomes the organization cares about. Modern Digital CX programs stitch fragmented behavioral, operational, and experience data together to create a detailed, holistic understanding of customer behaviors and attitudes across their end-to-end journeys.
Example: One global retailer found that despite earning high CSAT scores on its post-purchase digital survey, its conversion metrics weren't improving. This single listening post didn't provide enough detail to determine which exact areas of the digital journey needed improvement, so the retailer established intelligent, targeted intercepts at key moments along the journey and started tracking digital behavioral heuristics. These two new mechanisms allowed the company to quickly pinpoint the problem. High volumes of rage clicks within the checkout process triggered real-time intercepts asking visitors what was frustrating them. Their feedback highlighted an issue with promo codes not being accepted, but visitors weren't able to diagnose why the problem occurred. The retailer used its session replay capabilities to observe relevant interactions and realized that customers were not able to enter a discount code successfully due to case sensitivity. Armed with this insight, the digital team was immediately able to resolve the issue, reducing cart abandonment rates and increasing a meaningful revenue stream for the retailer. 
Actionable Intelligence
Most Digital CX activities today revolve around generating standard measurements that track visitors' past activities and perceptions and then periodically sending those scores out through static reports and dashboards. While tracking and sharing relevant data can be useful early on, when programs are focused on developing and communicating a baseline understanding of their current experiences, in the long run, these measurements only become valuable when they lead to tangible improvements.  
To establish a modern Digital CX program, organizations need to apply advanced, automated analytics models to all the various structured and unstructured data they've captured, transforming those raw data points into actionable insights and then sharing those insights with groups across the organization in a variety of highly tailored and timely formats. Producing Actionable Intelligence requires three shifts: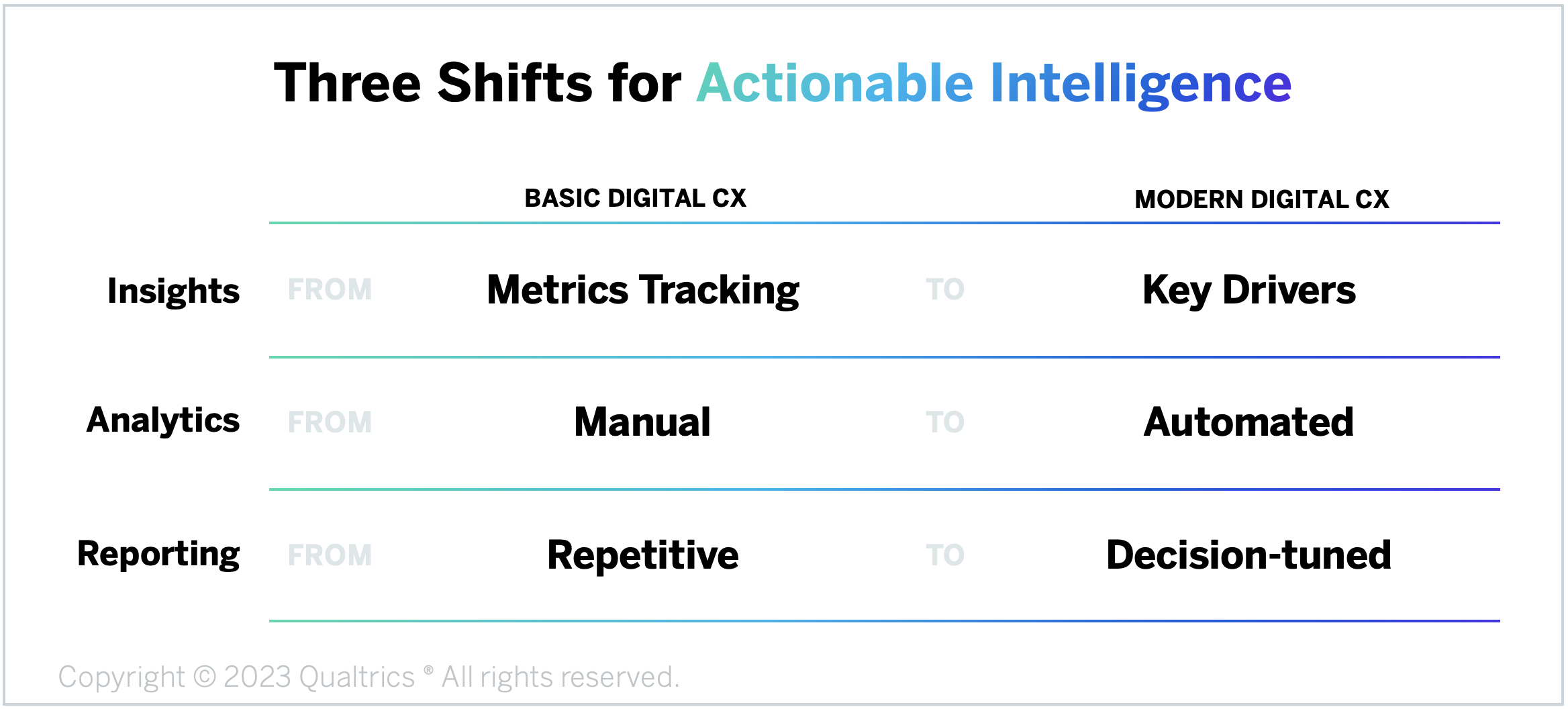 Insights focus more on key drivers.

Early on, Digital CX programs usually collect metrics – like visitor intent, satisfaction, and NPS – with the aim of tracking historical trends and comparing themselves to competitors. While these measurements can provide a useful snapshot of overall performance, they often fail to uncover the underlying causes influencing that score. Instead of

fixating on the metric itself

, modern Digital CX programs use the insights they collect to identify the key drivers shaping their customers' experiences… and, by extension, customers' loyalty and the business's bottom line. Uncovering these key drivers – often through

quantitative modeling

like regression or correlation analysis – enables the digital program to pinpoint which exact elements of an experience meaningfully impact the business outcomes they care about, like order totals, positive reviews, and likelihood to renew. The digital team can then use these insights to inform their strategy, prioritize and plan their activities, share highly actionable insights across the organization, and build compelling ROI narratives around their efforts. 

Analytics become much more automated.

Analyzing data in early-stage Digital CX programs is often a slow and expensive process that requires trained data scientists to manually hunt down and connect the data they need to build their models. Modern programs, by contrast, use artificial intelligence and machine learning to automate and accelerate insights discovery. These AI-powered tools are able to instantly access and query common data pools – such as customer profiles, XM platforms, and corporate data lakes – surfacing hidden patterns and trends, flagging emerging issues and opportunities, and building a deeper understanding of both individuals and segments. Digital CX programs can then apply these actionable insights to streamline the development of new offerings, automate activities and workflows, allocate resources and attention, and institutionalize customer empathy. 

Reporting becomes decision-tuned. Regardless of how advanced or insightful an analysis is, if it isn't communicated to the right people at the right time in the right format, the information is ultimately useless. Digital CX programs today often send their insights out through reports or dashboards that aggregate data without providing any context or guidance on how an individual insight user should apply that data to their daily activities. Modern programs, on the other hand, share highly tailored insights through a variety of push-and-pull mechanisms, like

role-based dashboards

, real-time nudges, and dynamic journey visualizations. The primary goal of these reporting mechanisms is not to display data but to drive

action

. They proactively highlight notable patterns, preferences, pain points, and opportunities, helping insights users anticipate future events, identify effective interventions, and prioritize their activities. And because they are interactive, these reporting mechanisms also encourage deeper data exploration and analysis.
Example: When COVID hit, one automotive finance provider digitized every step of its customer journey, including its support interactions. It launched an AI chatbot and retrained its call center representatives to engage with customers through live chat. It then applied text analytics and sentiment analysis to transcripts of all those conversations, extracting top-of-mind concerns and the emotional temperature of thousands of customer interactions every day. These analyses generated a slew of actionable, automated insights that allowed the company to surface and respond to rapidly changing customer needs in real-time. For example, it found that many customers felt anxious about paying their bills, so the company created customizable payment solutions to fit each individual's needs. During these conversations, the representatives received in-moment support and recommendations about how to tailor the solution for that particular customer, empowering them to build personalized payment plans on the spot.
Adaptive Processes
Digital CX programs today often use the insights they generate to make the case for why some particular aspect of the digital experience (e.g., UX design, website architecture, features, content) should be improved. While these isolated, ad hoc projects can lead to incremental experience improvements, they alone are not enough to unlock the full potential value of Digital CX. They alone are not able to drive the types of personalized, innovative experiences that emotionally resonate with target customers and set organizations apart in the new Digital-first Business Era. 
To establish a modern Digital CX program capable of facilitating these types of standout experiences, organizations need to harness the continuous flow of actionable intelligence they produce and embed those insights into the normal flow of their everyday business operations. So rather than using digital insights to add more items to a prioritized wishlist of projects, this information is automatically routed into specific workflows and data systems, empowering teams at every level of the business to rapidly absorb and respond to the insights. Building Adaptive Processes requires three shifts: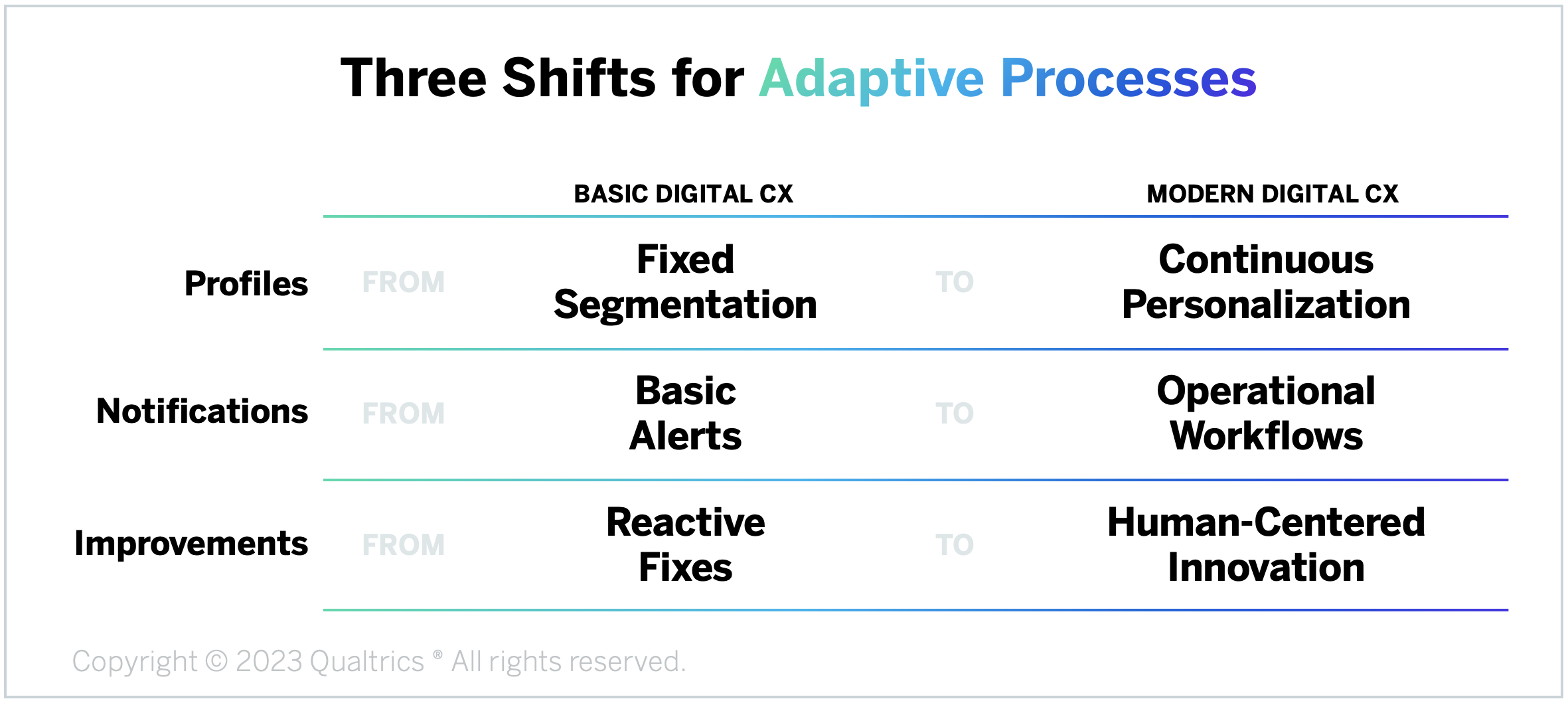 Profiles become dynamic through continuous personalization. Early-stage Digital CX programs will often have some basic segmentation models in place, usually built around simple demographic information. As these programs become more mature, they are able to create increasingly nuanced, dynamic profiles of individual customers.

These profiles

stitch together structured and unstructured data from every interaction the person has ever had with the organization, merging historical data with real-time contextual insight and then packaging all that information up in unique customer-level datasets that are easy to understand and act on. They include

account data

(e.g., demographic information, interaction history, customer tier),

experience data

(e.g., survey scores, open-end verbatims, product reviews), real-time

behavioral data

(e.g., navigation paths, mouse thrashing, rage clicking),

preference data

(e.g., goals, preferred communication channels, personal traits), as well as data pulled from integrations like CDP, CRM, and web analytics platforms. Modern Digital CX programs can then access these rich customer profiles to build dynamic segments and automatically personalize every single customer interaction – from in-moment feedback requests to product recommendations to proactive support – delivering the best possible experience for each individual based on their unique behavior, needs, and context.

Notifications evolve into operational workflows.

As actionable intelligence flows in from digital channels, modern Digital CX programs are able to connect those insights into specific workflows, embedding them within the operating motions of teams across the organization. These workflows – which are triggered by increasingly sophisticated data elements and analytics – automatically route relevant insights

to the appropriate stakeholders

in the appropriate formats and systems (e.g., email, Jira, Slack, Salesforce, VoC program dashboard, etc.). For example, if a customer submits negative website feedback that includes keywords like "bug" or "issue," that could trigger an automated workflow that instantly creates an engineering ticket with that feedback in Jira. Compared to more basic efforts, modern Digital CX programs have

entirely automated closed-loop systems

, which send out tickets, alerts, reminders, and escalations directly to the teams and individuals responsible for acting on the insights, without any manual intervention necessary. 

Improvements target human-centered innovation. To compete in the Digital-first Business Era, organizations need to be capable of more than finding and fixing existing digital experience gaps and pain points. This is where most early-stage Digital CX programs focus their time, and while it does lead to incremental improvements, reactive firefighting does not help an organization create engaging experiences that differentiate it from competitors. To create consistently excellent experiences, digital teams should use their insights and technologies to fuel

human-centered design processes

. For example, modern Digital CX programs can help source ideas for innovative new offerings by scraping unstructured data from social channels, online forums, and review sites. They can accelerate experimentation and ideation through tools like A/B tests and session replay technology that "observes" how visitors interact with prototypes. And they can support new implementations by actively monitoring and routing relevant feedback that comes in through these channels.
Example: To help it create personalized interactions that emotionally resonate with its users, one of the world's leading fitness apps has built an experience profile for every single one of its customers. This profile includes experience data like sentiment scores and survey verbatims, operational data like age and location, behavioral data like workout history, preference data like diets and exercise goals, and data pulled in from CDP integrations like Adobe and Customer 360. This granular view of individual customers not only allows the company to track and optimize each visitor's experience within the app, it also drives the development of dynamic customer segments – such as "high-intensity" users and "zero-equipment" users – based on customers' behavioral and psychological profiles. The company uses those segments to design new experiences that appeal to those specific target cohorts. For example, if the product team is developing a new set of yoga classes, whenever someone from the "zero-equipment" segments logs into the app, it can automatically ask them whether they prefer a 15, 30, or 45-minute class and then route those insights back to the product development team. As a result, the company is able to roll out new products that resonate with its target customers. Plus, this type of tailored listening strategy also leads to much higher response rates compared to other digital listening posts – over 40% in this instance compared to the industry average of less than 5%.  
Organizational Discipline
Digital CX programs today often operate as a discrete unit, with their own data systems and roadmaps that only occasionally intersect with other Experience Management-adjacent areas, such as customer support, UX, marketing, and product teams. While these discrete efforts can provide some value – especially early on – they don't deliver the type of transformative results that come from leveraging and enhancing a set of common XM capabilities across the entire organization.
To establish a modern Digital CX program, organizations need to position their digital activities as one essential piece of a wider and ingrained Experience Management focus – one where digital insights are integrated into everyday decisions and practices, and the organization as a whole is committed to delivering better experiences to the people who interact with it. Embedding Digital CX into a broader Organizational Discipline requires three shifts: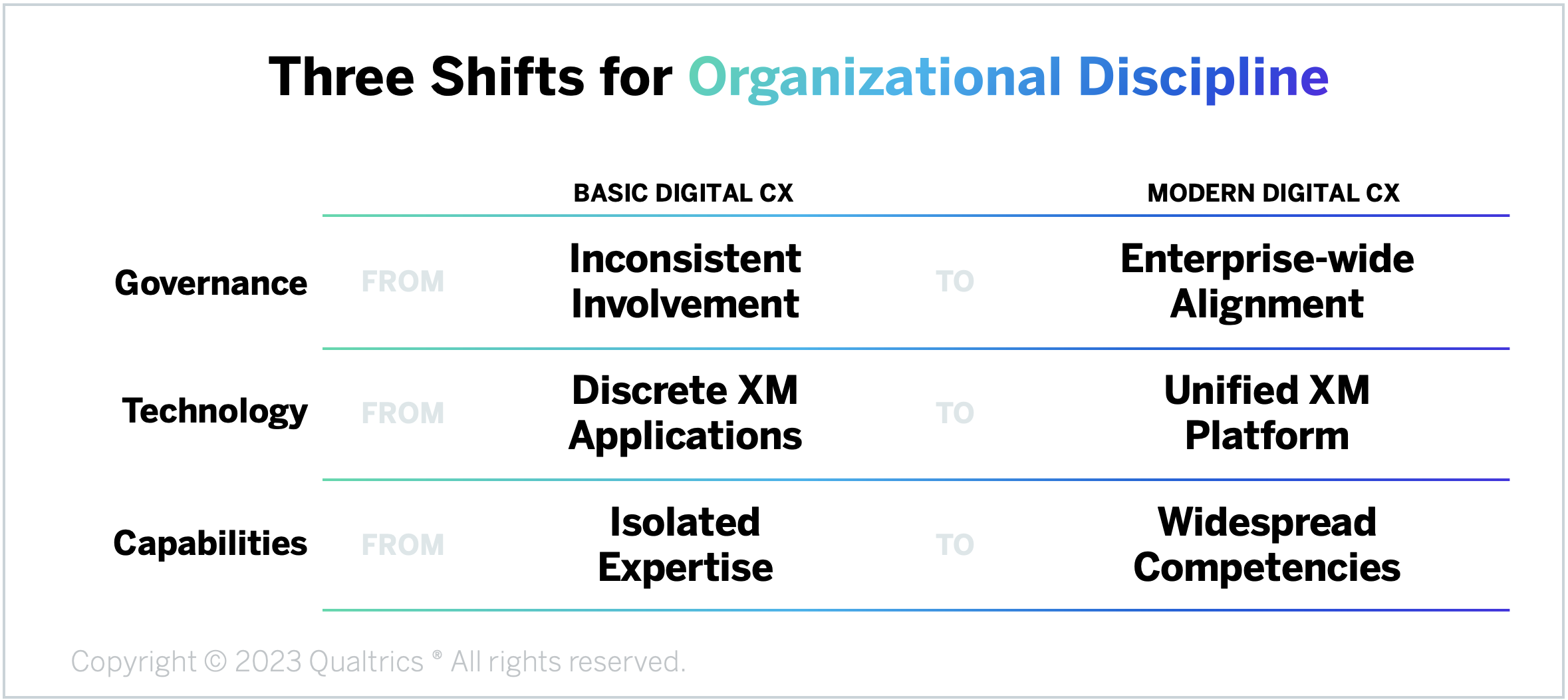 Governance establishes enterprise-wide alignment.

Modern Digital CX programs don't arise or operate in isolation. While these programs may start out as independent actors with limited engagements with other teams, to reach their full potential, they need to be assimilated into an enterprise-wide Experience Management strategy. To coordinate and catalyze all of their XM-related activities, organizations need to establish a well-defined

governance structure

to provide decision-making, alignment, accountability, and conflict resolution across groups. Often, this cross-functional governance begins by bringing teams together around key customer journeys, many of which will have a digital component, with the aim of improving the full end-to-end experience. For example, an organization might establish a

multidisciplinary working group

made up of representatives from the digital, branch, service, marketing, and product teams who meet regularly to improve the customer onboarding journey. As the organization's XM efforts mature, these defined governance structures will expand their jurisdiction beyond just closely related use cases (like digital, contact centers, and location) and into experience domains (employee experience, brand experience, and product experience).

Capabilities expand to widespread competencies.

Early-stage organizations often have pockets of good XM practices underway across the organization, but they are led by different groups and focus heavily on data gathering and analysis rather than on taking action. As organizations' Experience Management efforts mature, XM skills and activities will become widely adopted and integrated into the ongoing motions of the business, usually with a

Center of Excellence

at the helm to identify and spread emerging and best practices. Given the central role digital channels play in delivering and understanding customer experiences, a modern Digital CX program will be an essential component of this organization-wide focus on building

its XM Competencies

. For example, because it produces and shares highly tailored, actionable insights, it facilitates the development of XM skills in teams across the company and helps embed CX activities into the normal operating motion of the business. 

Technology creates a unified XM platform.

If a Digital CX program – not to mention the organization more broadly – is going to listen to, derive insights from, and act on an increasingly diverse array of data from an increasingly wide range of sources, it's going to need a unified XM platform that is pervasive across the entire organization, reaching every person and process. The platform should be scalable and reliable, able to support the volume of data and processing necessary for all Modern XM activities. It should be able to handle data privacy and security requirements and be able to manage, monitor, and audit users, licenses, and access. The organization should be able to customize its capabilities and integrate the platform with external systems and third-party applications through well-managed APIs. And, of course, it should provide a system of record for all experience data across the organization. Only by having such a platform are organizations going to be able to scale and sustain their Experience Management skills and activities across the entire business. 
Example: As part of an increased organizational focus on customer experience management, the digital and contact center teams at one large financial institution began collaborating to identify and eliminate digital friction. As more transactions moved to digital channels, the contact center saw a corresponding rise in calls related to breakdowns across the digital experience. The groups quickly realized that by separately measuring customers' experiences within these two channels, they were missing a number of cross-channel problems. To develop a holistic, omnichannel understanding of end-to-end journeys, they unified their data on the Qualtrics XM platform and applied conversational and behavioral analytics to all their customer interactions, allowing them to continuously monitor all the experiences they were creating. This not only helped them identify, track, and trend digital issues at scale, but these analytics also helped them more thoughtfully target customers for feedback across channels.
Key Technology Enablers of Modern Digital CX Programs
As organizations look to evolve from basic Digital CX programs to modern Digital CX programs, there are a number of technology enablers they should invest in to accelerate, automate, and scale their efforts. Critical underlying digital technologies include:
The bottom line: Modernize your Digital CX program to thrive in this digital-first business era.