Organizations looking to mature their customer experience (CX) programs often establish a CX Center of Excellence (CoE). Since we've been hearing a lot of questions about the topic, we decided to provide some advice on how to design this important structure.
What is a CX CoE?
A CX CoE is a centralized unit of customer experience professionals who maintain strong, specialized knowledge and skills that they then share out across lines of business. While the success of this group is not contingent on which department it sits in, the CX CoE should be helmed by a customer experience leader who reports directly to an executive-level sponsor, such as a Chief Experience Officer (CXO), Chief Marketing Officer (CMO), or Chief Operations Officer (COO). The CoE should be positioned high enough within the organization that it has the authority, attention, and budget it needs to align and drive CX initiatives across all relevant business units.
A CX CoE should not "own" the customer experience but instead steer the rest of the organization to adopt and embed good customer experience practices. The CX CoE oversees the setting of collective customer experience goals and objectives, enforces enterprise-wide standards to prevent localized deviations, and acts as a hub for cross-pollination of ideas and success stories. Individuals and groups within the CoE will have specialized roles – which we explore in detail below – but in general, a CX CoE should facilitate:
Enterprise CX strategy and governance. The CX CoE should work with the executive sponsor and other senior leaders to define a common CX vision, strategy, and roadmap for the CX program – all of which should clearly align with the organization's broader business objectives. This team should also establish a governance structure and engage these groups regularly to share updates, gather input, and request assistance, and it should work with functional leaders across the organization to set up ongoing oversight and accountability for executing CX initiatives within their lines of business.
Standard methodologies and tools. The CX CoE should introduce and institutionalize standard CX methodologies, systems, and procedures to be used across the organization. This includes identifying emerging best practices and tools, defining processes (data collection and distribution, customer follow-up, root cause analysis), and collaborating with other teams to shape CX-related training, systems, tools, performance management, and recognition approaches.
Aligned CX metrics. The CX CoE should coordinate the set of measurements that the organization uses to track the effectiveness of its customer experience program against its goals. These include how the organization tracks customer relationships, journeys, and interactions. While the CoE is typically not responsible for tracking and analyzing all of the CX metrics across the organization, it does need to ensure that the design of the metrics program allows for executive-level reporting and tracking and that the insights the program generates can be used to drive enterprise-wide improvements.
Central CX storyline. The CoE should define a compelling customer experience storyline for the organization, drawn from key themes pulled from the CX vision as well as customer and employee feedback. To cascade this message internally, the CoE should also develop and execute an organization-wide communication plan to keep people at all levels informed about the value and progress of their customer experience efforts as well as coach executives on how to frame and deliver CX-related messages.
Portfolio Management. Even the strongest CX Center of Excellence can't – and shouldn't! – own every single customer-centric initiative themselves. Instead, the CoE should track and contribute to the portfolio of work being done by others across different business units. This includes prioritizing activities and resources, identifying cross-functional collaboration opportunities, cross-pollinating key learnings across projects and teams, and monitoring other teams' progress on their CX commitments.
Three Functional Areas of a Strong CX CoE
While the enterprise coordination activities above are foundational for any CX CoE, we've found through our work with dozens of organizations around the world that the most effective CoEs also include a set of specialized functions, where team members in a given function have extensive knowledge and expertise in that area. Different organizations use a variety of structures and naming conventions, but we've found that strong CoEs typically contain some version of these three functions: Analytics and Insights, Experience Design, and Change Management.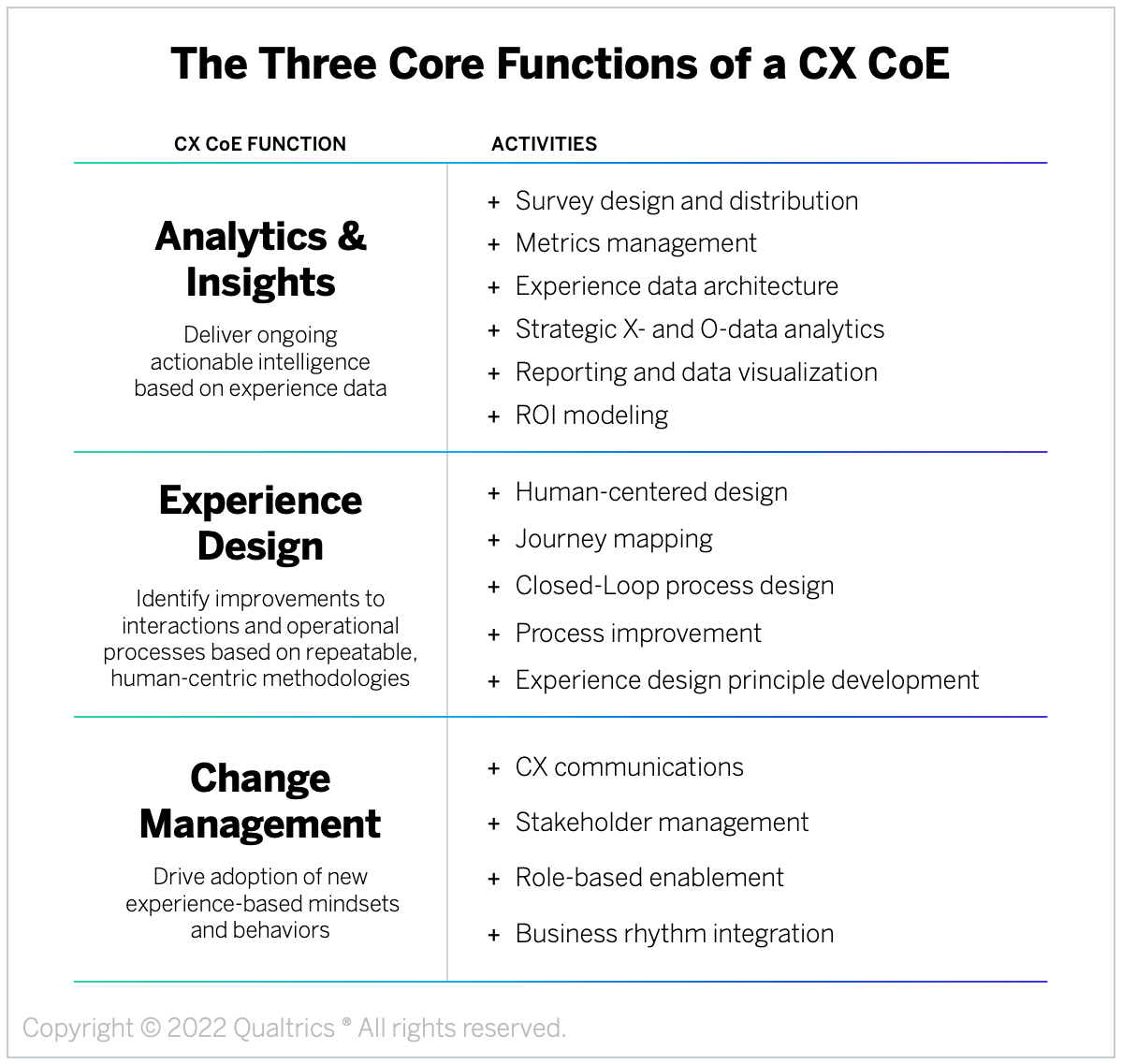 CX CoE Function #1: Analytics and Insights
A successful, sustainable CX program is predicated on a continuous flow of high-quality, trusted insights that allow people across the organization to make fact-based, customer-centric decisions. An effective CX CoE, therefore, should have one or more team members dedicated to core voice of the customer (VoC) activities. This includes managing the approaches and tools that generate relevant and timely insights, selecting CX vendors and other service providers, defining data rules and metrics frameworks, and determining how data and insights will be reported and distributed across the organization. Ultimately, this functional area is vital as it creates and maintains an accurate single source of truth for all CX data. 
Activities within this functional area often include:
Survey design and distribution. Early on in their CX journey, organizations tend to take a localized approach to survey management, with each group running its own surveys and not sharing those insights more broadly across the business. However, as organizations mature, they often centralize their customer listening capabilities within a CX CoE. This consolidation not only provides numerous benefits from a strategic perspective, it also guarantees that these questionnaires are written by survey experts who consistently follow survey design best practices and have the holistic perspective necessary to ensure the organization is asking customers the right questions at the right time.
Metrics management. Customer experience and operational metrics are an integral component of any CX program as they allow the organization to systematically track and measure the quality of the experiences it delivers to customers, pinpoint improvement opportunities, prioritize investments, and raise awareness of and support for CX efforts across the business. Given their significance, defining, calculating, and socializing these metrics is often a core activity of a CX CoE. This includes selecting a CX "Northstar" metric that is empirically linked to a key business outcome, identifying and measuring key drivers of that core metric, and setting goals to hold individuals and teams accountable for improving experiences.
Experience data architecture. Many organizations lack a cohesive approach to managing all the experience data (X-data) they collect as individual departments and employees often use localized tools, like isolated survey services and Excel. As the CoE expands its focus on insights and executive reporting, it needs to establish an infrastructure that provides a continuous, single view into the X-data that it needs without relying on lengthy battles to uncover and acquire data from all of those disparate teams and systems.
Strategic X- and O-data analytics. Data without context is meaningless. To ensure people across the organization are taking the right actions based on a combination of X-data and operational data (O-data), CX CoEs often include data architects and analysts who analyze and present this information within the appropriate business context. This work includes creating predictive models, applying analytical techniques to understand the relationships between different data, using conversational (speech and text) analytics to interpret unstructured data, and generating recommended actions based on those insights. This group often has strong ties to other analytics functions (e.g., market research, enterprise analytics), which facilitates cross-functional sharing of data sets and insights and ultimately leads to a more holistic integration of CX data across the organization.
Reporting and data visualization. Regardless of how interesting or valuable CX insights are, no one will use the information if it's presented in a confusing or complicated way. The Analytics and Insights function in a CoE is often responsible for collecting and synthesizing inputs from relevant data sources across the business and communicating crucial CX findings in a compelling, easy-to-understand, and shareable format that ultimately leads to action. Activities here include creating dashboards for key stakeholders, packaging insights for different internal groups, and facilitating insights-based conversations to diagnose and uncover the root causes of issues.
ROI modeling. To secure the necessary organizational attention and resources, CX Centers of Excellence must make a compelling business case for the value of their customer experience efforts. Often team members in this function are responsible for creating and sharing ROI models that show how changes in customer attitudes and perceptions lead to meaningful changes in their behaviors and – by extension – the business objectives and outcomes the organization cares about.

CX CoE Function #2: Experience Design
An effective CX Center of Excellence doesn't just capture and share CX insights; it translates the pain points and opportunities highlighted in those insights into products, services, and journeys that emotionally engage target customers. These capabilities often reside in a function dedicated to Experience Design, which is made up of one or more team members who deploy repeatable, human-centric techniques to create experiences that are consistently on-brand, innovative, and delightful. Ultimately, this functional area is essential for creating experiences that capture customers' hearts and minds, earning the organization long-term customer loyalty and differentiating it from competitors.
Activities within this functional area often include:
Human-centered design

. Mature CX CoEs often include design experts with the tools, knowledge, and skills to apply human-centered design approaches (such as Design Thinking) to systematically innovate new or improved experiences. While the exact

design process

these experts follow varies between companies, the steps they flow through usually include empathizing with the target customers, defining the challenge, brainstorming solutions, prototyping and testing solutions, and then implementing the new design. These experts are not just responsible for contributing to the design – or redesign – of major experiences, they also

define and spread human-centered design

mindsets and skills across the entire organization, ensuring employees in every line of business are capable of making incremental, customer-focused experience improvements. 

Journey mapping

.

Journey maps

are an immensely powerful and popular CX tool that enable an organization to understand, visualize, and communicate the end-to-end paths customers take to achieve specific goals with the company. To manage all the activities associated with this tool, organizations often include journey mapping experts in their CX CoE. In addition to managing the development of these journey maps, their work also includes using the insights derived from these maps to

prioritize and plan CX projects

,

drive cross-functional strategic alignment

,

refine listening program architecture

, and

build a customer-centric culture

.

Closed-Loop process design.

Designing and executing a well-thought-out

closed-loop process

to respond to customers who provide feedback is one of the most important aspects of a holistic CX program. Experts within a CX CoE are often responsible for building a closed-loop follow-up motion into every customer journey and moment that matters and ensuring the experience is positive and on brand. A robust closed-loop process will not only

boost survey response rates

, but because it brings in data from other, more operational aspects of the business, it also gives the CX CoE more visibility into the decentralized improvement activities happening within groups across the organization.

Process improvement

. In addition to improving customers' experiences, a CX CoE should also use the CX insights it generates to redesign internal business processes and operations. Most organizations are rife with outdated, inefficient ways of working that remain in place because people either accept them as "just the way it is" or feel too comfortable to change. Members of a CX CoE can help improve these ossified practices by using customer or employee insights to streamline, standardize, simplify, or even automate existing processes, often in partnership with other groups like operations, IT, or process improvement teams. 

Experience design principle development

. Experts in a mature CX CoE often define and socialize a set of clear, actionable design principles that guide the development of all new experiences across the organization. These design principles – which capture what experiences need to look like to deliver on

brand promises

– act as a filter for every design decision occurring across the business. Consequently, they support faster, more agile decision-making at a local level, they produce consistent, on-brand experiences, and they align mindsets and behaviors across the entire organization. 
CX CoE Function #3: Change Management
While the first two CX CoE functional areas are critical for understanding and improving customers' experiences, unless the rest of the organization is motivated to act on the insights and guidance they produce, the CX Center of Excellence will be severely limited in what it can achieve. Customer experience transformation requires people at every level of the organization – from the frontline to the back office to business owners and executives – to adjust their decisions and behaviors in some way. This presents quite a challenge as humans tend to gravitate toward the status quo. To overcome this natural inertia, strong CX Centers of Excellence often include a functional area dedicated to changing how people think, believe, and act in order to deliver on the organization's CX vision and strategy. Ultimately, this functional area is critical for building a customer-centric culture.
Activities within this functional area often include:
CX communications. When people understand why customer experience is important to the business, the individual role they play in delivering the CX vision and strategy, and the value and progress of the activities currently underway, they are significantly more likely to stay aligned and contribute to the effort. To communicate this information widely and effectively, a CX CoE will often have an individual or team dedicated to developing a comprehensive

communication plan

that captures key CX narratives and cascades them through management layers and across teams. These messages must balance practical and inspirational elements – including testimonials, program enhancements, and upcoming changes – and be tailored to match the needs of different audiences. 

Stakeholder management. A CX Center of Excellence working alone will not be able to execute the organization's customer experience vision and roadmap; it needs stakeholders across lines of business to own and implement the changes. The team member(s) who oversee

stakeholder management

are responsible for building authentic buy-in and alignment with key individuals or groups across the organization, adjusting their engagement strategy depending on a given stakeholders' level of interest in and influence on the CX program.

Role-based enablement. Employees need the

skills, tools, training, and motivation

to use CX insights and adopt customer-centric behaviors within their everyday roles. Activities within this functional area often include coaching employees and

managers

on how they should specifically interpret and apply CX insights and strategy to their individual work, developing and facilitating customer experience training, embedding CX behaviors and activities into HR processes (like competency models, performance reviews, and onboarding procedures), and establishing rewards and recognition programs to celebrate individuals and teams who embody desired behaviors.

Business rhythm integration. To ensure that people across the organization are acting on CX insights in a timely and effective way, the CoE needs to feed the information captured from sources various sources (e.g., CRM, digital analytics, third-party sites) into their core systems and tools that teams (e.g., operations, product, support, marketing, sales) use within their everyday roles. If these insights are not embedded within existing business processes and systems, employees are unlikely to use them on a regular basis. In organizations that already have strong process transformation capabilities, the CoE will often work closely with that group and "outsource" parts of this function to them.
The bottom line: To accelerate your CX efforts, build a CX CoE with strong capabilities in Analytics and Insights, Experience Design, and Change Management.  
Isabelle Zdatny, XMP, CCXP, is an XM Catalyst with Qualtrics XM Institute
Greg Chase, XMP, is an XM Catalyst with Qualtrics XM Institute
Bruce Temkin, XMP, CCXP, is the Head of Qualtrics XM Institute