Many organizations have some employee listening projects underway, but these efforts tend to be decentralized and forfeit the full potential of strategic employee experience (EX) management. In an effort to increase the impact and efficiency of HR functions, XM Institute recommends that organizations establish an EX Center of Excellence (CoE) to embed employee insights into everyday business operations and accelerate enterprise-wide organizational agility.
What is an EX Center of Excellence?
An EX CoE is a centralized team of employee experience professionals who maintain specialized knowledge, skills, and processes that they share across lines of business. These CoEs can take many different forms and carry a variety of titles, such as people insights, people analytics, people experience, employee experience teams, and more. 
Often a CoE sits within people operations, helmed by an employee experience leader who reports directly to the Chief People Officer (CPO/CHRO) or is part of an organization's central operations under either the Chief Experience Officer (CXO) or Chief Operations Officer (COO). The CoE should be positioned high enough within the organization to ensure it has the authority, focus, and resources it needs to align EX initiatives with organizational goals across all relevant business units.
Why Build an EX Center of Excellence?
In the early stages of Experience Management maturity, employee listening programs tend to grow organically, with independent teams taking a localized approach to insight collection and sharing. This happens both within people operations functions – such as recruiting teams measuring candidate experience, HR teams collecting exit feedback, capability teams collecting training effectiveness metrics, and so on –  and across functional lines, where different business units run their own employee listening projects. 
While this is an excellent starting place, these foundational and often disconnected approaches are inherently limited in how much value they can generate for the organization. When an organization takes action to mature or scale their EX programs, they often build internal expertise and operational efficiencies through an EX Center of Excellence team. This team enables an organization to understand and respond to the shifting needs of employees by transforming existing data-centric efforts into change-centric activities that generate effectiveness across the entire workforce. As we have stated in the Six Laws of Experience Management, "Law #3: Actions transform insight into value."
Creating an EX Center of Excellence is most often done with the intention of accelerating an organization's transition from early-stage isolated employee listening programs to a leading-edge EX program – what XM Institute calls a Modern Experience Management (XM) program. Modern XM programs go beyond the traditional realm of employee listening to build capabilities that enable organizations to continuously learn about experiences across the employee journey and then propagate insights to the leaders who need them so they can rapidly adapt their day-to-day operations.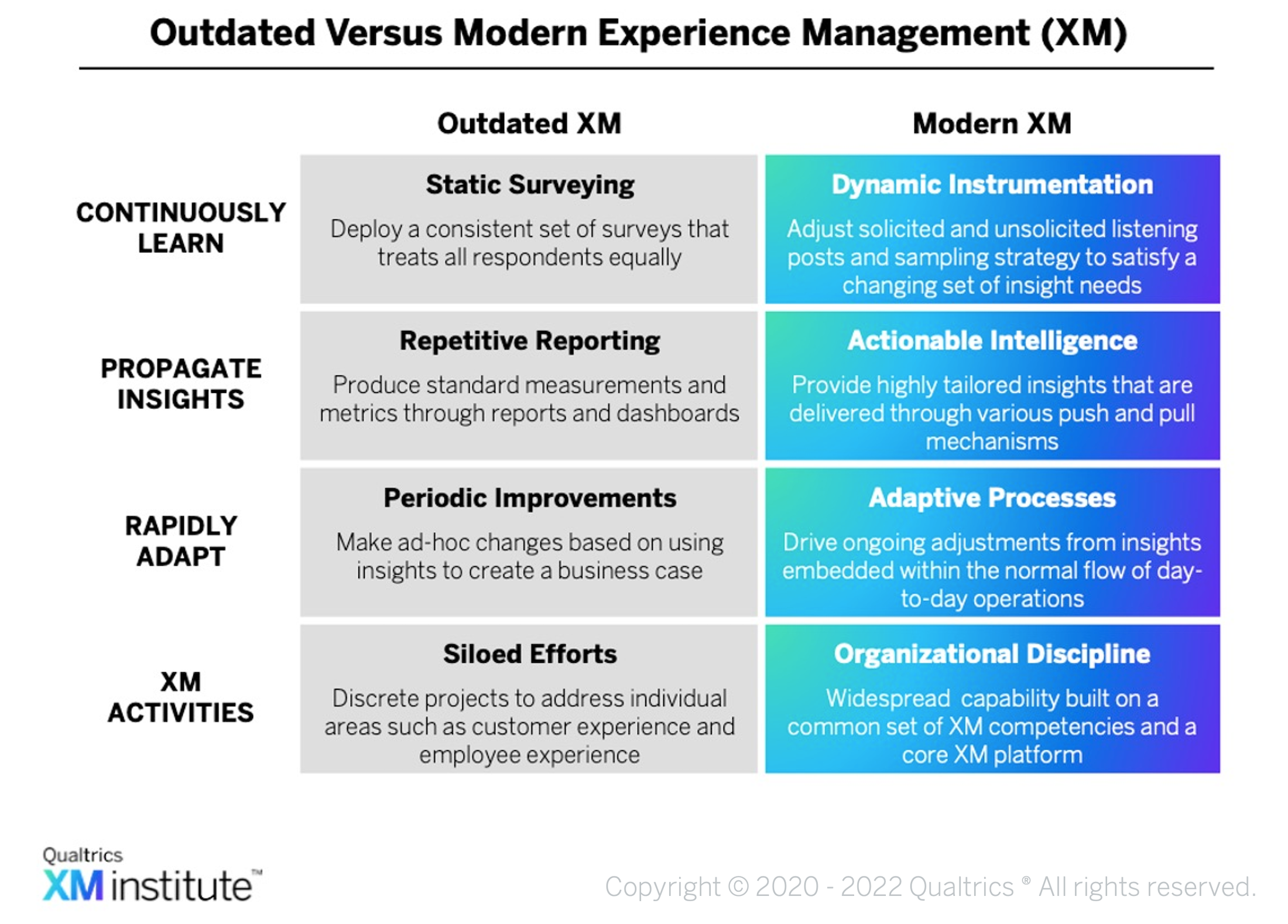 Responsibilities and Activities of an EX CoE
Through our work with many organizations across the globe, we have found that there are common responsibilities and activities shared by effective CoEs. While each team composition and context will vary considerably, CoEs deliver high value to their organizations when they fulfill these three responsibilities: Program Governance, Analytics & Insights, and Change Management. These responsibilities are delivered through a series of core activities that progress toward more advanced activities as the organization matures.
This list of responsibilities and activities provides some guidance for establishing, expanding, or restructuring this important organizational unit.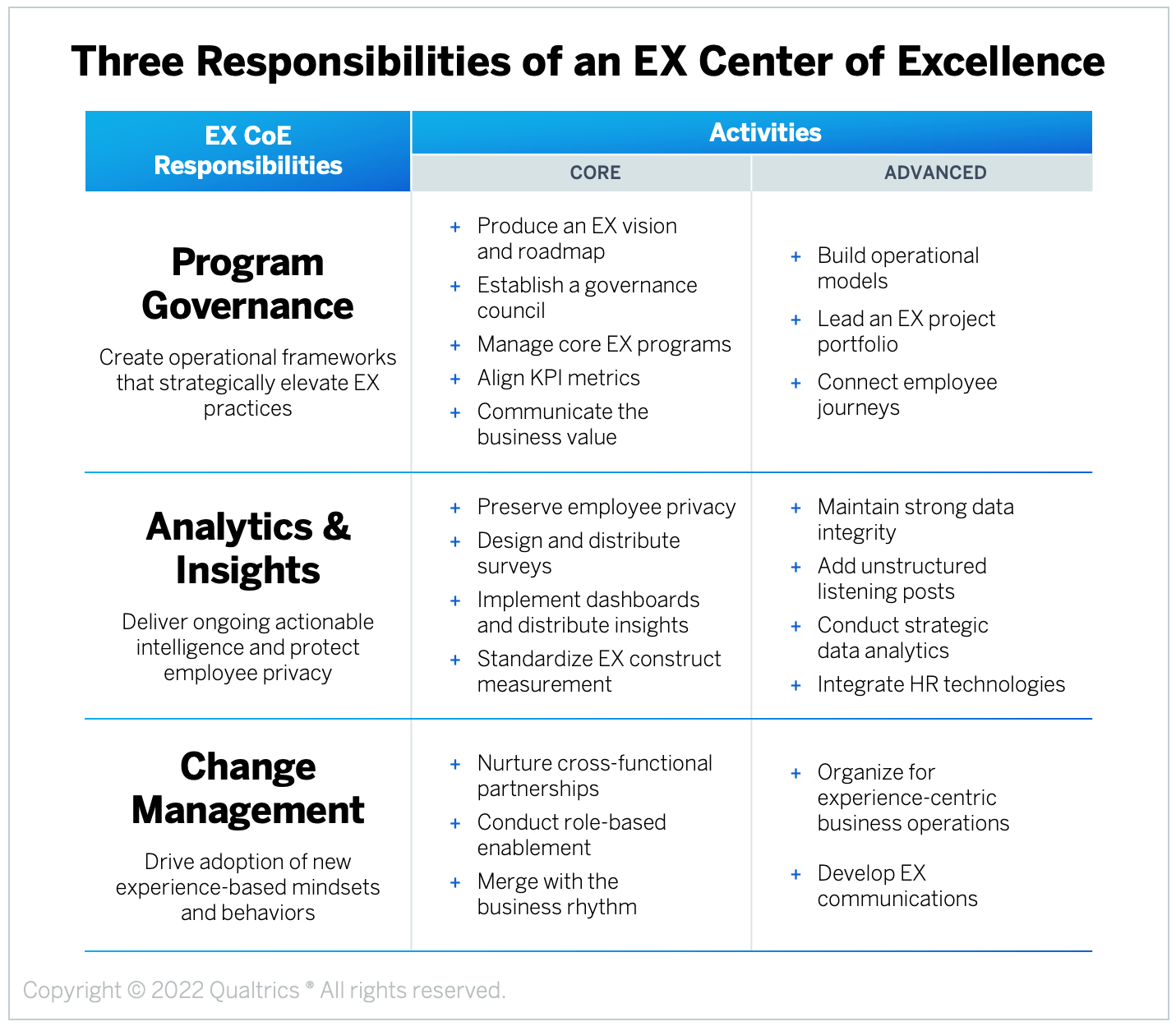 EX CoE Responsibility #1: Program Governance
One of the strongest motivators for creating an EX CoE is to centralize the operations of employee listening and provide infrastructure that removes friction from the process of listening, understanding, and acting on employee feedback. However, the function of an EX CoE expands much further than just employee listening operations – it produces the vision and roadmap for employee experience, provides strategic direction for experience improvement, and connects them to organizational performance. An effective EX Center of Excellence doesn't just capture and share employee insights; these team members orchestrate employee experience in your organization. 
Here are some of the core activities for Program Governance:
Produce an EX vision and roadmap.

The EX CoE should work with senior leaders across the organization to define an EX vision, strategy, and

roadmap

– all of which must clearly align with the organization's broader business objectives.

The roadmap will evolve as initiatives are completed and new priorities surface, so the CoE will continuously revisit, adapt, and communicate changes. 

Establish a governance council. Since EX activities impact all employees in the organization, the CoE should establish and maintain a cross-functional

governance

council. The council's role is to assist the CoE with prioritizing and resourcing projects as well as provide support for strategic decision-making, alignment, and accountability across the organization. 

Manage core EX programs. Across the portfolio of EX activities, there will be core programs of work delivered on a regular cadence. Ongoing work streams such as engagement pulses, onboarding, exit, and 360 developmental feedback are some examples of these evergreen programs that require dedicated program management resources.
Align KPI metrics. At the enterprise level, the CoE consults with senior leaders to determine the EX metrics that are empirically linked to key business outcomes and ensures that these are reliably collected and reported.  
Communicate the business value. To secure the necessary organizational focus and resources, the EX Center of Excellence must communicate a compelling business case for the value of employee experience efforts. Often, CoE team members are responsible for creating and sharing ROI models that show how changes in employee attitudes and perceptions lead to meaningful changes in their behaviors and – by extension – the business objectives and outcomes the organization cares about.  
In addition, here are some advanced EX CoE activities for Program Governance:
Build operational models.

The work of the EX CoE connects with every employee in the organization. To ensure success, the CoE nurtures deep partnership with many teams such as HR business partners, privacy and legal, organizational development teams, IT, internal communications, and business leaders. This requires establishing service models to support people operations and leadership teams, creating workflows for repeatable projects, establishing standardized tools and methodologies, and building insight distribution methods that scale.  

Lead an EX project portfolio. Even the most sophisticated EX Center of Excellence can't – and shouldn't! – own every single employee-centric initiative. Instead, the CoE should track and contribute to the portfolio of work done by others across different teams. This includes prioritizing activities and resources, identifying cross-functional collaboration opportunities, sharing key learnings across projects and teams, and monitoring other teams' progress on their EX commitments.
Connect employee journeys.

Journey maps

are an emerging EX tool that enable an organization to understand, visualize, and communicate the end-to-end journeys that employees take to achieve specific goals. To manage all the activities associated with this tool, organizations often include journey mapping experts in their EX CoE. Use insights derived from these maps to

prioritize and plan EX projects

,

drive cross-functional strategic alignment

, and

refine listening program architecture

.
EX CoE Responsibility #2: Analytics & Insights
Successful, sustainable employee experience programs deliver a continuous flow of high-quality insights that enable people across the organization to make evidence-based decisions – all while safeguarding employee privacy. These CoE teams tend to have staff dedicated to core voice of the employee (VoE) projects, such as annual engagement, and also provide professional services for data analytics, employee research, and ad hoc employee listening projects. To deliver this, the CoE team manages the methods and tools that generate insights, defines data rules and metrics frameworks, and determines how insights will be reported and distributed across the organization. Ultimately, the CoE creates and maintains an accurate single source of truth for all EX data. 
Here are some of the core activities for Analytics & Insights:
Preserve employee privacy.

Quite often, the main catalyst for establishing a CoE is to reduce the risk of breaching employee data privacy regulations and standards. This team is responsible for compliance with protocols and practices relating to the collection, storage, use, and access to employee data. 

Design and distribute surveys. As survey methodology experts, the CoE ensures that questionnaires consistently

follow survey design best practices

and are created within the broader context of all the employee listening activities in place. The CoE team has the holistic perspective necessary to ensure the organization is asking employees the right questions at the right time. 

Create dashboards and distribute insights. This team is responsible for collecting and synthesizing inputs from relevant data sources and producing EX findings in a compelling, easy-to-understand, and shareable format that inspires action. When an organization builds an EX CoE, it creates the internal capability to reduce the space between data collection and access to insights, allowing it to better keep pace with accelerating changes in current work environments. Deliverables here include creating dashboards for key stakeholders, packaging insights for different internal groups, creating workflows for notifications, and facilitating evidence-based conversations to diagnose and uncover the root causes of issues.
Standardize EX construct measurement.

While the CoE is typically not responsible for tracking and analyzing

all

of the EX metrics across the organization, they do ensure that there is consistency in the measurement of human behavior through standardized metrics. This allows for executive-level reporting and reliably measures important employee experiences. Using metrics consistently facilitates enterprise-wide intelligence and improvements.
In addition, here are some advanced EX CoE activities for Analytics & Insights:
Maintain strong data integrity.

Going beyond compliance, the EX CoE provides oversight that ensures employee data collection and sharing continue to happen in alignment with established principles and values. As organizations mature and EX roadmaps grow, so does the risk that employee listening practices can deviate from the intended standards. An EX CoE is the administrator of EX data principles, advising the organization on practices that align with them and building processes that maintain organizational standards. 

Add unstructured listening posts.

Traditionally, EX programs have relied heavily on structured surveys to source employee feedback. As organizations advance their EX maturity, they can tap into

conversational analytics

to better understand employee sentiment, in their own words. The EX CoE may deploy unstructured listening programs, such as open-ended feedback requests or social media insights, to drive EX innovation.

Conduct strategic data analytics. To ensure people across the organization are taking the right actions based on a combination of

experience and operational data

, an EX CoE team often includes data architects and analysts who present this information within the appropriate business context. This work includes creating predictive models, applying

analytical techniques

to understand the relationships between different datasets,

integrating data across employee journey touchpoints

to provide holistic insights, providing internal or external benchmarks, and generating recommended actions based on those insights. This team often facilitates cross-functional sharing of data sets (e.g., customer or brand research, enterprise analytics) and ultimately helps drive more integrated EX data across the organization. 

Integrate HR technologies.

As the EX portfolio grows, the CoE continues to partner with internal and external teams who implement and integrate HR technology systems, with the CoE taking on more of the technical tasks over time. The increased scope and complexity of EX programs in the organization brings greater responsibility for the CoE to manage related technical infrastructure and its implications for data privacy, compliance, data governance, cost, and value to the organization.
EX CoE Responsibility #3: Change Management
While the first two responsibilities of an EX CoE are critical for understanding and improving employees' experiences, unless the rest of the organization is motivated to act on the insights and guidance they produce, the EX Center of Excellence will have limited impact. An EX CoE should not "own" the employee experience but instead, steer the organization to adopt and embed employee experience practices and principles. To deliver this, the CoE provides the necessary momentum to defend against the natural human preference for maintaining the status quo. To overcome our natural inertia, strong EX Centers of Excellence engage in change management activities that transform how people think, believe, and act in order to deliver on the organization's EX vision and strategy. 
Here are some of the core activities for Change Management:
Nurture cross-functional partnerships. An EX Center of Excellence working alone will not be able to execute the organization's employee experience vision and roadmap – it needs stakeholders across the organization to own and implement changes. The CoE should be intentional about

stakeholder management

, build authentic buy-in and alignment across the organization, and make adjustments depending on a given stakeholder's level of interest in and influence on the EX program. 

Conduct role-based enablement. As the CoE advances the organization from traditional reporting towards an

experience-centric culture,

employees need the

skills, tools, training, and motivation

to bring this new culture to life. For example, people operations and HR teams often require capability development to build analytical skills necessary to effectively apply evidence-based practices in their work, managers may need support with

action planning

, and leaders may need enablement to integrate XM into their business practices.

Merge with the business rhythm. To ensure the organization is acting on EX insights in a timely and effective way, these insights should be integrated into existing business rhythms, such as quarterly business reviews or organizational scorecards. This reinforces the connection between employee and business outcomes and frames EX as an accelerator of business goals. In some situations, coordinating a session where leaders put time aside to specifically

deep dive into EX insights and build action plans

is a practical way to focus their attention. However, relying on this method alone sets up EX to be its own workstream separate from other business priorities.
In addition, here are some advanced EX CoE activities for Change Management:
Organize for experience-centric business operations.

As the visibility and impact of the CoE grow, the application of employee insights to elevate business performance expands beyond HR. Business units such as workplace facilities,

helpdesks, IT,

and internal services all have a significant impact on employee experiences and should tap into experience insights to improve their performance. The EX CoE can collaborate with these functions to bring EX data into their day-to-day operations and nurture an

experience-centric culture

across the organization.

Develop EX communications. One of the most effective ways to disengage employees is to ask them for feedback and then fail to communicate what leaders heard and the action taken in response. Partnering with leaders, comms teams, and HR, the CoE team facilitates conversations with employees and demonstrates how their voices enable leaders to

continuously learn, propagate insights, and rapidly adapt.

The EX CoE may deliver a compelling employee experience storyline and an organization-wide

communication plan

to keep people at all levels informed about the impact and progress of their employee experience efforts. This often involves coaching executives on how to craft evidence-based and employee-centric communications.
Getting Started with an EX Center of Excellence
Does every organization need an EX CoE? Maybe not, but they're a critical function if you are committed to improving EX across your organization. Here are ten signs your organization is ready for an EX CoE: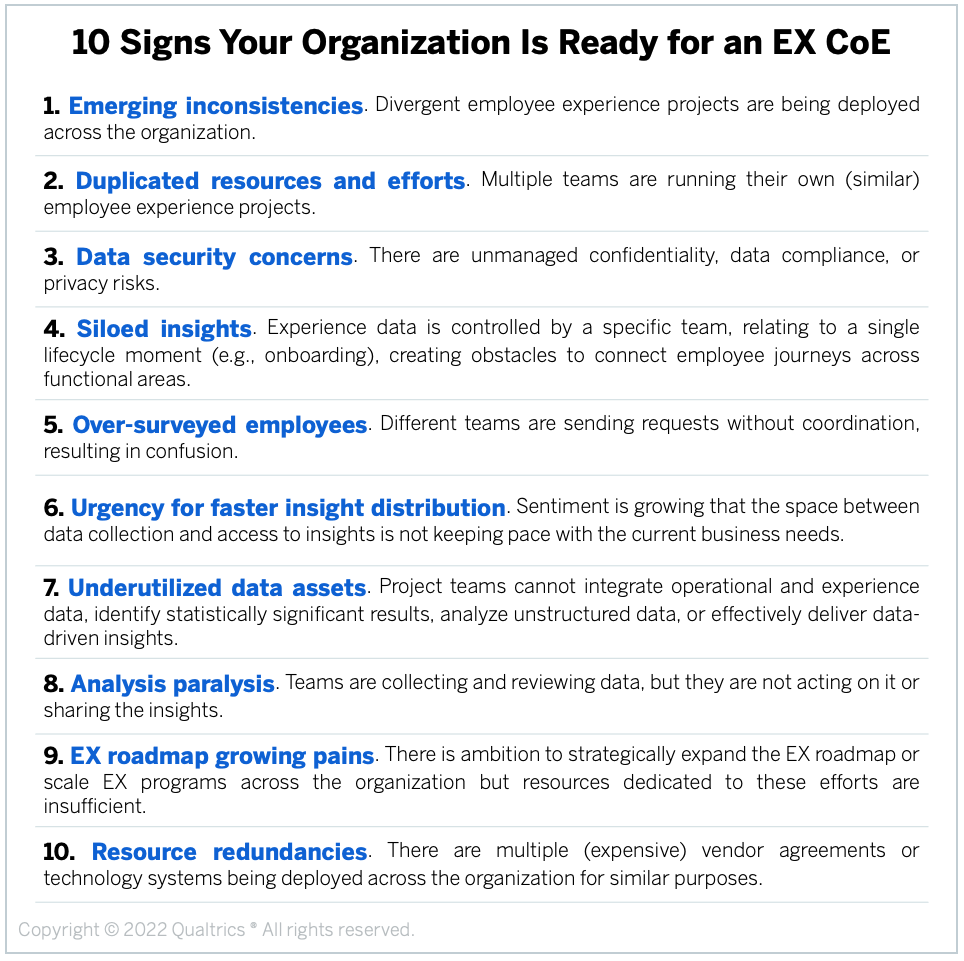 Once you've decided to move forward and create an EX CoE, here are some ideas that may help you take the first steps:
Start small.

Often, a CoE starts out with just one or two people. These founding members can start demonstrating initial value and impact, which will make the business case to expand the team easier.

Take action.

Identify just one or two core activities listed above and get started. Be sure to share the wins and build a narrative around your ambition for establishing an official CoE.

Align to strategic goals.

Focus on the most important opportunities or challenges that your organization is facing and articulate how an EX CoE will propel you toward these desired outcomes.

Mobilize an executive champion. An EX CoE is a highly strategic business unit, so it's important to have enthusiasm and buy-in from your organization's senior leaders. Start by drafting a vision for the CoE and a blueprint that aligns with broader business objectives, then connect with an appropriate C-level executive to refine and sponsor your proposal.
Create job descriptions.

To illustrate what a CoE would look like in your organization, use the above responsibilities and activities to create job profiles for CoE team members. This may require redesigning roles with existing employees or crafting new job descriptions to bring this talent into your organization. 
The bottom line: To accelerate the impact and efficiency of your EX efforts, build an EX CoE.
Dr. Cecelia Herbert, XMP, PsyD, is a Principal XM Catalyst with Qualtrics XM Institute
Isabelle Zdatny, XMP, CCXP, is an XM Catalyst with Qualtrics XM Institute
Bruce Temkin, XMP, CCXP, the Head of Qualtrics XM Institute