Managing CX in a business-to-business (B2B) organization requires navigating a complex environment. These organizations have to account for multi-faceted customer relationships as they serve different roles, ranging from purchase decision-makers to product users to procurement employees. And serving these relationships often requires a combination of different groups, from sales to support to customer success. We've found that B2B customers no longer just compare experiences against competitors; they expect providers to match the best of their consumer-based experiences. All of this has to be factored into how a B2B CX program is designed and managed. 
B2B CX Programs Are Immature
So how are B2B organizations doing? Every year, the XM Institute examines the state of customer experience (CX) management, gathering feedback from CX professionals around the world representing business-to-consumer (B2C) and business-to-business (B2B) organizations. Respondents answer a variety of questions about their CX management programs and complete our CX Competency and Maturity Assessment. In this blog, we'll take a look exclusively at how B2B organizations are doing, data that's previously been unpublished.
Organizations evolve through five stages of maturity as they master the Six XM Competencies: Lead, Realize, Activate, Enlighten, Respond, and Disrupt. Nearly 80% of B2B/B2B2C organizations still fall in the first two stages of maturity, with the majority of organizations performing weakly across all six competencies.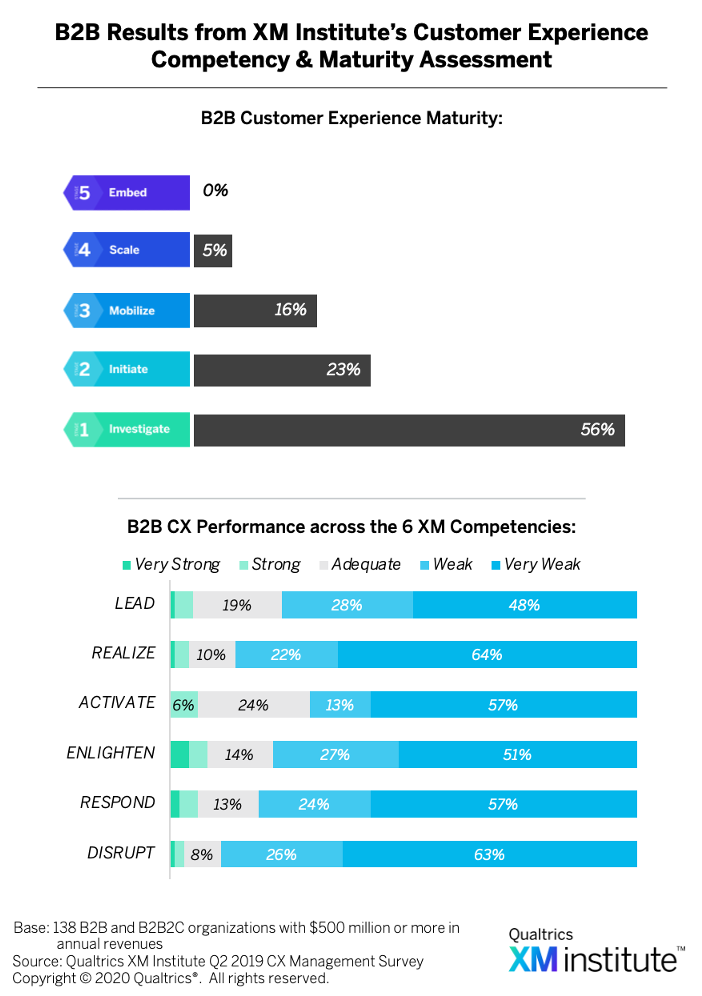 Here are some additional data points about B2B CX leadership, coordination, and performance inside these organizations:
XM improvement is important to B2B firms. 84% of B2B organizations reported that they will be focusing more on improving CX this year than last year. And for 80% of organizations, it is also at least moderately important that they improve employee experience while they are improving customer experience.
Centralized CX teams need to become more established. While 58% of B2B organizations have had a centralized CX team in place for at least one year, 28% report having no formal team in place at all. Of the centralized CX teams in place, just over two-thirds have fewer than 10 full-time employees and only 13% of teams are staffed by more than 20 full-time employees.
B2B CX programs require better coordination. Just four out of 10 B2B programs have significant efforts underway across the company with significant coordination across them.
Internal conflict blocks CX progress. When it comes to the obstacles CX programs face when trying to catalyze change, B2B organizations are impeded most by internal conflicts. The top obstacle to progress, hindering over 60% of B2B programs, is "other competing priorities" followed closely by "conflict across internal organizations" experienced by 52% of B2B CX programs.
Profiling B2B CX Leaders
There are benefits to working on improving CX management and maturing B2B programs. When comparing CX Leaders (higher maturity) to CX Laggards (lower maturity), we found that CX Leaders:
Have a more positive financial impact:

75% of B2B CX Leaders have positively impacted their organization's financial performance year over year, compared to only 37% of CX Laggards.

Have stronger CEO support:

Half of CX Leaders report their CEO is a strong or very strong champion of customer experience, compared to one-third of CEOs at CX Laggard organizations.

Are more coordinated:

Nearly six out of 10 CX Leaders' programs have significant CX efforts underway across the organization that are significantly coordinated, while only 21% of CX Laggards report the same.

Have a more XM-centric culture: Organizations that want to succeed at experience management need a culture that fosters XM-centric mindsets and behaviors in their employees. CX Leaders outpace CX Laggards across all four of the characteristics of an XM-centric culture: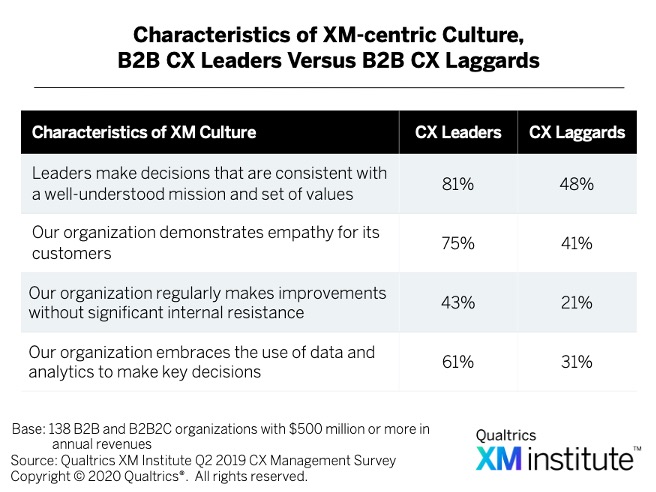 The bottom line: B2B CX programs have work to do, but it's worth the effort.
Aimee Lucas, CCXP, is an XM Catalyst with the Qualtrics XM Institute