The world we live in has changed, at least for the moment. People are practicing physical distancing for COVID-19 while organizations are responding to a radically different economic reality. It's critical that leaders make significant adjustments to this new environment. Can Experience Management (XM) help? Absolutely. But the emphasis needs to abruptly shift from the current rhythm of trending to an obsession with sensing.
Adjusting Your Leadership for a Downturn
Having worked during several recessions and actively advised companies through the last recessions I've seen what it takes for an organization to succeed in this environment. Here's my high-level advice for leaders:
Be aggressively defensive in the short-term, while being increasingly aggressive for the long-term.
How do you manage this seemingly contradictory statement? By following these five pieces of advice for leading through a recession:
Protect your values. You will be forced to make very uncomfortable decisions. Make sure that you don't allow them to undermine your organization's core values and its brand promises.
Be bold. The faster you can deal with the near term and become forward-leaning, the more time you'll have to outpace your competitors on the backend of the recession.
Be clear. I've defined four steps for communicating during a crisis: 1) Don't be shy with bad news, 2) choose certainty over uncertainty, 3) always share exact next steps, and 4) stay empathetic.
Prune against priorities. Take the opportunity to rethink your future direction and stop non-core efforts. It's often much better to cut entire secondary efforts, than to enact across-the-board cuts.
Incubate for the future. Identify two or three big bets that you will want to deliver to the market in 18 to 24 months and go after them, even if you need to cut other efforts to find the funding.
Rapidly Adapting with Experience Management
Experience Management (XM) can play an important role in navigating this dynamic environment. XM is all about staying connected with people (customers, employees, partners, and suppliers) by continuously learning, propagating insights, and rapidly adapting.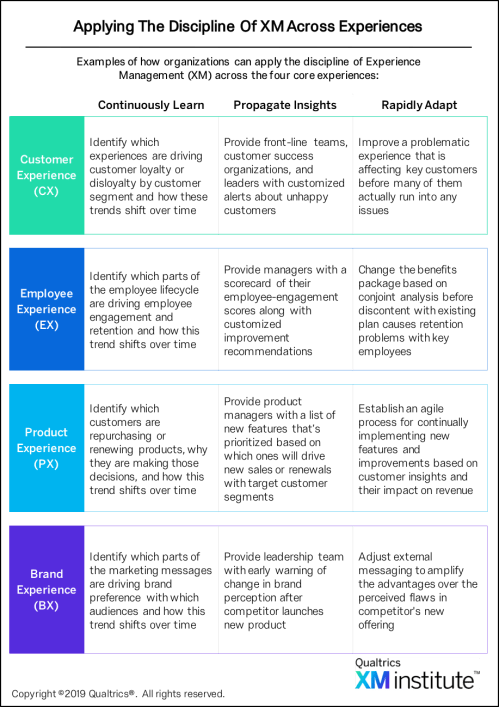 In this environment, "rapidly adapting" is a capability that we all need to flex a bit more. That's why I've suggested making these changes to your XM programs:
Show humanity. If you're asking for feedback, make sure that you demonstrate empathy for the current environment, so you don't seem out of touch with the situation.
Take a hiatus on metrics. Rather than pushing customers and employees to answer questions to feed your historical metrics and then trying to explain the variances, cut them out for at least the next quarter and focus on more important activities.
Ask less, listen more. Think about analyzing existing communications (especially in your contact centers), and asking fewer, more open-ended questions like how are you doing? and how can we help? Also, this is a perfect time to add a voice of the employee component to your efforts.
Build up your immediate response skill. In this environment, you need to be more prepared than ever to make changes quickly based on what you learn.
Accelerate your feedback cycles. Think about adding more always-on feedback mechanisms to your digital properties as well as using more targeted pulse surveys with your customers, employees, and partners.
10 Questions for Identifying Emerging Signals
While many things are changing, the high-level goals for your XM program remain the same. XM should still be helping you:
Tailor efforts to the most important customers
Stay aligned with customers' changing needs
Prioritize the critical projects, products, and services
Engage and learn from employees, partners, and suppliers
These XM program goals, however, are typically fine-tuned for tracking how organizations operate in a steady-state mode. But this is not a steady-state environment. So you need to shift from a rhythm of trending to an obsession with sensing.
This change in mode requires a pro-active hunt for important changes that are underway. Rather than spending time on tracking existing metrics and doing longitudinal analysis, XM programs need to intensely focus on what's happening right now. In many cases, your historical data will actually distort your analysis of the current environment.
To make the pivot towards sensing, you need to actively look for emerging signals. Here are the types of questions to focus on as you re-orient your XM program, none of which require any strong comparison with the past:
How are our customers using our products and services differently, and is there an opportunity to adopt and scale those changes?
What emerging needs do our customers have that aren't being met, and how can we create new offerings in those areas?
What product and service features are most important right now, and how can we adjust our development plans accordingly?
How are people responding to our brand, and what messages do we need to dial up or dial down?
What topics are our customers and employees most concerned about, and how can we tailor our communications to deal with those areas?
What new obstacles are customers, employees, suppliers, and partners running into, and how can we shift resources to solve those problems? 
What opportunities are our suppliers and partners seeing, and how can we collaborate to address those opportunities?
Why are promoters turning into detractors in this environment, and how can we make changes to keep those issues from snowballing?
Why are customers becoming our advocates in this environment, and how can we replicate those activities?
What practices are currently keeping employees engaged right now, and how can we spread those across the organization?
The bottom line: In this environment, assume that you're starting a new trend line.