Given the spread of Coronavirus and recent losses in the stock market, we're facing the threat of a prolonged economic downturn. So it's no surprise that I've been asked to share my opinion about how Experience Management (XM) would be affected by a recession.
If the downturn occurs, it would become the third recession of my professional career. During the last recession, I advised many companies on their strategies and even used this blog to provide advice to leaders on how to weather the storm.
The Great Recession started in late 2007, at which time I was a VP at Forrester Research focusing on customer experience (CX). While the overall environment was challenging, my area of the business was booming. That's right, the CX business was booming. It turned out that companies increasingly recognized the importance of CX as a tool for actively prioritized customer retention.
I think XM will see that same type of surge if we fall into a recession. This isn't a forecast about spending on XM technology or services, but instead it's a prediction that leading organizations will become increasingly committed to XM as a strategic discipline.
To understand how XM will be affected in a recession, it's important to look at how organizations respond to downturns. In general, companies take one of two approaches to navigating these difficult periods:
Manage their way through it. In this approach, executive teams react to market conditions by making widespread cuts in an attempt to maintain short-term profitability targets. After the recession lifts, these firms will often need to rebuild their employee and customer relationships.
Lead their way out of it. In this approach, executives intensify their company's focus on the long-term purpose of the firm and make targeted cuts in areas that are not core to that purpose. After the recession lifts, these firms are set for a quick shift into growth mode.
Five Recommendations for Leading Through a Recession
One of the best perspectives for thinking about a recession is conveyed through this quote by John F. Kennedy:
The Chinese use two brush strokes to write the word 'crisis.' One brush stroke stands for danger; the other for opportunity.
This insight is at the heart of my high-level advice to leaders during a downturn…
Be aggressively defensive in the short-term, while being increasingly aggressive for the long-term.
How do you manage this seemingly stark contradiction? By following these five recommendations:
Protect your values. You will be forced to make very uncomfortable decisions. Make sure that you don't allow them to undermine your organization's core values and its brand promises. To quote Martin Luther King, Jr., "The ultimate measure of a man is not where he stands in moments of comfort and convenience, but where he stands at times of challenge and controversy." Continually ask yourself: how will this decision affect the core of who we are?
Be bold. During a recession, you have three choices for how to make decisions: 1) hold on to the past, 2) respond when required, or 3) get in front of the wave. The first two options keep you locked into the past, while the third option allows you to start looking ahead. And that's critical. The faster you can be forward-leaning, the more time you'll have to outpace your competitors on the backend of the recession.
Be clear. One of the realities of a recession is that just about everyone is anxious, especially your employees who are going to wonder what changes are coming. As I discussed in my recent post about coronavirus, follow four steps: 1) Don't be shy with bad news, 2) choose certainty over uncertainty, 3) always share exact next steps, and 4) stay empathetic. Also, human beings are hopeful. We flourish when we envision a positive future. So paint a picture of how your organization will be better in the future. This will also be helpful with customers and partners.
Prune against priorities. During a recession, companies have less opportunity for sloppiness so they need to more effectively align their offerings and efforts to the specific need of target customers. Take the opportunity to rethink your future direction and stop non-core efforts. It's often much better to cut entire secondary efforts, then to enact across-the-board cuts.
Incubate for the future. While you may not be cutting back on new products and features during a recession, don't cut back on your innovation. Identify two or three big best that you will want to deliver to the market in 18 to 24 months and go after them, even if you need to cut other efforts to find the funding. Set your sites on coming out of the recession with a vigor.
XM Will Fuel Recession Winners
So how will the use of XM change if there's a recession? Many of the organizations that successfully navigate the downturn will do so by actively adopting XM. During downturns, organizations are forced to intensely focus on what's most important. For the Great Recession, that meant using CX as a tool for customer retention.
Over the last decade, organizations have recognized that employees are critical to their success as their customers. So I expect to see leading organizations respond to a downturn by attempting to better understand what their customers and employees are thinking and feeling, put that information into the hands of the people that can do something about it, and make fast adjustments. That's XM.
Here's how we describe the capabilities that XM enables:
Continuously Learn. XM helps organizations more effectively sense and interpret what's going on all around them, collecting and analyzing signals from the actions and feedback of employees, partners, vendors, customers, and even competitors.
Propagate Insights. XM helps organizations put actionable intelligence in the hands of people across their ecosystem who can use it, creating seamless access to the right information in the right form at the right time.
Rapidly Adapt. XM helps organizations act on the insights they've uncovered at an increasingly faster pace, finding ways to create new experiences and renovate existing ones.
These XM capabilities can be the foundation for success during a downturn as they will help organizations:
Tailor efforts to the most important customers
Stay aligned with customers' changing needs
Prioritize the critical projects and programs
Engage and learn from employees
In addition, XM will be a critical ingredient for organizations to accelerate after a recession. The ability to stay connected to market signals will be woven into the operating fabric of new offerings that organizations incubate for the post-downturn era. Think about it, if you were building an organization from scratch, wouldn't you want it to be able to continuously learn, propagate. insights, and rapidly adapt?
To better understand the capabilities that XM provides, here's a chart from the report, Operationalizing XM.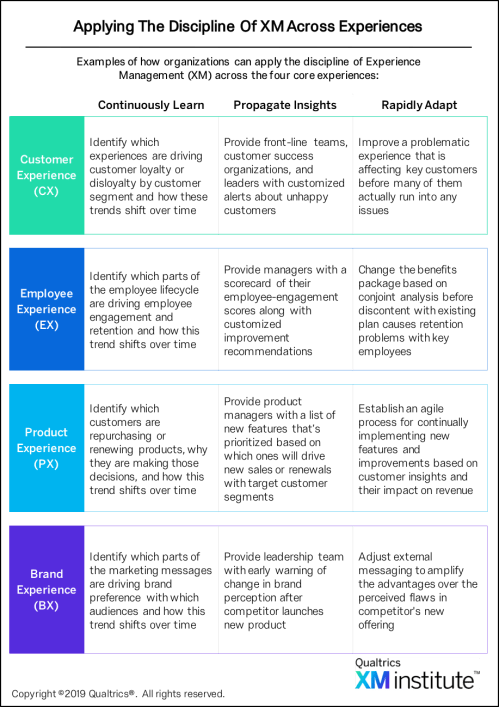 The bottom line: Use XM to weather a recession and to thrive in its aftermath.