Use this Launchpad as a starting place to understand how to use Experience Management to respond more effectively to the COVID crisis and then adjust your XM efforts to get back to business. Then explore the key resources included at the bottom of the page to expand your knowledge of this topic.
Qualtrics has assembled a number of free solutions to help companies navigate the current environment. Please visit our Here to Help page for more information.
The Fundamentals
The world we live in has changed – at least for the moment. People are practicing physical distancing for COVID-19 while organizations are responding to a radically different economic reality. In this turbulent environment, Experience Management (XM) is even more important than it is in normal times. Why? Because XM enables organizations to respond quickly to changes. 
The COVID-19 situation has likely disrupted every person in your ecosystem, including suppliers, employees, partners, and customers. They are all experiencing an evolving set of preferences, expectations, perceptions, and attitudes. You need to factor all these shifting thoughts and feelings into your business plans to address the entire cycle of this crisis, from shutdown to recovery. That's where XM comes into play, as it enables organizations to:
Continuously Learn
XM helps organizations more effectively sense and interpret what's going on all around them, collecting and analyzing signals from the actions and feedback of employees, partners, vendors, customers, and even competitors.
Propagate Insights
XM helps organizations put actionable intelligence into the hands of people across their ecosystem who can use it, creating seamless access to the right information in the right form at the right time.
Rapidly Adapt
XM helps organizations act on the insights they've uncovered at an increasingly faster pace, finding ways to create new experiences and elevate existing ones.
As governments and businesses ramp back up following the COVID shutdown, we expect organizations to flow through three phases of recovery: Explore, Reorient, and Normalize. Each of these phases will require a different focus for your XM efforts.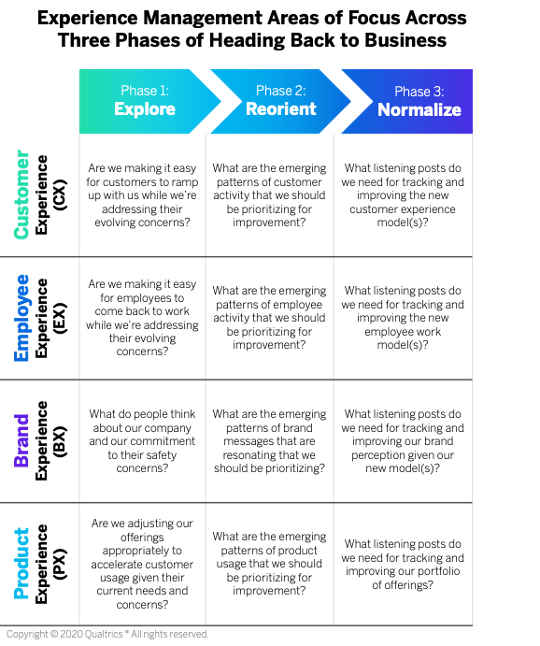 Tips for Taking Action
Building your XM capabilities during this period requires the same capabilities that are always essential to XM efforts, as described in the XM Operating Framework. However, you'll need to adjust your efforts in the following ways:
Plan your three phases of recovery
The three phases of recovery will occur in different ways and at different times across industries and markets, so every organization needs to make its own unique plans. The early stages are primarily about trial, error, and learning. Even if something seems to work in the Explore stage, the success of that approach may not be persistent as people's needs and priorities change. You need to hold back on locking into a long-term direction until persistent patterns emerge.
Center everything around employees
Your ability to keep going during the slowdown and to ramp up during the subsequent phases is highly dependent on your employees. If they're not engaged in those efforts, then you'll never succeed. That's why you need to keep an active pulse on their personal and workplace situations while addressing as many of their concerns as possible. Also, employees can be a great source of insights into what's happening in the marketplace and provide valuable ideas about how to respond.
Shift from trending to sensing
In this type of turbulent environment, many existing measurements become less valuable. Rather than spending the time and energy to collect, analyze, and explain shifts in historical metrics, focus on uncovering and acting on deeper insights about what's happening right now. Assume that you're starting new trend lines, so create and adjust metrics that are meaningful in the current moment.
Communicate often, but thoughtfully
Always protect your values
Throughout this period, you will be forced to make very difficult decisions. Make sure that you don't allow them to undermine your organization's core values and its brand promises. To quote Martin Luther King, Jr., "The ultimate measure of a man is not where he stands in moments of comfort and convenience, but where he stands at times of challenge and controversy." Continually ask yourself: how will this decision affect the core of who we are?
Innovate for the future
John F. Kennedy once noted, "The Chinese use two brush strokes to write the word 'crisis.' One brush stroke stands for danger; the other for opportunity." During this path to a new normal, don't just aim to recover. If you come out of these three phases doing exactly what you were doing before, then you will likely fall behind. You need to identify how you will emerge with improved capabilities and enhanced offerings.