Yesterday we celebrated the fifth annual Customer Experience Day. It was a wonderful global event that focused on CX, customers, and the CX profession.
Across the world, CX professionals led activities that included online sessions, free giveaways, and exciting in-person events. DellEMC even had Big Papi, David Ortiz live tweeting from its event!
Every year at this time, I'm reminded just how great it is to be in the CX profession. It's full of people who passionately care about customers and absolutely know how to have a good time. And all of that goodness comes out on CX Day.
I love CX Day! I wrote about my feelings in a 2014 post, 5 Reasons Why I Love Customer Experience Day. Here are my reasons:
It shines a light on CX professionals.
It raises the visibility of customer experience.
It provides a reason to engage your organization.
It provides a reason to engage your customers.
It reminds me of how proud I am of the CXPA.
The History of CX Day
I started thinking about a CX Day in 2012, because I felt like the profession needed to have the opportunity to celebrate itself. I believed that the creation of an event like CX Day would provide the motivation and backdrop for CX professionals to raise awareness of customer experience in a coordinated, high-energy way.
In early 2013, I introduced the concept of CX Day to the CXPA board and outlined its design, which combined a number of online and local events. We decided to do it in the Fall, because we already had the very popular Insight Exchange in the Spring. This new event would provide an additional benefit of galvanizing our membership for a second time in the year.
We kicked off CX Day on October 1, 2013 and didn't know what to expect. Luckily, it turned out to be a lot of fun. We actually received a proclamation from the US House of Representatives recognizing CX Day. Pretty cool!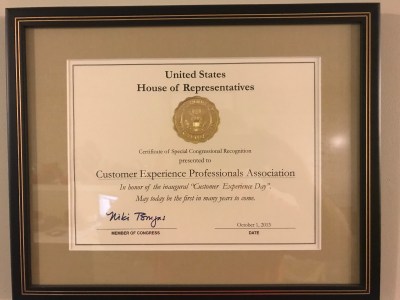 That first CX Day looked a lot like the current model, with webinars, giveaways, online content, awards, and many local events. As part of the CXPA's activities, I had a great webinar with Sprint's CEO, Dan Hesse and wrote a post for the blog carnival. Temkin Group offered a bunch of free things including our first annual Ultimate CX Infographic and an eBook with 50 CX Tips that are still valuable today.
It was a huge success, as we energized our global base of CX professionals. In subsequent years, we pushed for more companies to internalize the event by celebrating it with their customers and employees. That part of CX Day has expanded immensely since 2013, which has been wonderful to see.
Over the years, the volume of participants and activities has grown. It has matured into the wonderful event that I envisioned that it could be become… a celebration of great customer experience and the professionals who make it happen.
The bottom line: I am very proud of the CXPA and CX Day!
This blog post was originally published by Temkin Group prior to its acquisition by Qualtrics in October 2018.