In order for organizations to continuously learn and improve the experiences they deliver to their employees, EX professionals must continuously refine and expand their measurement of experience (X) and operational (O) data. One of the most underutilized X-data elements is what we call unstructured listening.
Today, the vast majority of employee X-data is collected through structured requests for feedback like surveys and questionnaires. With structured listening, organizations determine what to ask employees about and when. Unstructured listening, on the other hand, gives employees the opportunity to choose if, what, or when they provide experience feedback. Here are some common examples of unstructured listening elements.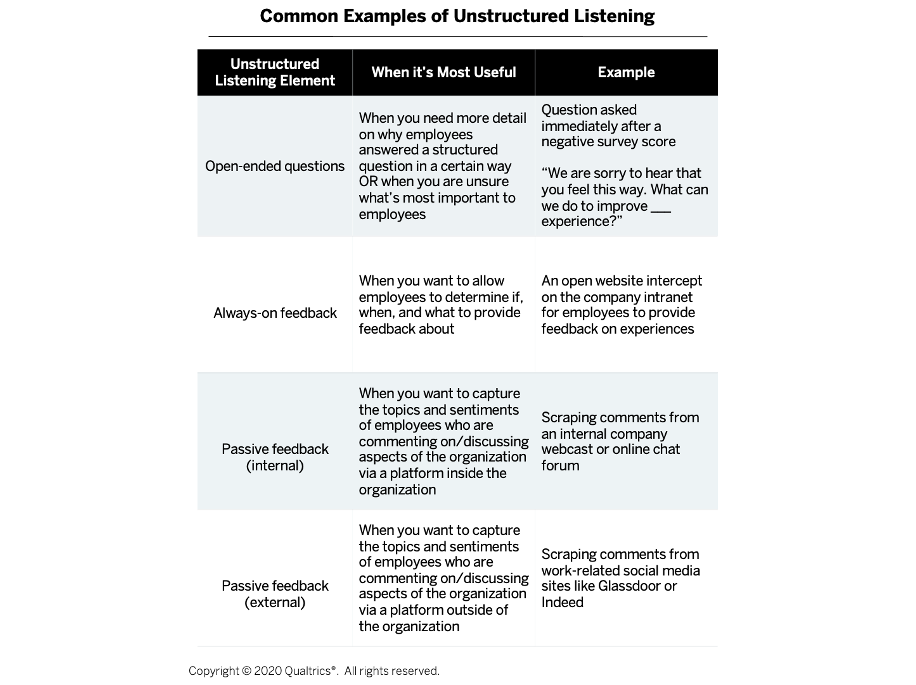 Unstructured Listening is Essential to Modern EX Management Programs
Instrumenting unstructured listening is one of the easiest ways for an organization to modernize its employee X-data system. More importantly, the insights gathered illuminate employees expectations, perceptions, and feelings that may be completely unknown to the organization. Ford Motor Company, for example, employs a three-pronged approach to understanding the employee experience – Ask, Listen, and Observe. The Listen component involves unstructured listening elements to capture topics and sentiments that are unknown and cannot be captured by formal surveys (Ask) or O-data (Observe). Ultimately, unstructured listening increases an organization's capacity to learn from its employees and rapidly adapt. 
3 Best Practices for Establishing Unstructured Listening
Here are three best practices for organizations starting on the path to instrumenting unstructured employee listening.
Use unstructured listening to complement structured listening elements.

Employee-driven, unstructured listening elements often identify areas of concern that were not previously known. In other words, they tell the organization what it

should

be listening for in more structured conversations. Unstructured listening also produces powerful anecdotes and stories that support the quantitative data produced by structured listening elements. Together, they create a compelling and more complete narrative about the employee experience. For example, one financial services firm created flashcards that include prototypical verbatims from unstructured employee listening elements. The Chief Talent Officer and her team regularly use these flashcards to communicate to the executive team how employees feel about certain aspects of their work.

Identify experiences that benefit most from unstructured listening

. There are situations where unstructured listening is particularly useful. For example, when organizations introduce experiences that are new to employees. In these cases, it is difficult to anticipate the right questions to ask or what problems employees may encounter. Another good example is short, fleeting (but important) experiences, like submitting an internal IT ticket or enrolling in benefits for the upcoming year. While formal surveys or questionnaires are usually not necessary for these types of experiences, identifying extremely positive or poor experiences can be crucial.

Building journey maps

of employees' experiences can help to identify and prioritize such experiences.   

Communicate to employees how you are using unstructured listening.

As organizations listen to their people in different ways, it naturally raises new concerns among employees (e.g., Is this going to be used against me? Will the company be able to tell who I am?). Transparency is crucial when rolling out unstructured listening. It is important that organizations

not tie this information to personal identifying information

. Not only is this a blatant breach of trust, but may also lead to distorted feedback. Moreover, in many regions and countries, employee X-data

must

be completely volunteered. The point – be ultra clear with employees about where and how you might be listening and how you are going to use the information. For example, prior to a company webcast, you might invite employees to comment online and mention that you'll be anonymously analyzing comments to ensure that you capture their concerns and questions. The invitation should also be clear about how the information

will not

be used, e.g. that employees'  feedback will not be tied to individuals and will not be reported except in the aggregate.
These three simple practices will help organizations instrument unstructured listening and better understand the experiences they are creating and managing for their employees. And like any employee listening that an organization does, it is critical to communicate back and act on the feedback.
Bottom line: Like any good relationship, both parties need opportunities to drive the conversation.
Vanessa Kowollik, Ph.D., is a Senior XM Scientist with Qualtrics, specializing in EX
Benjamin Granger, Ph.D., is an XM Catalyst with the Qualtrics XM Institute