In this series of posts, we examine some of the top mistakes companies make in their customer experience management efforts. This post examines mistake #3: Neglecting Experience Design. Companies focus on the basic requirements of an interaction but ignore the elements of design that can make the difference between customer anger and customer delight.
The lack of good design can be seen in this quote by Adam Greenfield, a former head of design direction at Nokia:
"The engineers at Nokia brag about the number of megapixels a new phone has. But they don't understand that if you can't find the button to use the camera on the phone, it doesn't matter how many megapixels it is."
In a recent study, we found that 74% of customer experience professionals think that customer experience design is important or critical for their company, but only 34% think that their firm is good at it.
Why is design deficiency so widespread? Because companies convince themselves that they're taking care of customers when they painstakingly define and measure themselves against meeting functional requirements. What this left-brain centric approach misses is that functional needs represent only one of three components of an experience. Experiences are also made up of three components, so accessible and emotional components are often ignored.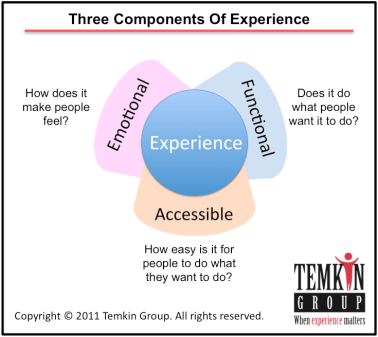 Here are some tips for avoiding this mistake:
Identify key moments. Even though most companies can't replicate the design skills of Apple across everything they do, they still need to apply good design for important interactions. Companies should identify the key moments that influence customers and commit themselves to applying good design principles to those moments.
Get design help. Good design is not accidental, it requires the right skills. Recognize your limitations and bring in a design team to help in critical areas if you don't have those skills on your team.
Plan to test and iterate. It's often impossible to predict exactly how people will respond to a new experience—whether it's a call center script, website design, or retail display—so you need to allot time and money for making incremental changes on key moments. Make sure to factor this into your budget and schedule.
Set accessible and emotional goals. Every key moment should have defined requirements for how easy it is for customers and how those customers feel about it afterward. Don't consider the design of the experience complete until you've reached those goals, even if you've delivered on all of the functional requirements.
Find the little things. When Marquis Marriott in NYC spent more than $10 million to change how its elevators operated, consumers were regularly confused. It didn't need another massive overhaul, just a small investment in signage. That's why companies should constantly look to apply what I call the Design Of Little Things— the small changes that can dramatically improve the customer experience of much larger investments.
The bottom line: Companies may not appreciate good design, but customers do.
This blog post was originally published by Temkin Group prior to its acquisition by Qualtrics in October 2018.