If you've followed our research, then you've likely seen a strong, almost inseparable link between customer experience (CX) and employee experience (EX). We continued to find that connection in our latest consumer benchmark.
In our Q3 2018 study, we asked 5,000+ U.S. employees to pick a word that best describes how their job makes them feel and split those responses based on how they judged the overall CX that their company delivers. As you can see in the figure below:
More than 80% of employees that picked "proud" and "appreciated" work in organizations that they believe are CX leaders. "Confident" is next on the list at 74%.
When employees picked "embarrassed" and "angry," they were the least likely to work for CX leaders and the most likely to work in CX laggards.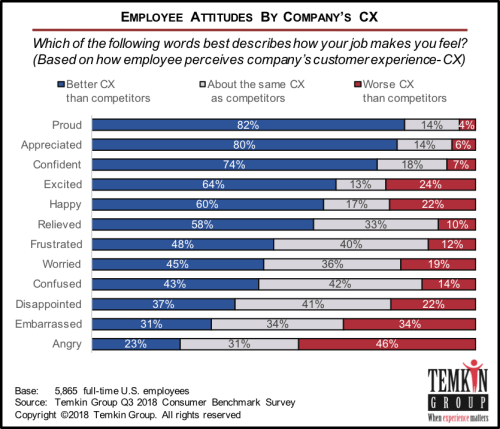 The bottom line: CX leaders have proud employees, CX laggards have angry ones.