Happy CX Day 2021!
Today is the ninth annual CX Day, which is an opportunity to celebrate great customer experience and the people who make it happen.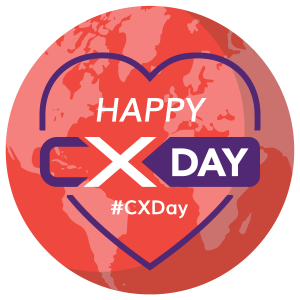 I led the launch of this "holiday" in 2013 because we wanted CX professionals around the world to take a moment and reflect on their successes and to have a platform for enlisting their entire organizations in the celebration. It's been great to see the growth of CX Day, as the entire CX community looks forward to the first Tuesday in October. 
If you're wondering how you can join in the festivities, check out my post from last year with five ways to celebrate CX Day.
CX Hits and Misses From Our Community
As part of this year's celebration, we reached out to members of the XM Professionals Network and asked them to share some of the CX Hits & CX Misses. Here's what some of them shared…
Alejandra Arriaga
AVP Customer Experience Analyst, Amerant Bank
CX Hit: Look for Allies.

A piece of advice for other XM Professionals is to always look for allies within the organization. I try to avoid being the "accuser" whenever we receive negative feedback from customers and then have to share it with the stakeholders. My advice is to not have these insights taking them by surprise in front of a bigger audience. Instead, always discuss with them prior and seek ways to ally with them, and brainstorm possible action items to prevent these pain points from happening again.

CX Miss: Careful with Your Data

. A lesson I have learned is to always triple-check your data before deploying surveys so that we do not make mistakes. This year I made the mistake of sending a survey to an audience that the survey was not intended for. From then on I triple-check all my survey panels before hitting that distribution button.
Business Lead – UX & CX, Technical Safety BC
CX Hit: Tech-led CX Augmentation Risk Appetite.

What the pandemic has taught us is that whether we want to go slow or fast as organizations is a market decision and not an executive one. As the market changed, we made quantum leaps in the public sector in embracing the cloud, SaaS, and AI side of things – which were historically ideas that could take decades to adopt and embrace. We were able to move our contact center from an on-premise to a completely cloud-based department. We moved to appointment-based booking systems where clients could book their own time with our experts. We embraced remote proctoring through a third party for certification exams we conduct. We are now considering AR/VR as teaching mediums or assessment mediums – and use RPA as well as chatbots to provide support 24/7.

CX Miss: Iterative Improvements Work Best. When it comes to improvements, the last year taught me that in this resource-challenged post-pandemic world, we must phase every project slower to improve things. There was a brilliant idea that could generate revenues, build relationships, and make the province safer – but it was too resource-intensive – so despite approval from our board and executives, we are still waiting to execute because of operational resource constraints. In hindsight, we could have lowered the reliance on resources from Operations and leveraged technology to run smaller scale but effective pilots to keep building the ROI enough to warrant attention and resources. Smaller prototypes hyped well serve a grand purpose of proving out the business. Case and also generate stakeholder interest.
Commercial Insights, Syngenta
CX Hit: Commercial Insights.

Starting to place investments behind our ambition to transition from product-centricity to customer-centricity, whilst leveraging the company's heritage in world-class science.

CX Miss: Measurement and Data. We continue to be constrained with out-of-date, incomplete, and low-quality data across multiple legacy silos presenting a serious impediment to generating actionable insights which resonate for our customers.
CX Consultant, She Rocks Research
CX Hit: Self-Service CX Program.

I worked with a company that embraces XMO metrics, but field marketers are often left wanting more insights for their specific markets, personas, and customer life stage. A CX Hit has been implementing a self-service model training marketing professionals on how to use Qualtrics, providing best practices guidance, templates, and relevant question types to get field marketers closer to the CX insights. This is helping shape a culture of using CX insights and I have found marketers take more ownership over actions when they are closer to the results. It has also helped break down silos of information as more is shared across the Qualtrics platform.

CX Miss: Panel of Forgotten Peeps. A CX miss I have been a part of is related to building a customer panel. There is initial excitement and inertia around what having a panel of customers will provide, but then 3-5 months into it people run out of ideas for the panel and forget to keep them engaged. Going forward, I have learned that unless a panel is part of a long-term strategy with surveys and touchpoints planned for at least 12 months out, the company isn't ready to embrace a panel yet.
VP, Head of CX Strategy & Solutions, Designit, a Wipro company
CX Hit: Designit's Global CX Study.

Designit conducted a global quantitative study among 1100 CXOs and CMOs, "When upheaval leads to elevation…marketing and customer insights from the year that changed everything." Five insights uncovered: (1) Turn a moment into a movement; (2) Lean into humanity as a brand strategy; (3) Make your way through the data labyrinth; (4) Foster connection as a two-way street; (5) Demystify Customer Experience. We found that 54% of leaders are making investments in customer experience in the next year and are looking for ways to turn the momentum of the last 18 months into a movement. It is our first primary research global study and is being leveraged with our clients.

CX Miss: Continuing to Demystify and Make CX Real. We made some progress in building CX competency in our organization and developed our first-ever CX Maturity Assessment. It is a great way to help our clients begin or mature their CX journey. As an Experience Innovation company, we need to continue to build the foundation and help identify opportunities to help our clients with their CX Management Programs under a defined process and methodology.
SVP, Director of Client Experience, Sandy Spring Bank
CX Hit: "Empathy in a New World."

About this time last year, we saw the convergence of a turbulent election cycle, racial tensions, a bank acquisition, and a lingering pandemic as the perfect storm. We used our Meeting in a Box platform to launch a monthly series that followed the theme of 2016 "The Year of Empathy" and launched "Empathy in a New World." We integrated in diversity, equity, and inclusion as the application for the empathy model each department complimented their team meetings with. We had no idea how relevant the theme would turn out to be.

CX Miss: Preparing for a Merger. Sandy Spring Bank acquired the second bank in roughly three years. We felt this one would go smoothly because of the strong cultural fit and market alignment. What we didn't count on was the impact of the pandemic on clients when combining those two factors at once. While most banks had surges in call center activity, we had severe spikes that impacted KPIs we use to measure success. The "perfect storm" caused us to revisit the call center protocols we had not revisited in some time in a more holistic way.
Technical Support Manager, symplr
CX Hit: Text iQ implementation. We use the Text iQ functionality to help our clients really dig deep in understanding the themes as to why they are getting such low scores from non-hired candidates. We have found some very disturbing trends and the organizations are now working to fix them. Enough can't be said about this tool.
CX Miss: Covid Survey Miss. We spent some time working on surveys we felt would help our clients dig deeper into what they could do for their employees during this pandemic. However, the clients (hospitals) have been so busy, their employees didn't have time to take the surveys. Some of them have even postponed their VOC surveys until later this year or next.
Chief Customer Officer, Ericsson
CX Hit: Building a CX North Star. I'm most excited about how we have collaborated with customers, employees, and executives to build a picture of our desired future state customer experience and the design criteria we need to use to create that customer journey. Bringing together CX best practices, customer feedback, and employee feedback to use in the design workshops that led to the CX North Star was a learning journey and helped us ground this work in the new purpose, vision, and values for the company.
CX Miss: Timing of CX Change

. One of the hardest losses in a customer experience practice is when you have the right insights and the right case for change but it's the wrong time for the business to take up the challenge of making CX better. The blockers can vary but when the timing is the key factor, it takes persistence, patience, and the willingness to bring the case to the table again, when the timing might be better.
Anonymous
Client Experience Executive
CX Hit: Client Shout Out Awards. Our relationship survey includes a question that allows our clients to recognize team members that they feel go above and beyond for them. This year we created a desktop plaque that we awarded to any team member that received a shout-out from a client. We asked the recipients to take a selfie with their award and post it to our intranet. This addition to our recognition program was very well received within our firm, and we plan to implement it again next year!
CX Miss: The "Great Resignation."

An organization's customer experience will only ever be as good as its employee experience. Our organization has done a lot of work over the years to listen to our employees and implement changes to improve the employee experience and we have seen a correlation between those efforts and customer experience improvements. Even with this focus, like many others, we have been challenged over the last year in the area of employee retention. There is no doubt that employee turnover can have an adverse impact on the customer experience, and we have had some misses as a result, however, this has also helped shed light on new customer pain points which we are actively working to address.
The bottom line: Enjoy CX Day and make sure to celebrate your CX hits.
Bruce Temkin, XMP, CCXP, is the Head of Qualtrics XM Institute