In case you missed it, XM Institute has labeled 2022, "The Year of Agility." Given all of the uncertainties this year, we felt as if everyone needed to build up their resilience and responsiveness. As part of exploring the topic, we used it as the basis for our initial "XM Learning Labs" session this year.
If you're asking, What is XM Learning Labs?, I'd be happy to describe it. XM Learning Labs is a very popular program run in our XM Pros community that combines educational presentations with guided small group learning sessions. We pick a different topic every quarter and it's one of the many free sessions that we offer to our XM Pros members.
To facilitate discussions in our Q1 XM Learning Labs, I created an agility assessment. We did not do any deep research or scientific analysis to create the tool, I just used my judgment about what areas would be useful for the group to explore. The assessment asks 15 questions that delve into three areas: organizational agility, XM agility, and personal agility.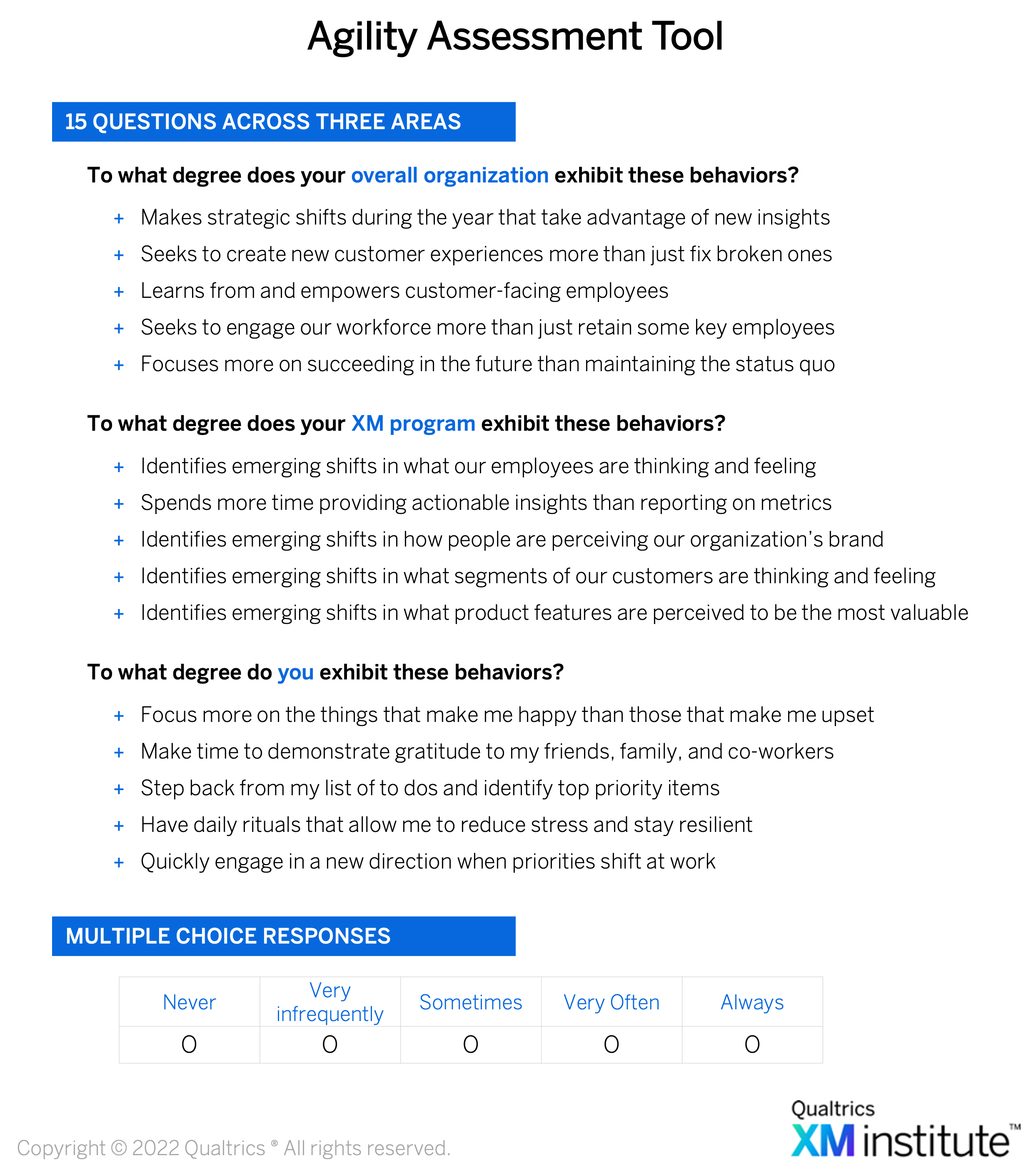 Results From The Agility Assessment
We asked the XM Learning Labs attendees to complete the assessment and also posted a link to the assessment on LinkedIn. I examined the collective responses from 90 XM professionals. As you can see in the graphic below, agility is most problematic in these areas:
Making mid-year strategic shifts.

In the organizational section, only 20% of people said that their organization either always or almost always,

Makes strategic shifts during the year that take advantage of new insights

. That's the lowest occurring behavior across all sections.

Making employee experience adjustments.

In the XM section, only 25% of people said that their organization either always or almost always,

Identifies emerging shifts in what our employees are thinking and feeling

.

Focusing on the positives.

In the personal section, only 52% of people said that they either always or almost always,

Focus more on the things that make me happy than those that make me upset

.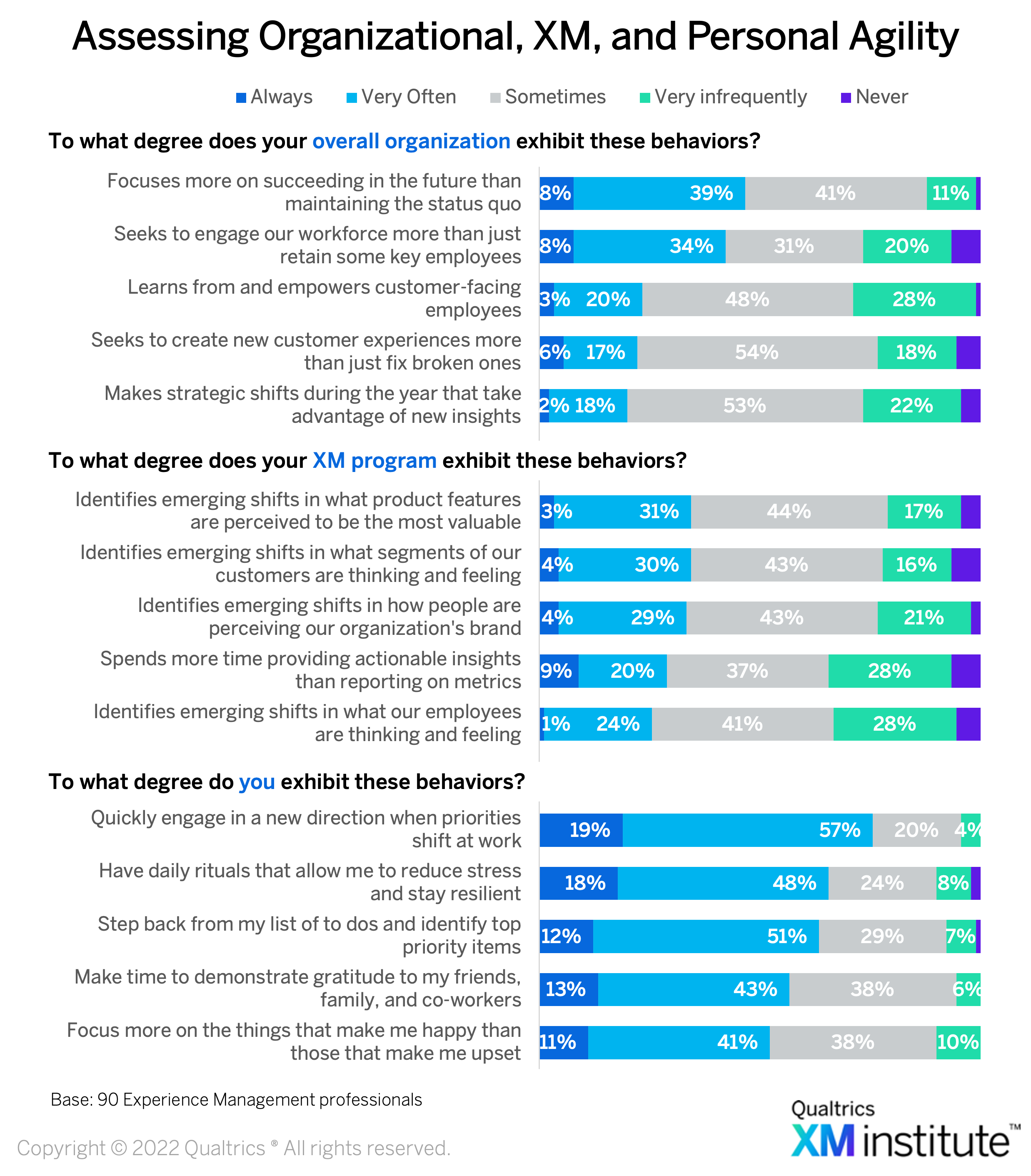 Use The Assessment To Reflect On Your Agility
If you want to take the survey, here's the summary data from these 90 respondents that you can use to compare with your results that are presented at the end of the survey in the following locations:
Overall: 49.1 (out of 75).

Find your overall results at the top of the page.

Organizational agility: 15.4 (out of 25).

Look for the statement:

Thinking about your primary employer, to what degree does the overall organization exhibit these behaviors?

XM agility: 15.2 (out of 25).

Look for the statement:

To what degree does your experience management program exhibit these behaviors?

Personal agility: 18.5 (out of 25).

Look for the statement:

To what degree do you exhibit these behaviors?
This is not meant to be a data exercise. Instead, use the tool as an opportunity to think about your strengths and weaknesses. Here are some ways to examine the results:
Reflect on each question:

Think about the overall results and your answers to the 15 questions and acknowledge your strengths. Always start there. And then identify the areas, if any, where you want to make improvements.

 
Drive professional conversations:

Use the assessments as a lead into a group discussion about agility. Have a team complete the assessment and then facilitate a discussion about whether or not you collectively think your agility is where it needs to be, and what you might want to do about it. You may also want to have a discussion with these groups about the personal agility results.

Drive personal discussions:

Share the personal agility results with friends and relatives to spark a discussion with those confidants about the notion of personal agility.
The bottom line: Build organizational, XM, and personal agility.
Bruce Temkin, XMP, CCXP, is the Head of Qualtrics XM Institute