Over the last few years, many B2B organizations have created customer success organizations that focus on ensuring that their clients are happy. These companies are realizing that customers aren't just buying their products, they're making purchases with the expectation that they will achieve some value from the provider's products and services.
As I discussed in a previous post, many customer success organizations still look a lot like old-fashioned account management teams. We think that to be successful customer success teams must blend account management with a strong CX mindset.
To help these efforts move forward,  we're defining customer success as:
A set of activities focused on ensuring that B2B customers achieve the value and outcomes they desire.
As you can see from the definition, these efforts are not the domain of a single group or department but are the responsibility of the entire organization. They can, and often should, be facilitated by a formal customer success team.
While there are many changes that need to be made to create a successful customer success organization, one of the things that it should do is to commit to keeping these five promises to customers:
Understand My Business: Know how your products/services will help your clients' business succeed.
Find & Share Relevant Best Practices: Expose clients to meaningful opportunities for them to create new value with your products and/or services
Prevent Issues & Obstacles: Make recommendations that will avoid problems in the future based on insights across your organization and client base.
Orchestrate Value Across Functions: Provide seamless access to appropriate resources across your organization.
Don't Surprise Me: Anticipate client's upcoming needs and let them know what to expect during their entire lifecycle.
As a result, we've created the Temkin Customer Success Index (TCSi), which is a measure of an organization's effectiveness delivering value above and beyond its products and services.
The TCSi is based on asking business clients how well their providers live up to each of the five customer promises, with answers on a seven-point scale (as you can see below).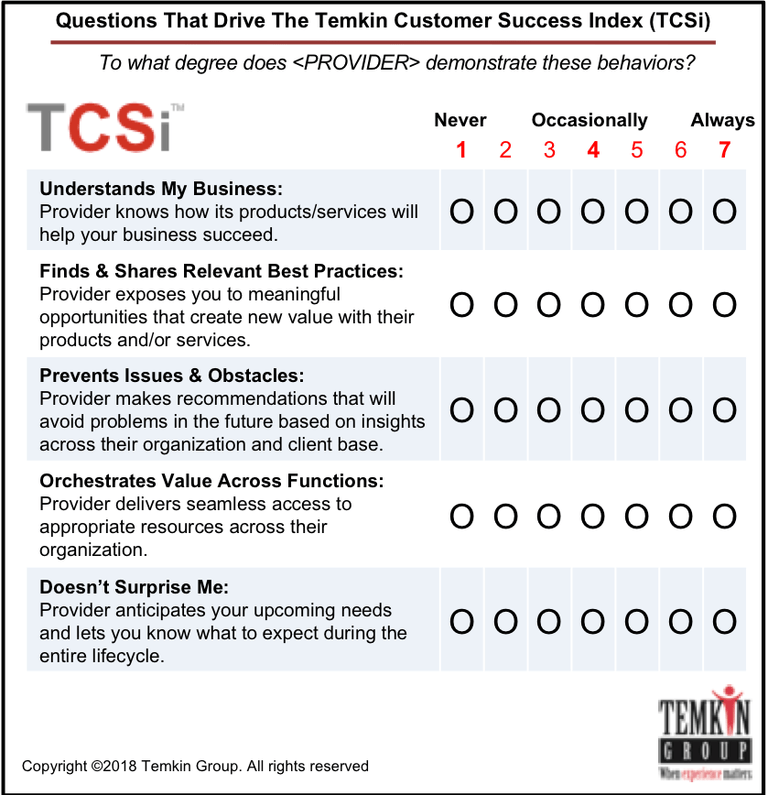 To calculate the index, we first create a net score for each promise by taking the percentage of 6s and 7s and subtracting the percentage of 1s, 2s, and 3s. The overall TCSi is an average of the net scores for all five promises.
Feel free to use the TCSi to measure your organization's customer success!
This blog post was originally published by Temkin Group prior to its acquisition by Qualtrics in October 2018.