Despite being central to an organization's customer experience (CX) efforts, most relationship programs remain stuck in the past. To address the needs of modern customers, organizations need to evolve their relationship measurement programs into relationship management systems, which focus on – not just generating metrics – but producing rich insights that ultimately lead to better customer experiences and smarter business decisions.
As we discussed in a previous post, this transition requires organizations to establish four key capabilities. Here, we will be exploring how to build one of these four capabilities, dynamic, always-on listening, which is the ability to capture customer feedback continuously through highly adaptive and personalized outreach.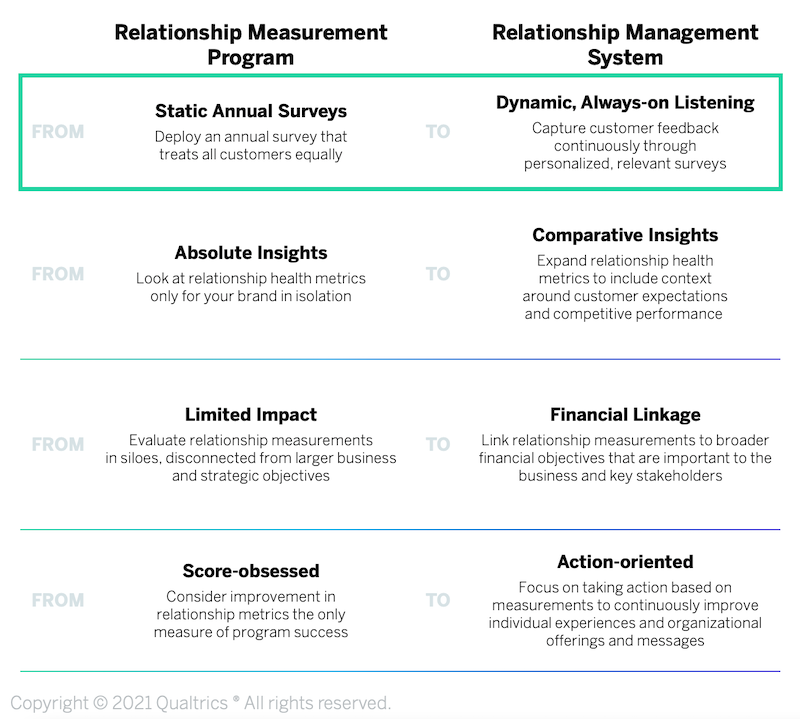 Why Invest in Building These Capabilities
Why should organizations invest in building this type of dynamic, always-on relationship management system?  These capabilities will allow them to:
Generate higher-quality insights

.

Relationship programs today frequently suffer from low response rates. The reasons for this are manifold – the timing is irrelevant, the format is onerous and boring, the invitations don't reach their intended audience, customers lack faith that their feedback will be acted upon, and so on. Creating a dynamic, always-on relationship program, which reaches customers where they are and in a format that's engaging and relevant for them, will result in higher completion rates and – as a consequence – will generate more accurate data. Organizations can then use that data to build rich profiles for individual customers, ultimately leading to more actionable, tailored insights. 

Respond to relationship health issues in real-time

. We live in an always-on world, where relationships are constantly evolving as a result of new experiences, the market landscape, lifestyle changes, and even world events. However, most organizations today only collect relationship health information from a subset of customers on a periodic basis, which limits the strategic value of these assessments. When organizations invest in building dynamic, always-on programs, they will be able to uncover and respond to changes in customer attitudes in real-time, intervening before it's too late to take substantive action.

Create a culture of ongoing listening

. The window organizations have to react to changes in customers' needs and expectations is shrinking. To meet the demands and expectations of modern customers, organizations can't wait for occasional relationship health reports. They need to cultivate a culture of continuous listening, where employees across the business are equipped with the knowledge, skills, and tools they need to use an ongoing flow of customer insights to make smarter, faster decisions. Having a dynamic, always-on relationship program that embeds relevant customer insights and suggested actions into employees' everyday workflow will help ingrain the mindsets and behaviors necessary for fostering this type of responsive, customer-centric culture.
The Five Shifts for Building a Dynamic, Always-on Relationship Program
To build a dynamic, always-on relationship management system, organizations need to make five shifts to their existing programs:
From Sample to Census.

Most organizations today send their relationship assessments to a random subset of customers until they've collected enough responses to achieve statistical significance. This approach may have worked historically – when the objective of a relationship program was to generate and aggregate data – but it doesn't serve the modern goal of producing meaningful insights that allow the organization to understand and respond to individual customer's experiences. To transform a relationship measurement program into a relationship management program, organizations need to move from a sampling approach to a census approach, where they try to collect relationship health feedback from their entire customer base. To make this feedback as actionable as possible, it should ideally live in customer profiles – alongside any relevant

operational data (O-data)

the organization has collected – where it can be mined to build segmentation models, personalize outreach and interactions, and inform the improvement and design of products, services, and experiences. 

From Periodic to Ongoing.

Organizations have traditionally collected relationship feedback by surveying their customers en masse on an arbitrary date once or twice per year. This periodic cadence leads to long periods with no incoming relationship health information and prevents organizations from identifying and fixing poor experiences in a timely manner, often leading to unhappy, lapsed, or lost customers. Rather than distributing surveys all at once a few times a year, organizations should instead ask for relationship feedback on an ongoing basis and at moments that are meaningful to the customer. They can use O-data to automatically trigger relationship assessments at the moments that will be most relevant to that individual, such as the anniversary of their first purchase or right before their subscription or contract renewal date. 

From Generic to Personalized.

Organizations typically send each of their customers the exact same relationship assessment, regardless of distinguishing characteristics such as their interaction history, customer tier, product usage, or demographic information. This one-size-fits-all approach not only risks creating poor experiences for survey respondents by asking them irrelevant questions, it can also make it more difficult to tease useful insights out of the data. Not all customers are equally valuable to the business. So asking everyone the exact same set of questions and weighting their responses equally can make it difficult on the back-end to identify the most impactful experience improvements. Instead of following this generic approach, organizations can personalize their survey assessments using the X- and O-data they've collected to dynamically update feedback requests based on which segments customers belong to and which journeys they've recently completed. 

From Single-Channel to Preferred Channel

. How organizations distribute their surveys will substantially affect their response rates and the composition of their participants. In recent years, organizations have mainly relied on email to send relationship assessment invitations. While this channel does offer a number of benefits as a distribution method – it provides an easier medium for long-form surveys, it's unobtrusive, it's easy to divorce from specific transactions – when organizations use it as the

only

collection channel, they're liable to miss their older, less digitally inclined customers as well as their younger customers who prefer channels like sms text,

in-app notifications

, and social media. Instead of using the same distribution channel for every person, ask customers for their preferred communication method and send them relationship assessments through those channels when possible. This will not just increase participation rates, it will demonstrate to customers that the organization listens to and understands who they are as individuals. 

From Structured Feedback to Rich Conversations

. Today, most relationship surveys require customers to click through numerous questions and write open-text responses – an exercise that is not only tedious and taxing for the respondent, but can feel like extra punishment for customers who have already suffered negative experiences with the organization. To ease the burden and better engage respondents, organizations can instead give customers the option of providing video feedback, audio recordings, or photos as part of or in place of a survey assessment. Offering these types of response options can benefit the organization too. When they apply advanced analytics – like text, speech, and sentiment analysis – to understand and quantify the feedback, it will produce a rich repository of data they can then mine to uncover key trends and improvement topics. And, because this type of feedback is naturally more emotive, organizations can share these real customer stories to educate employees and build empathy for customers.
The bottom line: Make five shifts to move from static annual surveys to dynamic, always-on listening.
Sarah Alio is a Product XM Scientist with Qualtrics, specializing in Relationship Health 
Isabelle Zdatny, XMP, CCXP, is an XM Catalyst with the Qualtrics XM Institute