What motivates employees? This may seem like a difficult question to answer, but it's not hard at all. There's one overwhelming answer: Making a positive difference.
In our latest consumer benchmark study, we asked more than 5,000 full-time U.S. employees to select which of eight job characteristics they felt was the most important. Here's what we found:
Making a positive impact: 42%
Earning a lot of money: 14%
Advancing your career: 13%
Building stronger skills: 12%
Using your judgment: 8%
Being seen as a top performer: 6%
Making friends at work: 3%
Impressing your family and friends: 2%
Making a positive impact is also the most important job characteristic across all age groups. As you can see below, it becomes increasingly more important as employees get older. For the youngest employees, being seen as a top performer comes in a close second place, but nothing is even close with older employees.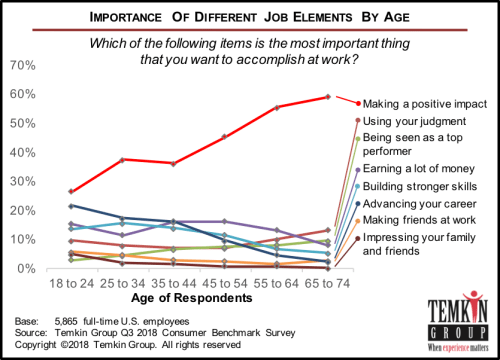 We also asked employees about the elements of their job that they enjoy. The chart below shows that once again, making a positive impact comes out on top across age groups and increases with age. For younger employees, building stronger skills is a very close second. As employees get older, using your judgement becomes an increasingly enjoyable element of their job.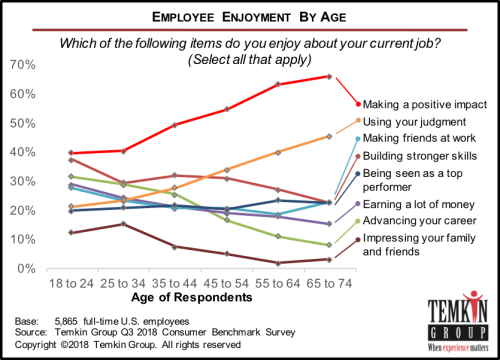 The bottom line: Help employees feel like they're making a positive impact.