As many parts of the U.S. loosen their COVID restrictions, many businesses are heading into the Explore phase, the first of three phases of recovery that I've previously defined.  To understand consumers' mindsets entering into this new phase, we asked 10,000 U.S. consumers a number of questions about their attitudes and activities.
Health Concerns and Trusted Information Sources
We wanted to understand how consumers feel about their personal health risk and where they turn for information. As you can see in the two charts below:
Consumers are worried. About two-thirds of consumers are at least somewhat worried about contracting the coronavirus. Interestingly, the most concerned are between the ages of 25 and 44. [Figure 1]
Governors are the most trusted. We asked about the sources that people trust to provide them with reliable COVID information. Across every age group, governors, are the most trusted and broadcast news is the second most. Employers and friends and relatives are the least trusted. [Figure 2]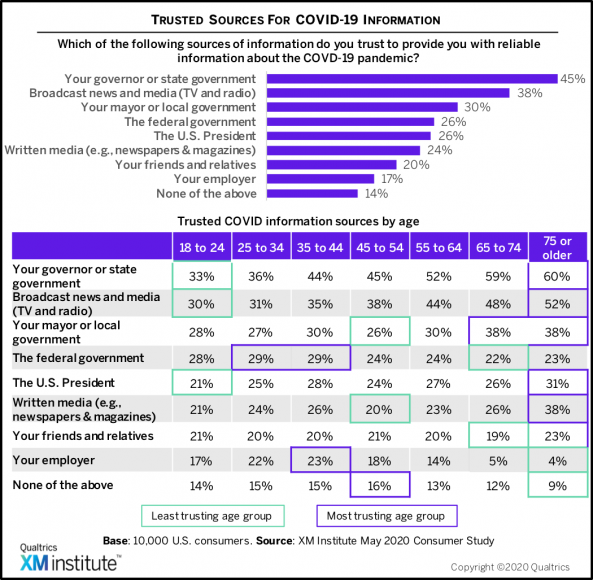 New Online Activities During and After COVID
As people change their daily routines, what new online behaviors have they adopted? We asked consumers about 16 activities and found that more than 20% of consumers started using video to make calls and to participate in group discussions with friends and family since the start of COVID [Figure 3]. Next on the list is virtual religious services and remote healthcare.
But what activities do they expect to continue?
Online banking has the most momentum. Eighty percent of people who started to bank online say that they are at least somewhat likely to continue that activity. Next on the list are streaming shows and buying online. [Figure 4]
Young consumers are the least likely to change. We examined the dynamic by age group, looking at the percentage of consumers who are likely to continue the activity (of those who began during this COVID period). The youngest group of consumers only show strong momentum in one of the 16 activities. The group that seems ready for the most change are 35- to 44-year-olds, who have strong momentum across 14 activities [Figure 5]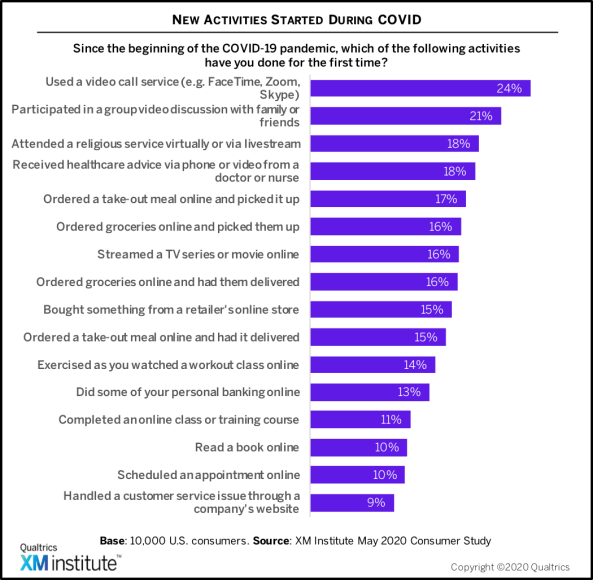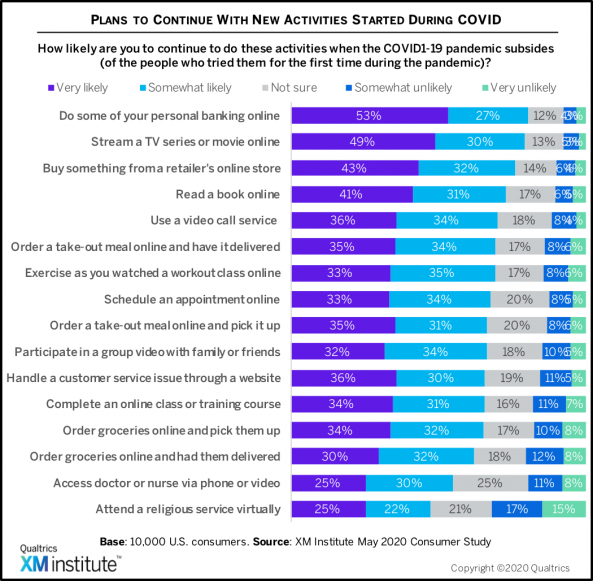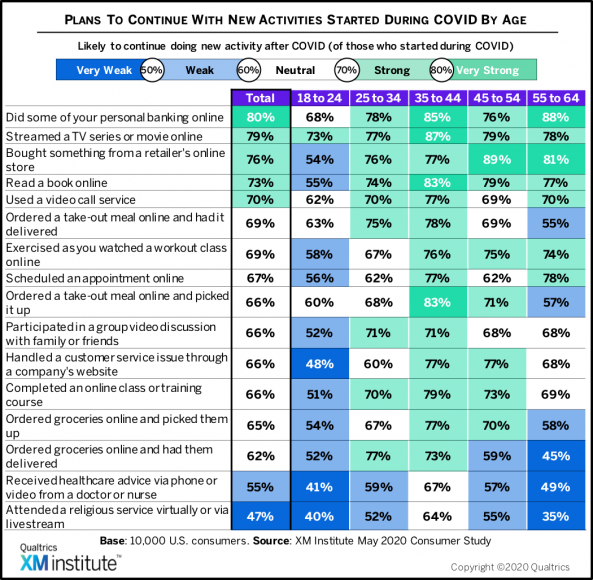 Plans to Restart In-Person Activities
As organizations make plans to go back to business, consumers will begin ramping up their in-person activities. But which ones are at the top of the list? We asked consumers about their likelihood to quickly start doing 17 common activities. Our analysis shows that:
People want to go shopping. More than 80% of consumers are at least somewhat likely to go back to the grocery store. Next on the list is shopping in a store, which is a likely activity for 70% of consumers. [Figure 6]
35- to 44-year-olds are ready to get out. We examined the dynamic by age group, looking at the percentage of consumers who are likely to quickly start the in-person activity (of those who began during this COVID period). 35- to 44-year-olds show very strong momentum across four of the activities, the most of any age group. The oldest group of consumers shows the fewest activities with strong momentum, but their level of momentum is highest across any age group for three of those in-person activities. [Figure 7]