The vendor market for Voice of the Customer (VoC) products and services has been heating up, with numerous acquisitions and mergers. All of this is happening as companies are trying to figure out how to run successful VoC programs. It appears that we on the verge of the next stage in evolution for VoC. So I decided to step back and look at the overall market.
VoC Programs Need To Grow Up
Our research shows that nearly three-quarters of large companies rate their voice of the customer (VoC) programs as being successful (only 8% say that they've been unsuccessful). That's great—infusing almost any type of customer insights into a business can add value.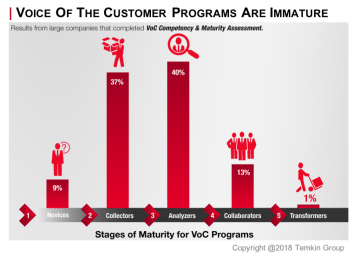 However, companies aren't close to reaching their full potential. Only 14% of companies have reached the the two highest levels of Temkin Group's VoC Maturity Model.
One of the reasons for this immaturity is a simple fact: creating and managing great VoC programs isn't easy. They take significant leadership commitment and a  variety of expertise. In many cases, however, companies don't redesign their approach to customer insights, they simply end up updating and automating many of their historical practices.
The big change for VoC programs is that they must focus more on enabling action across their organization. We found that only 24% of large firms think they are good at making changes to the business based on the insights. For VoC programs to fully mature, they need to become hyper-focused on generating insights in the right form at the right time to help people across their organizations make better, more informed decisions.
As if that's not enough to work on, companies will need to address Six Customer Insight Trends that will reshape VoC programs: 1) Deep Empathy, Not Stacks of Metrics; 2) Continuous Insights, Not Periodic Studies; 3) Customer Journeys, Not Isolated Interactions; 4) Useful Prescriptions, Not Past Descriptions; 5) Enterprise Intelligence, Not Customer Feedback; and 6) Mobile First, Not Mobile Responsive.
VoC Vendors Need To Grow Up
In 2010, I rejected the label "Enterprise Feedback Management (EFM)" that was being used to describe vendors that provided technology and services for VoC programs. Instead of EFM, I labeled them as Customer Insight and Action (CIA) Platforms and here's why:
To some degree, surveying functionality is becoming a commodity. Organizations are recognizing that feedback is not valuable on its own; it only becomes valuable when it's used as an input to insights which drive some type of action. So the focus is no longer on feedback, but on insight and action. Hence, Customer Insight and Action (CIA) Platforms.
Fast forward to 2018 and I think that CIA Platforms is still the correct name for these offerings (from vendors such as Confimit, InMoment, MaritzCX, Medallia, and Qualtrics). They continue to evolve towards this description I used in 2010:
CIA Platforms need to support closed-loop voice of the customer (VoC) programs that are going beyond structured, solicited feedback (traditional surveys). With the maturing of text analytics and the rise of social media, companies are increasingly mining insights from unstructured, unsolicited feedback like customer comments on surveys, notes and verbatims from contact center conversations, inbound emails, online chats, social media sites, customer feedback comments, etc

But new channels of feedback (also called "listening posts") are not the only element that distinguishes CIA Platforms from their predecessors. These applications also provide actionable insights by:

Incorporating non-feedback data like customer profiles and transactional history
Distributing tailored, contextual insights across an organization
Providing alerts based on specific criteria
Supporting workflow associated with taking action based on the insights
Integrating with other applications like CRM and workforce management
Next Generation CIA Platforms
Okay, so we got that right eight years ago. What's next? Here's where I think the market is heading for enterprise CIA Platforms:
Advanced analytics. We'll see a considerable increase in the use of predictive analytics and the use of speech analytics to unlock insights from invaluable contact center conversations.
…and way smarter analytics. The current set of analytics are mostly designed for analysts to uncover insights, but we'll see more "packaged" analytics that mask complexity to provide tailored recommendations that improve high-impact decisions across the enterprise.
More focus on casual users.The days of generic metrics and dashboards will hopefully be a thing of the past. The information provided to people will be specific to their roles, and will proactively highlight the information that they need to know. It may take the form of highly customized dashboards, but it could also be a monthly infographic that can be posted in the lunchroom for hourly workers.
Less surveys, but more data. We already see in our research that organizations are becoming less reliant on surveys. This feedback will become less about understanding what's being said by individual customers, and more about using the insights in predictive models to extrapolate what it might mean across entire segments of customers. This will require companies to integrate feedback with lots of customer data from other systems.
More selective, targeted feedback. Companies will get better at strategic sampling. What is this? Being smarter about who they get feedback from and when they get that feedback. The current approach of trying to hear from as many customers a possible in as many places as possible is conceptually attractive, but it's an inefficient use of internal resources, and it puts a strain on an even more important commodity—customers' time and attention.
Easier to use, but less "self-service." In many cases, large enterprises lack the internal skills and know how to create and sustain a strong VoC program. While the technology platforms will continue to become easier for companies to administer and use without vendor support, strong VoC programs will increasingly recognize the need to tap into externally provided support across a number of areas, including:

Program setup
Data management
Sampling strategies
Dashboard design
Analytics
Insight distribution
Operational redesign
The bottom line: VoC programs and vendors need a makeover.
This blog post was originally published by Temkin Group prior to its acquisition by Qualtrics in October 2018.