Last week, the Temkin Group leadership team attended the World Congress on Positive Psychology in Orlando. Kudos to the International Positive Psychology Association for putting on such a great event. It was inspirational for us, as it confirmed what we fundamentally believed; positive psychology can be an incredibly valuable tool within the world of customer experience.
What is Positive Psychology?
Before we go any further, I want to make sure everyone understands what positive psychology is all about. Here's the definition from the Positive Psychology Center:
Positive Psychology is the scientific study of the strengths that enable individuals and communities to thrive. The field is founded on the belief that people want to lead meaningful and fulfilling lives, to cultivate what is best within themselves, and to enhance their experiences of love, work, and play.
It's a new branch of psychology where the emphasis is not on fixing psychological ailments, but on helping people "flourish." You may want to read the book Flourish: A Visionary New Understanding of Happiness and Well-being by Martin Seligman, who many consider the godfather of the positive psychology movement.
Highlights from the World Congress
Seligman was one of the keynote speakers at the event, which included the who's-who list for positive psychology. Here's a small dose of highlights from the keynote speakers:
Infusing Positive Psychology into Customer Experience
Hopefully, this brief introduction to positive psychology has made it clear why there is so much potential value for customer experience.
To make the connection explicit, here are three of the many themes from positive psychology that we will be infusing into our work:
Positive emotions support sustained behavior change. People are more apt to continue an activity if it results in positive emotions, which supports more sustainable results than sheer personal willpower.
Positive emotions increase human capacity. People are more thoughtful, creative, and adaptive when they experience positive emotions, and it also improves their physiological health and well-being.
Meaningful work amplifies positive emotions. People experience more positive emotions when they find meaning in their work, and this can be heightened when their work and efforts are appreciated.
We believe that these themes can affect every aspect of customer experience. Here are some of the many ways that they connect with our four customer experience core competencies: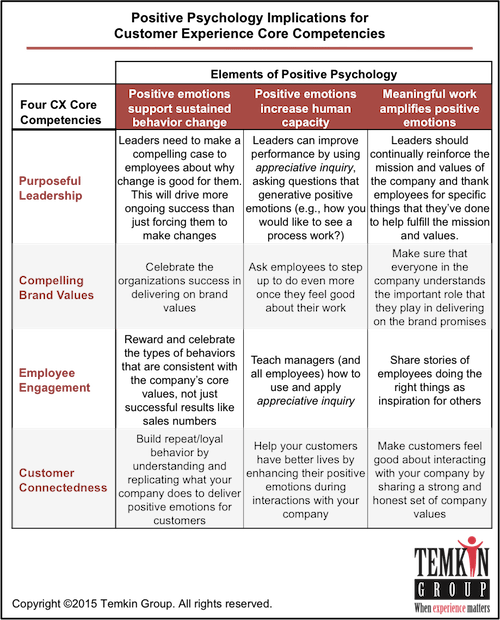 Positive Psychology within Temkin Group Research 
We plan to increase our focus on positive psychology within Temkin Group's research and advisory services, but positive psychology is not a new theme for us.
The bottom line: Positive psychology and customer experience are a natural fit.
This blog post was originally published by Temkin Group prior to its acquisition by Qualtrics in October 2018.