These are difficult times for many businesses, and it looks like customers aren't very happy either. We examined our U.S. Net Promoter® Score (NPS®) data for this year and compared it to last year's data. Both studies were conducted in May, so the 2020 data reflect the middle of the COVID-19 pandemic.
NPS dropped in all 20 industries that we track. The average decline across all industries was more than 15 points, with the bulk of the impact occurring with younger consumers. As you can see in the two graphics below:
Overall NPS dropped from 29.8 to 14.6

NPS dropped more than 30 points with the youngest age group

NPS dropped "only" 3.2 points with the oldest age group

Credit cards, hotels, and rental cars declined the most (-28 points) and have the lowest NPS

Only four industries declined less than 10 points: TV/Internet service providers, wireless carriers, health insurance, and fast food.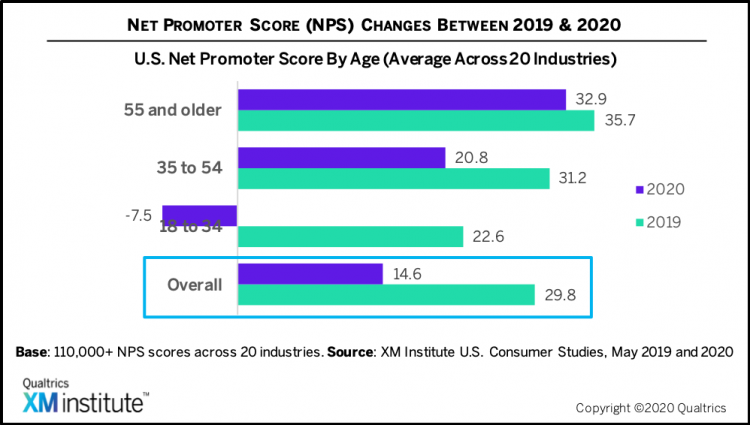 In case you want to know a little more about the data, here's what we did:
Surveyed 10,000 U.S. consumers in May 2019 and May 2020, who collectively provided us with more than 110,000 NPS data points across 20 different industries each year

We calculated the overall NPS and NPS by age group for each of 20 industries

The analysis in this blog post is based on an average of the data across all 20 industries
Net Promoter, Net Promoter Score, and NPS are registered trademarks of Bain & Company, Inc., Fred Reichheld, and Satmetrix Systems, Inc.