In a recent XM Institute report, we discussed how to operationalize Experience Management (XM).  Why does XM matter? Because it creates a discipline that helps organizations continuously learn (how people are thinking and feeling), propagate insights (to the right people in the right form at the right time), and rapidly adapt (to an increasing flow of actionable insights).
As we look into the future, just about every organization is facing more demanding customers, more demanding employees, and shorter product lifecycles. In this environment, they need to make smarter, faster decisions… They need XM.
Organizations that master XM will adapt faster than their peers. That statement alone should be compelling enough to focus on building XM capabilities. What happens to your organization if your competitors are systematically adapting faster than you?!?
To understand where XM will come into play, I've identified four categories of insights that XM leaders will better understand and more quickly respond to than their peers. Let's just call them the Four Ps of XM Insights: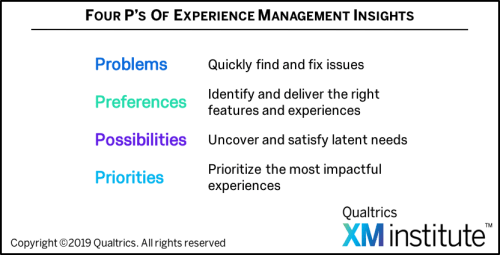 Problems: Have an issue with a product, a brand message that's going awry, a manager ruining morale, or a process that's turning customers into detractors? XM leaders will spot those problems and make appropriate adjustments, before their competitors have any indication that there may be an issue.
Preferences: What features do key customers prefer, which brand messages resonate with target audiences, and what benefits will have the most impact on employee retention? XM leaders will know the answers to these types of questions and make adjustments before their peers even formulate the questions.
Possibilities: What unspoken needs do your customers have, what innovations are in the minds of employees, how can you reinvent your brand, and what should your next generation of products and services look like? XM leaders will have a continuous pulse on these types of insights, while their competitors just brainstorm about them during planning off-sites.
Priorities: Which actions will drive the most loyal customers, the most engaged employees, the most vibrant brands, and the most irreplaceable products? XM leaders will understand these connections and focus their resources on the most impactful areas, while their competitors debate options with random groups of employees who happen to be invited to meetings.
The bottom line: XM leaders will adapt faster to problems, preferences, possibilities, and priorities.