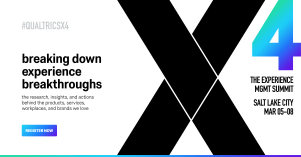 Last week I joined more than 10,000 XM enthusiasts at the Qualtrics X4 Summit in Salt Lake City. This was my fourth X4, and the first one since joining Qualtrics. I really enjoyed seeing old friends and meeting many new ones. We have some really awesome clients!
My head is still spinning from the amazing event. Over two days, we were treated to the most incredible line-up of speakers, including President Obama, Oprah, Sir Richard Branson, Ashton Kutcher, NBA Commissioner Adam Silver, and Imagine Dragons' lead singer Dan Reynolds. Add to that an Imagine Dragons concert, skateboard exhibition by Tony Hawk and his friends, and a dance contest to support 5 for the Fight (including tWitch). And yes, there were also a bunch of fantastic industry speakers.
There were so many extraordinary experiential elements around the event, including the environment for my two speeches. One of my talks was in a very large open space where attendees listened through headsets and the other was in an informal setting that was part of a private lounge for senior leaders. (Note: I'll write another post to share some of that content).
Here are some of my favorite X4 moments:
Oprah was just purely amazing and inspiring. She talked a lot about the importance of "intention," having clarity of your personal purpose (I am totally bought into the power of purpose). Some other lessons from her include, "your legacy is every life you touch,"  "notice what you have, not what you don't have, and you will recognize the abundance around you," and you need to acknowledge and validate other people. Her closing question challenged all of us: How do you use your true self in service of the world? And, I'm still chuckling about her discussion with Ryan Smith about Barnaby.
President Obama was so chill. He looked calm and loose, which made it very entertaining. He discussed his approach for making difficult decisions: "setup a process to figure the thing out with facts, data, and reason." He made sure that the people in his administration were there for the right reason; not personal gain, but achieving their common mission. He required everyone to have integrity at their core. One of my favorite moments was when Obama quoted from The Departed. He discussed a scene where Mark Wahlberg's character is asked who are you? and answers "I'm the guy doing my job. You must be the other guy." Obama said that his staff would often use the phrase "Don't be the other guy." He also left us with an important charge, "focus more on our common hopes, dreams, and values, not on the things that pull us apart, and we can accomplish great things."
Adam Silver really surprised me. I'm a big fan of his work with the NBA, and have seen him speak at the MIT Sports Analytics Conference. But I never knew he was such a data guy. He discussed XM, like a pro. He clearly articulated how the combination of SAP and Qualtrics would help the NBA. He even discussed X-and O-data!
Sir Richard Branson was truly authentic. He seems like a great person to work for. He discussed how you purposely help more and more people as you get successful, expanding the circles from yourself, to your family, to your community, to the world. He called the American holiday system "a total disgrace" for not allowing workers to have more time off.  Branson believes that "every day is a fantastic learning experience," and he also believes in promoting from within and delegating. This is what he had to say about brand, "you are only as good as your reputation, and you will need to zealously protect it." He will only get into a new business if employees will be really proud and customers will sing its praise.
Bill McDermott explained why SAP & Qualtrics makes so much sense. He described SAP as a company with 'a great brand and a good heart.' Not only is that the type of company I want to work for, but it's also how I would love to be personally viewed by other people. McDermott labeled XM as "the ultimate category" for enterprise software. He summed up the acquisition with a quote from Jerry Maguire, "Qualtrics completes us." You can see a lot of what he said in this really good article.
Qualtrics employees delivered awesome content. Ryan And Jared Smith did a great job sharing the XM vision and highlighting amazing new capabilities in our XM platform. I was really proud of all of the Qualtrics speakers that I was able to see. The overall storyline at the event was that organizations often fail because they get blindsided; they lack good instrumentation. In order to deliver breakthrough experiences, you need more XM instrumentation.
Our new offerings are incredible. We announced a crazy number of game-changing additions to the Qualtrics XM Platform. We're using AI in many areas across the platform, including to analyze data and create automated alerts about potential problems and opportunities. And our new mobile experience is pretty cool as well. Here are links to some of the other announcements:

New CX offerings include Front Line Feedback, VoiceIQ, and B2B Command Center.
New EX offerings include Employer Brand Tracking, Digital Listening Posts, Work/Life Balance Solution, Benefits Optimizer, and EX Mobile Dashboards.
In addition, we announced a new brand tracking offering, Qualtrics Developer Platform,  new benchmarks, data privacy & governance capabilities, more advanced analytics, and new partner offerings from Bain & Company, JD Power, Kantar, Walker, and Korn Ferry that are integrated into the platform.
I'll end this post with a shout out to our XM Breakout Artist Winners:
CX: American Express
EX: Coca-Cola
PX: Belkin
BX: Sofi
XM: L.L.Bean
The bottom line: X4 was amazing; I'm already looking forward to next year.