With employee expectations increasing and the business environment becoming more competitive for talent, employers are working to find new ways to retain their employees. For Deloitte Digital, this means keeping their employees engaged and delighting them with thoughtful, personalized experiences. To understand how they do this, we spoke to Deloitte Digital's Advertising, Marketing, and Commerce Chief of Staff, Alisha Thompson, about their Dream Team program.
Background
Deloitte is a large, sprawling organization whose more than 300,000 global employees provide clients with a variety of professional services offerings, including accounting, auditing, consulting, and risk advisory. Alisha works within Deloitte Digital, a unit of Deloitte's broader consulting practice that is focused on using technology to improve the experiences their clients deliver.
During a strategy sprint several years ago, Deloitte Digital identified a north star objective for the organization, to "Elevate Human Experience"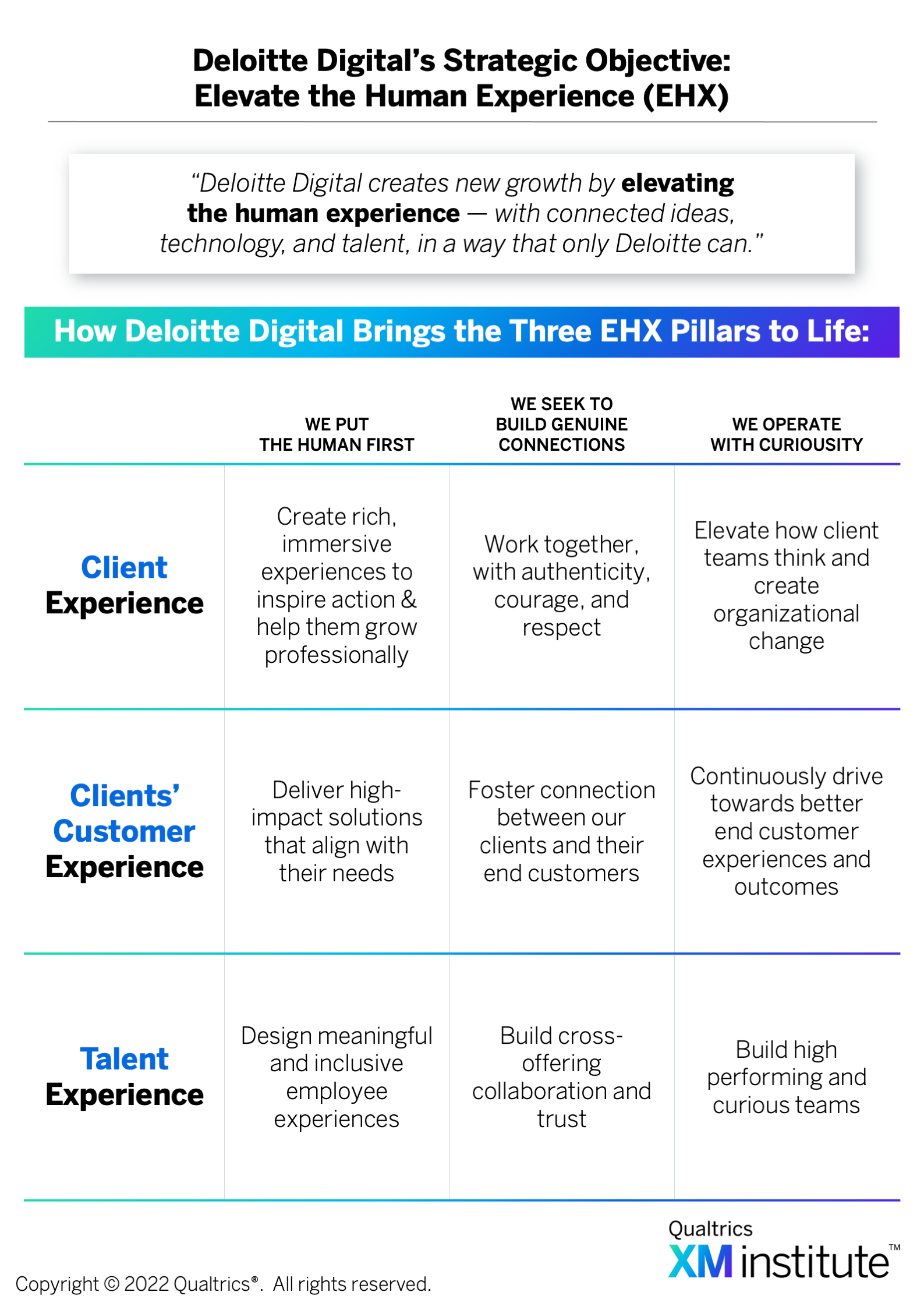 . To make this new ambition real and tangible, it broke it down into three supporting pillars: elevating the experience of clients, elevating the experience of clients' customers, and elevating the experience of its own talent. Historically, Deloitte Digital evaluated the experience of its own talent through an annual talent survey. It would field the survey in November, finish analyzing the data in February or March, and then use the insights it generated to fuel talent engagement strategies for the next year.
However, while attending Qualtrics' X4 conference, Deloitte Digital leaders had an epiphany. Capturing employee feedback once a year may provide a good snapshot of talent experience, but it limits the organization's ability to quickly surface and respond to people's ideas, concerns, or attitudes. The leaders realized that they couldn't elevate the talent experience if they didn't have a regular window into what that experience looked like.
To address this gap, Alisha started a pilot program in the United States, where her team sent out an "Elevating Human Experience" (EHX) survey every six weeks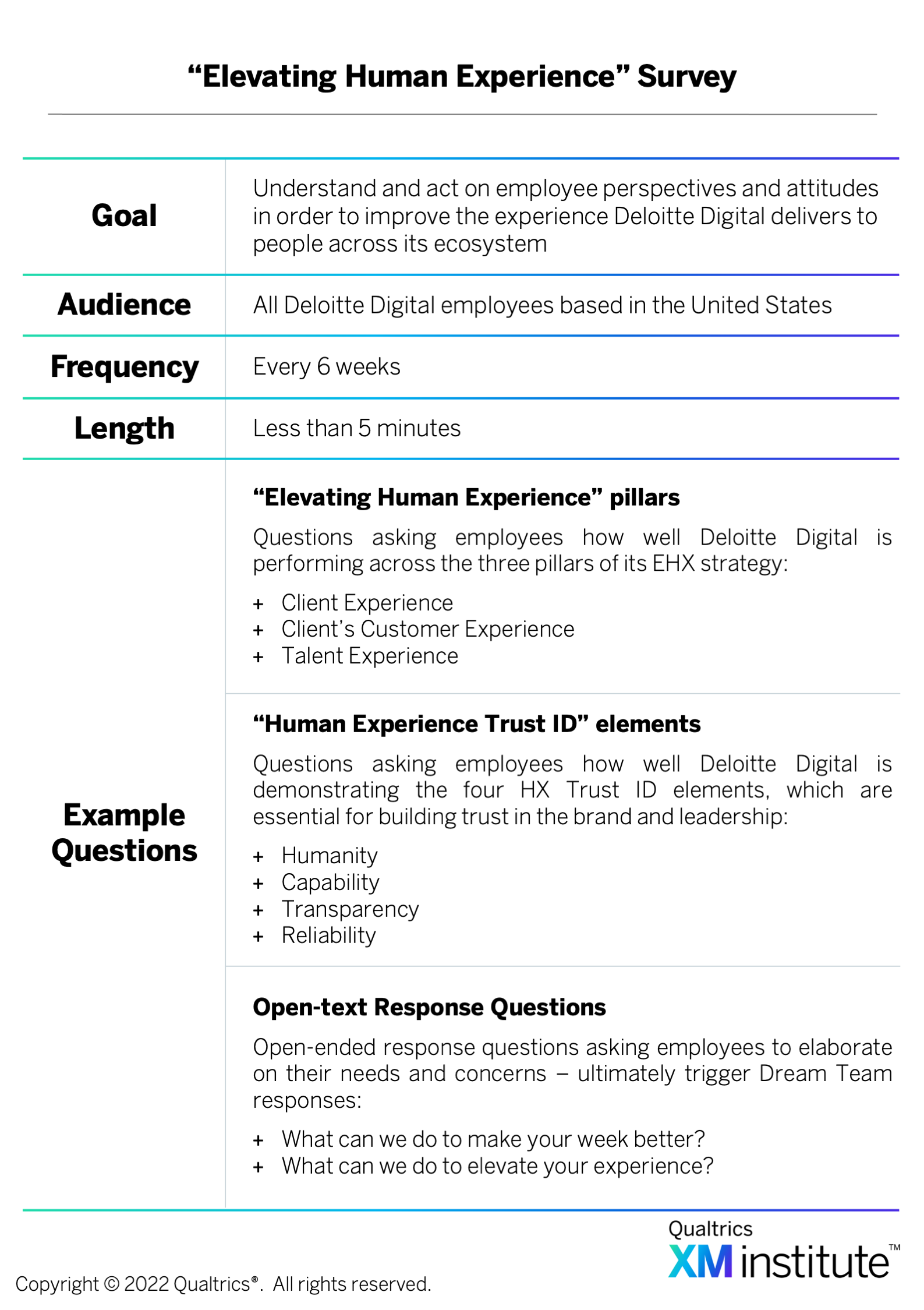 . Recognizing, however, that just measuring talent experience is not enough, Alisha created "the Dream Team," a group of employees who are dedicated to analyzing and responding to the insights surfaced through the EHX survey – especially the open-ended text comments – to improve the experiences of both individuals and the broader workforce inside Deloitte Digital. Based on the success of the initial pilot, the organization rolled out the program to all US-based employees in July 2020, and this program is now the main lever that activates the "elevating the experience of our own talent" pillar.
The Deloitte Digital "Dream Team"
The Dream Team is responsible for taking the data captured in the EHX survey and using it to drive actions that will improve the talent experience. To do this effectively at both an individual level and at a broader, more strategic level, the Dream Team program is comprised of several key groups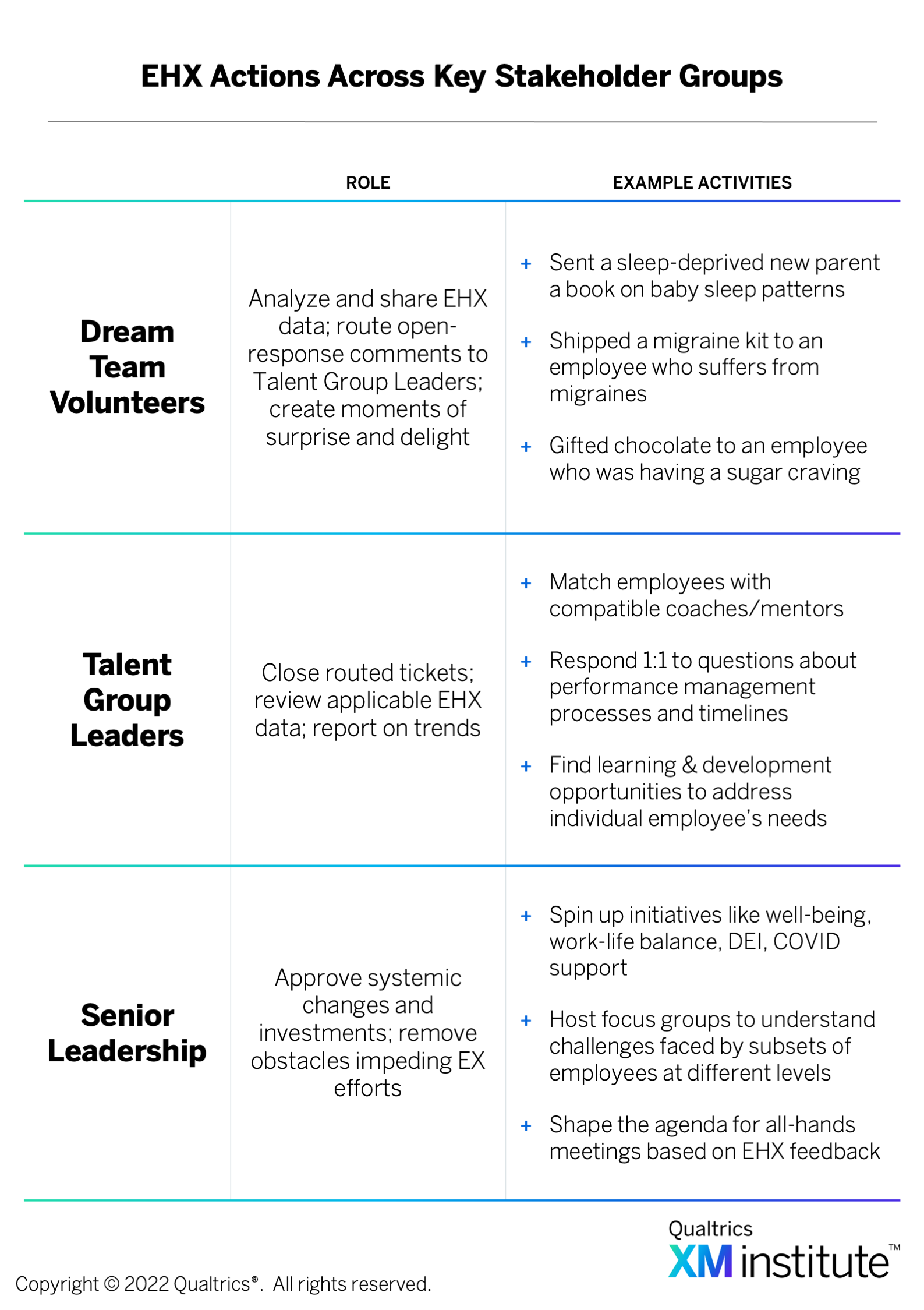 :
Dream Team Volunteers. At the heart of the Dream Team is a small, yet mighty team – including Alisha – who dedicate time each week to synthesizing feedback and trends in the EHX data, combing through open-ended comments, creating reports, and routing tickets based on open-text responses to the Talent Group Leaders who are best poised to act on that information. These volunteer employees – who do this work while also staffed full-time on client projects – also follow up to ensure each survey response is responded to or acted upon in a timely manner. In addition to this more analytical work, these core Dream Team members also surface and act on opportunities to create moments of surprise and delight for their colleagues, bringing them joy through gestures like sending a small gift based on the individual and the comments they provided in the survey (see more details below).
Talent Group Leaders. While Talent Group Leaders may not be part of the core Dream Team, every leader at Deloitte Digital is expected to participate in Dream Team activities. One of these key activities is closing each ticket routed to them by the Dream Team volunteers. How precisely they follow up with the individual whose comments triggered the ticket is up to them; they can meet with the employee one-on-one, enroll them in additional training, connect them to an appropriate resource – whatever it takes to solve the challenge. In addition to solving individual employee issues, these leaders are also expected to look at the broader EHX survey data as it relates to their domain, extract trends and insights, and report on it during events such as all-hands meetings.
Senior Leaders. Given Deloitte Digital's overarching "Elevate Human Experience" strategy, every executive in the organization is expected to participate and support the Dream Team in some way. For senior leaders, this manifests as more of a stewardship role. Rather than improving talent experience one employee at a time, senior leaders act as approvers for larger systemic change. To guide these strategic decisions, Alisha's team prepares EHX reports for them, highlighting notable trends and topics that are top-of-mind for employees, and comes to senior leadership meetings with recommendations on how to address those findings. Senior leaders are then responsible for giving the go-ahead for these initiatives and removing obstacles that could potentially hamper these efforts.
Taking Action on Individual Responses
Many organizations, even those who regularly collect employee feedback, struggle to act on every individual's insights or concerns. Rather, they focus on initiatives that speak to the needs of the majority of their employees, leaving the less common concerns unaddressed. Thanks to its unique structure, however, the Dream Team is able to follow up one-on-one with each and every employee who provides actionable feedback – meaning they leave a comment in one of the open-ended questions on the EHX survey.
Only about half of employees leave an open-text response in any given EHX survey, and half again are either comments to the effect of, "I'm great and don't need anything," or compliments such as, "I just attended this training, and the team did a wonderful job"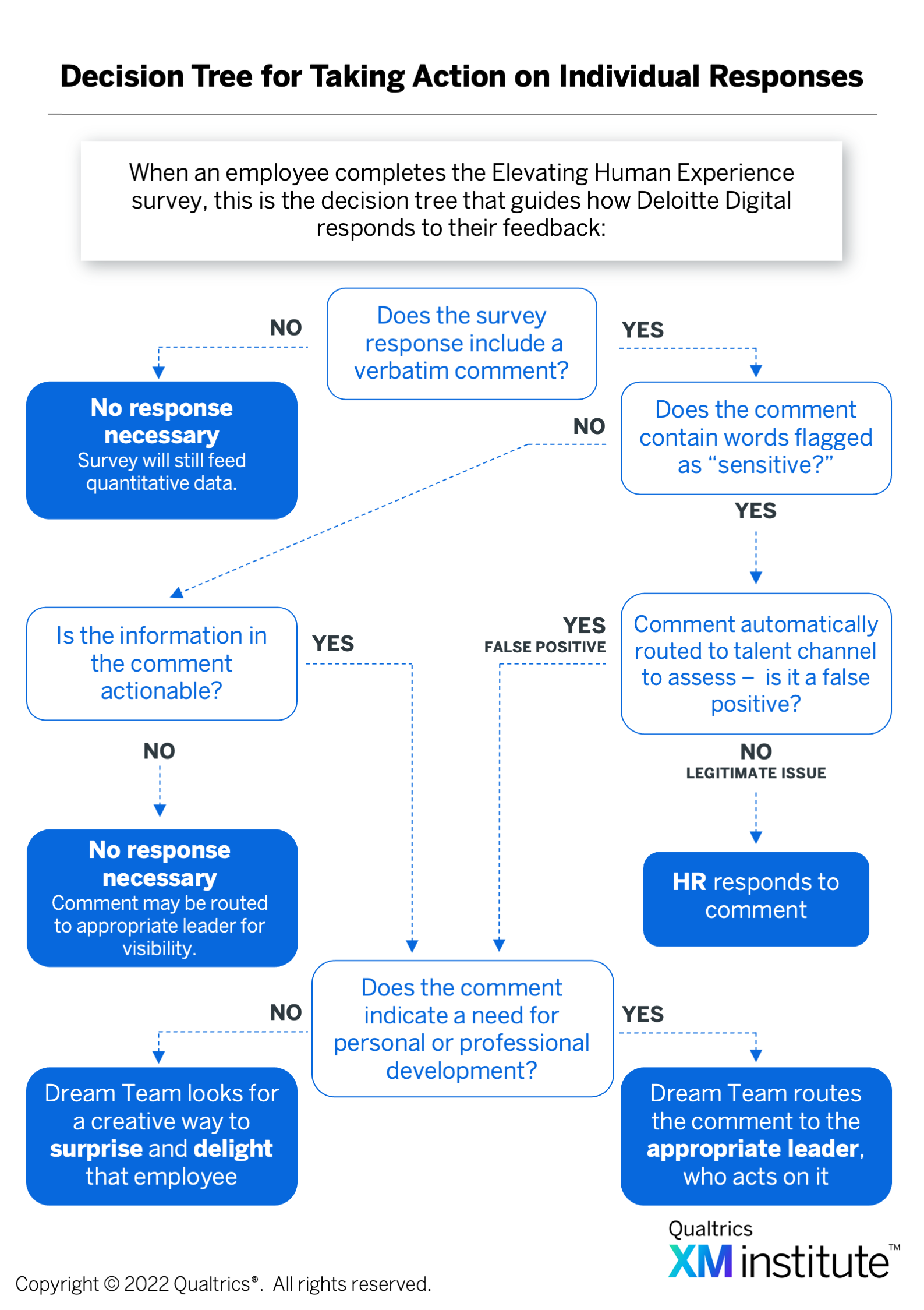 . The former does not require any response, and the latter simply gets forwarded to the appropriate leader for visibility. The remaining verbatims do merit some type of follow-up action, which can take a few different forms:
Surprise and delight. When the Dream Team initially looks through the comments, they read it through the lens of how they could surprise and delight that employee. For example, when one employee expressed dismay that he could no longer bring his dog to the office due to a change in real estate policy outside the company's control, the Dream Team ordered him a stuffed version of his golden retriever to keep him company in the office. In his thanks that someone had actually read and responded to his comment – something he didn't think happened – he named the dog "Alisha," and it became the office mascot. To manage these surprise and delight moments, Alisha developed general guidelines on what constitutes a giftable moment and then empowered the Dream Team members to act on opportunities as they see fit. They have access to a dedicated pool of resources and just need to report back on the expenditures.
Educational opportunities. Whenever an employee submits a comment indicating they are struggling with a particular aspect of their role – such as presentation skills, building PowerPoint decks, creating spreadsheets, etc. – the Dream Team will route that individual's response to the appropriate Learning & Development manager. That L&D manager is then responsible for connecting them with the right educational resources. This might mean enrolling them in a training course or connecting them with a coach who can help them develop their skills.
Professional development. If an employee signals they need a different coach or mentor for career development (Deloitte Digital focuses heavily on its mentorship program), the Dream Team will route that comment to the Talent Business Advisor, who will work with the individual and match them with a different, more suitable guide. To ensure people feel comfortable sharing such personal information on a survey with their name attached, this transition is made without alerting the previous coach or manager to the issue.
Sensitive topics. Since the whole point of including open-ended responses in the EHX survey is to improve individuals' experiences, by necessity, these verbatims are not anonymous. To appropriately protect sensitive information, the survey and dashboards are designed to automatically scan for "sensitive" keywords – a list of 700 words that are embedded into the Qualtrics platform. If a response includes one of these keywords, it automatically gets routed to the talent channel and flagged for review, so privacy is protected. More often than not, these turn out to be false positives, and the talent analyst sends it back to the Dream Team to respond to the comment through the normal process flow.
Elevating Talent Experience
The Dream Team not only takes actions to improve the experiences of individual employees, it also reviews, analyzes, and shares data from the EHX survey, spotlighting key trends and insights from the feedback. This data has been invaluable for driving improvements to talent experience at a broader, more strategic level. Historically, most of the insights regarding employee experience were just anecdotal – such as, "People feel stressed," or, "New hires aren't getting the training they need" – which made it easy for the large organization to dismiss these as one-off comments. The EHX survey, however, generates a near-constant flow of data-backed insights into people's attitudes and perceptions, making it easier for Alisha's team to secure consensus and buy-in around how to improve Deloitte Digital's overall talent experience.
Once a month, Alisha reports out the Dream Team's findings during an operational call with leaders, sharing noteworthy trends and employee verbatims and making recommendations about how to respond to the insights. For example, she might highlight the gaps in training and onboarding caused by the company's rapid hiring cadence or annual shifts in compensation concerns during bonus season. When COVID hit, she was able to show leaders how employee sentiment had shifted from concerns over compensation and coaching to concerns about physical well-being, remote work, and then later, the political climate. This type of information – communicated through reports, dashboards, and metrics – allows leadership to institute systemic changes to improve talent experience in a responsive, agile fashion. So far, the Dream Team has helped elevate the organization's talent experience in a few notable ways:
Improving leadership approachability. One of the earliest insights from the Dream Team was that employees wanted leaders to be more transparent and approachable. Employees felt that they were getting the same face that leaders showed executives at client organizations – buttoned-up and professional. Based on these insights, leaders began to act more casually and share more personal stories to humanize themselves and become more relatable and authentic. For example, one leader sent a post to his team following a bike ride. He initially felt apprehensive about appearing so sweaty and unpolished, but he received so much positive feedback from employees who appreciated seeing him in a more laid-back setting, he changed his behavior going forward. Internal meetings have also evolved from rigid, formal presentations to more casual conversations that begin with stories and human-centric topics. Leaders have even started having coffee chats with junior employees. As a result of these changes, trust in and positive sentiment toward leadership – which the EHX survey asks about – has soared. All of which has created a positive feedback loop, reenergizing leadership and encouraging them to bring more of their whole selves to work.
Raising junior staff visibility. In addition to leaders acting more authentic during internal meetings, they have also started handing the reins over to junior staffers more frequently. This is not only beneficial for the individual employee – they have the opportunity to hone their presentation skills, build their expertise in a particular area, and raise their visibility across teams – it's also good for the wider company culture. When people know their colleagues better, it leads to a more cohesive, supportive work environment, which in turn improves retention. These junior staffers often present on EHX topics but have also hosted more lighthearted bonding events, such as a Halloween costume contest.
Developing clear and transparent communications. The Dream Team also surfaced a strong appetite for more clear, transparent communications, which leadership responded to in several ways. For example, the organization had stopped releasing an internal newsletter as they had heard anecdotally that people weren't taking the time to read it. EHX survey data, however, indicated that employees felt disconnected and weren't sure what was happening across the organization, so they brought back that newsletter, plus a second one focused on employee wellbeing. The Dream Team also found a trend – repeated and reinforced in other EX initiatives – that people wanted more transparency around things like bonuses, compensation, DEI practices, and paths to promotion. In response, the organization adjusted communications around these topics to be more clear and straightforward.
Emphasizing well-being and productivity. EHX survey results also uncovered a need for more of a focus on employee well-being and productivity, especially in the time of COVID. For example, many employees said they struggled to truly relax and unplug on nights and weekends as boundaries between work and home blurred while everyone was working from home. Because of the timely nature of the feedback, leadership was quickly able to pivot, providing group yoga, working from home best practices, and commitment to leading by example, which meant they themselves refrained from responding to emails at night. EHX feedback has also amplified employee voices to the broader firm, helping to expand well-being benefits, secure productivity tools for home offices, and empower people to work in an individualized hybrid manner, where each person has the power to decide what works best for them.
Lessons Learned
Here are some of the key lessons Alisha and her team learned during the process of establishing the Dream Team, which may be relevant to other organizations looking to take substantive action based on employee feedback:
Demonstrate you're listening. When Alisha first started piloting the Dream Team program, she was surprised and touched by the number of employees who reached out to express their surprise and gratitude that someone was actually reading their comments. By making sure that each person who puts in an actionable response to a question sees some result – and by regularly communicating, "Here's what we heard you say, and here's what we're doing about it" – it motivates employees to add future comments. In turn, this leads them to feel that their thoughts and concerns are taken seriously and builds a culture of trust across the organization.
Activate executives through competition. Thanks to the visibility of the "Elevate Human Experience" strategy, nearly every leader has acted on the insights and recommendations from the Dream Team. However, Alisha has found that in many instances, competition between leaders has spurred them to even higher levels of engagement. When leaders hear their colleagues touting improvements they made based on EHX data or see the high scores and positive comments they're earning in the survey, it drives them to even more employee-centric behaviors. Plus, these insights allow leaders to make decisions faster and more confidently – Alisha has found they often reference survey results in meetings – which ultimately creates an agility loop leading to higher performance. This naturally leads to other executives tapping into the Dream Team findings to keep up.
Tailor the program for local needs. Thanks to the success of the Dream Team, leaders from around the world and different divisions of Deloitte have started expressing interest in standing up their own version of this program. Alisha believes that to succeed in scaling this program internally, groups will need to customize it in a few different ways. First, as each organization has a somewhat unique culture, different questions may resonate more strongly with different teams, so each group should design the EHX survey to capture insights on what matters most to their employees. Survey cadence may also need to fluctuate between teams as six weeks may be too infrequent in one part of the organization but could possibly create survey fatigue in another area. So leaders will need to keep a pulse on what frequency works best for their organization. And finally, if a Dream Team is expected to report on and respond to individual comments for significantly more employees, Deloitte will need to build full-time teams dedicated to the role. Otherwise, the group that is intended to delight and prevent burnout in other employees will land up exhausted and overwhelmed themselves.
Be persistent. When Alisha first began trying to pilot the Dream Team, she encountered a great deal of resistance from multiple groups across the organization. Due to Deloitte's size and complexity, there are numerous systems and support teams you need to go through in order to set up any new program. Gaining buy-in from all these different groups required Alisha to be patient and flexible, tailoring her pitch to address the concerns of each stakeholder from each department. Starting as a pilot was also beneficial as it allowed her to start small and then build her case through real-world data.
Deloitte selected the term "Dream Team" after seeing how Qualtrics uses a group of employees with that same name who volunteer at Qualtrics events to fulfill attendees' requests by delivering goods and services to them during the event.