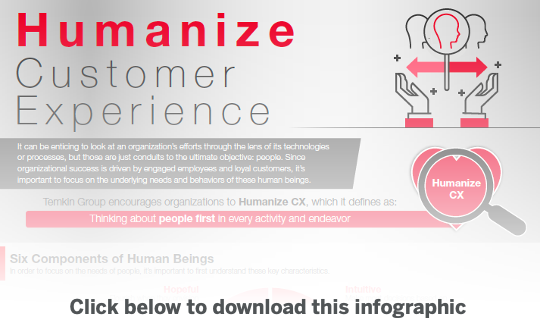 Experience Management (XM) is all about human beings. Customers are human. Employees are human. Partners, leaders, suppliers, prospective customers… all human. So if you want to improve people's experiences, you need to understand and embrace how human beings actually think and behave. This infographic identifies six fundamental characteristics of human beings – Hopeful, Intuitive, Self-Centered, Emotional, Motivated, and Social – that you need to keep in mind as you design and manage people's experiences. It also describes three principles for humanizing customer experience (CX): Act with Purpose, Cultivate Deep Empathy, and Create Positive Memories.
There are two versions of this infographic – one 8.5 x 11 in and one poster-sized – available for download.
This infographic was originally published by Temkin Group prior to its acquisition by Qualtrics in October 2018.
This content is locked
Please register to gain access to all XM Institute resources.