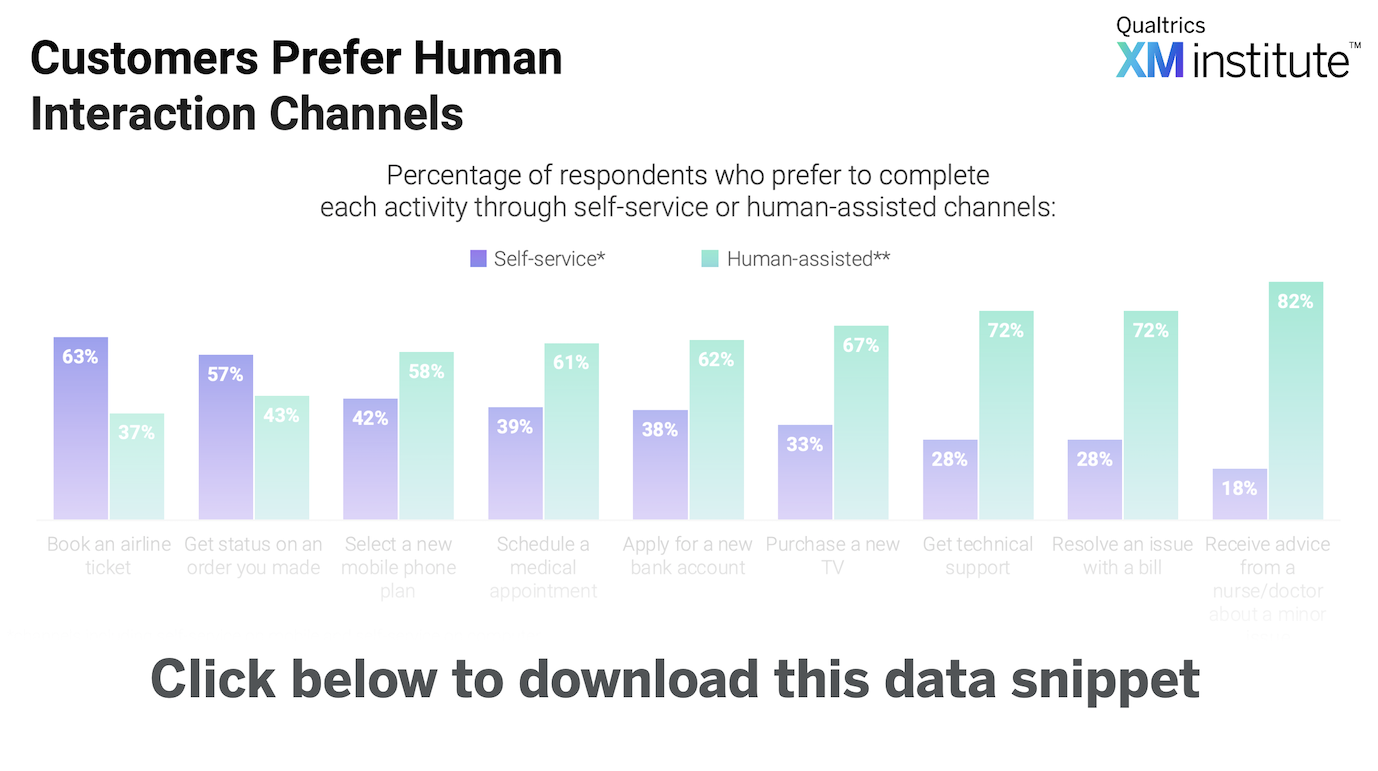 When customers engage with an organization, they often prefer to interact with another person over self-service. As part of our recent Global Consumer Trends study, we asked respondents which of the following channels they would rather use to complete nine common consumer activities: self-service on their computer, self-service on their mobile phone, chat with a person on their computer, talk with someone on the phone, or meet with someone in person. We then categorized their responses into two broad categories, Self-Service, which encompasses the first two channels, and Human-Assisted, which encompasses the last three. 
We found that for seven of the nine activities, customers favored human-mediated channels. The only two exceptions were booking an airline ticket and getting the status of an order, both of which are relatively routine, light-touch tasks. The more complicated and emotionally intense an activity, the more likely customers are to want to connect with a person. Customers show the strongest preference for human-assisted channels when receiving advice from a nurse/doctor about a minor issue, resolving an issue with a bill, and getting technical support, where they favored interacting with a person by a margin of 64 percentage points, 44 percentage points, and 44 percentage points respectively.
Given the lower costs associated with these channels, many organizations are investing in their digital self-service options. While improving these channels can undoubtedly provide significant value to both customers and the business, organizations need to recognize that — contrary to some common assumptions — customers do not always prefer the convenience of self-service. As this data shows, they would often rather engage with a human being to accomplish their goal, especially if the activity is high-stakes or complex. Use the insights in this data snippet to understand which channels your customers are likely to favor when completing different types of activities with your organization so you design interactions that meet them where they want to be.
Qualtrics XM Institute's 2022 Q3 Global Consumer Study surveyed 33,093 consumers across 29 countries: Argentina, Australia, Belgium, Brazil, Canada, China, Colombia, France, Germany, Hong Kong, India, Indonesia, Italy, Japan, Malaysia, Mexico, the Netherlands, New Zealand, the Philippines, Singapore, South Africa, South Korea, Spain, Taiwan, Thailand, the United Arab Emirates, the United Kingdom, the United States, and Vietnam. To see channel preferences by country and more, check out the full data snapshot Global Study: Consumer Channel Preferences, 2022.
To use this Data Snippet, download and include it in presentations. The graphic is free to use but must retain the copyright notice.