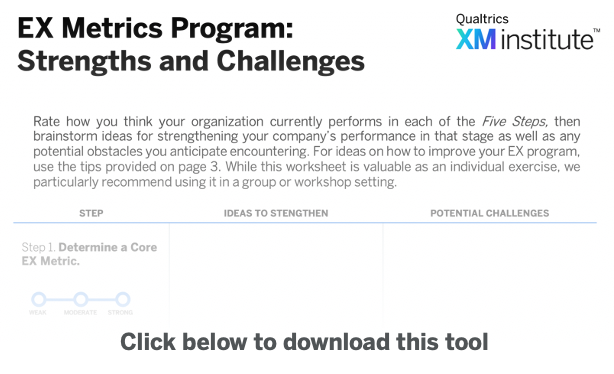 A strong employee experience (EX) metrics program is an essential component of any company's EX efforts. It not only allows an organization to systematically measure the quality of the experiences it delivers to employees, it also provides insights that help the company spot improvement opportunities, prioritize its investments, track its EX progress, and raise awareness of EX efforts across the business.
We have identified five steps an organization should follow to build a strong EX metrics program: 1. Determine a Core EX Metric, 2. Set achievable goals, 3. Identify key drivers, 4. Establish key driver metrics, and 5. Make the suite of metrics actionable.
Use this worksheet to assess the current state of your EX metrics program across the five steps, then identify opportunities to strengthen your program as well as potential challenges you may encounter along your journey. To help you brainstorm ideas for improving your performance, we have provided tips you can follow across each of the five steps.
To learn more about establishing a strong EX program, check out our Launchpad on The Fundamentals of Employee Experience.