Many organizations are currently grappling with the complex problem of designing an engaging and productive post-pandemic experience for their employees. To understand how one company is approaching the problem, we sat down with HSBC Bank Canada's Wealth and Personal Banking (WPB) Head of Customer Experience, Natasha Renaud, to discuss how HSBC Bank Canada is shaping the future of work at the bank.
Background
HSBC Bank Canada offers solutions that span commercial banking, global banking and markets, retail banking, and wealth management. It is headquartered in Vancouver but boasts offices in nearly every province and has a workforce of about 6,000 employees. When Natasha joined three and a half years ago, the bank was just beginning to focus on employee experience (EX) outside of the traditional setting. 
This EX focus has only grown stronger in the intervening years and is now embedded into the bank's culture. The WPB CEO frequently speaks about how delivering exemplary customer experiences requires investment from all corners of the company – from in-branch to the back-office to the C-suite – a message that is reinforced by the newly updated employee-focused company values and the numerous EX listening posts in place to help managers and leaders quickly surface and respond to the needs of their employees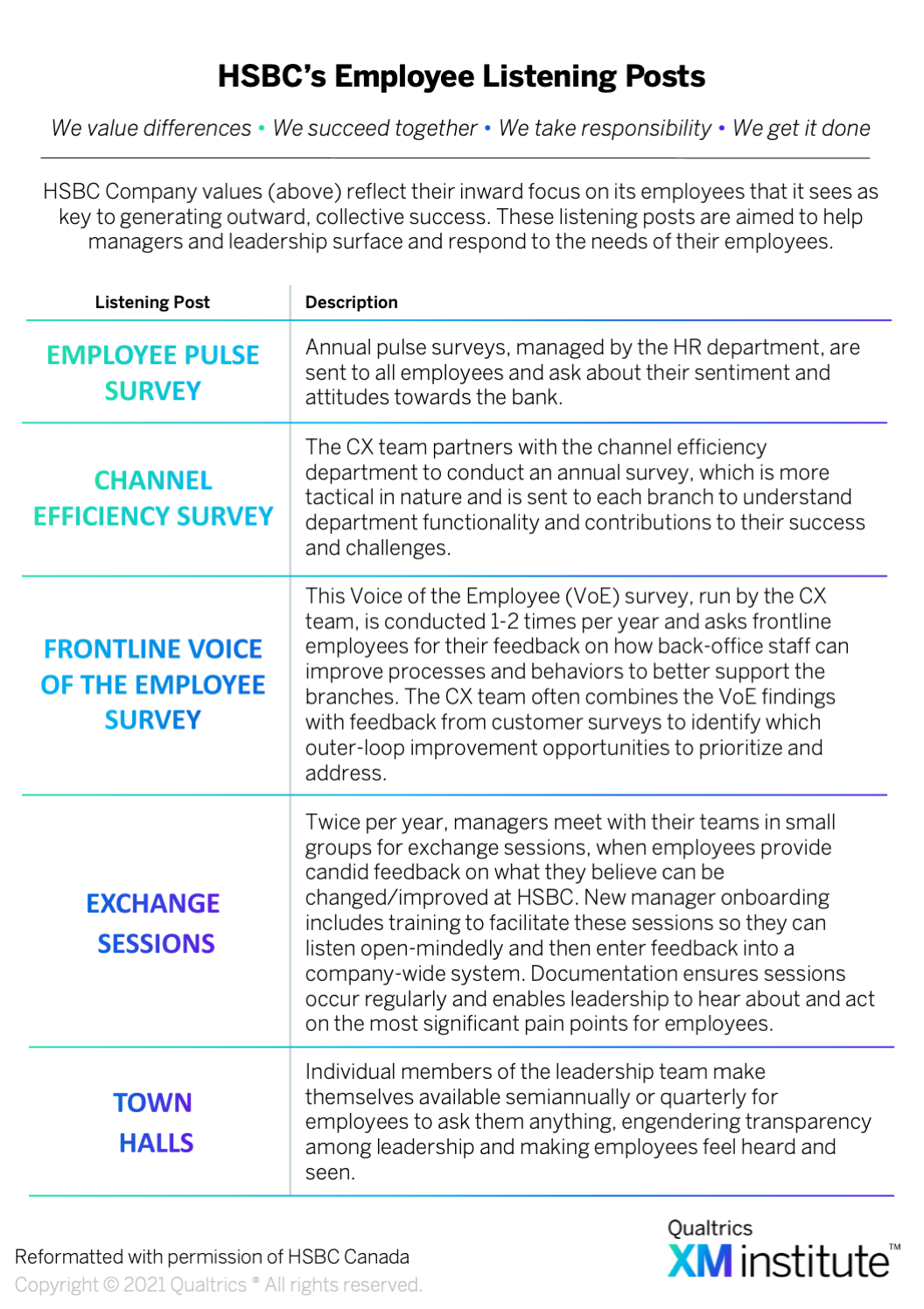 . Thanks to these existing activities, HSBC Bank Canada was well-positioned to quickly undercover and address employees' mental, physical, and job-related needs when COVID hit. 
Prior to the pandemic, nearly all leaders and employees at the bank worked from an office. While some were used to collaborating digitally with teammates in other locations, many were unfamiliar with desktop virtual work and there was no formal work-from-home program at the company. To the surprise of many – especially leaders – the shift to remote work did not create the operational catastrophe they had anxiously anticipated. Instead, the bank saw not only increased productivity and improved KPIs, but results from the employee pulse surveys stayed positive and, in fact, strongly communicated employees' desires to continue working from home. Leadership soon recognized that this new way of operating was a permanently viable option and began to formalize conversations around creating a hybrid workforce.
The Four Global Workstyles
Historically, any work-from-home conversations that took place across HSBC Canada were focused on tactics, like how many days the employee wanted to be remote. Once HSBC Canada decided to develop a hybrid workforce, however, it shifted the focus from ad hoc tactics to understanding and prioritizing what employees needed to succeed at their job. Yet it quickly realized that what employees "need to succeed at their jobs" was not a one-size-fits-all approach. It varied significantly by role, location, team dynamics, and personal characteristics. 
To optimize the future of work at HSBC Canada for all employees, the bank identified four global workstyle personas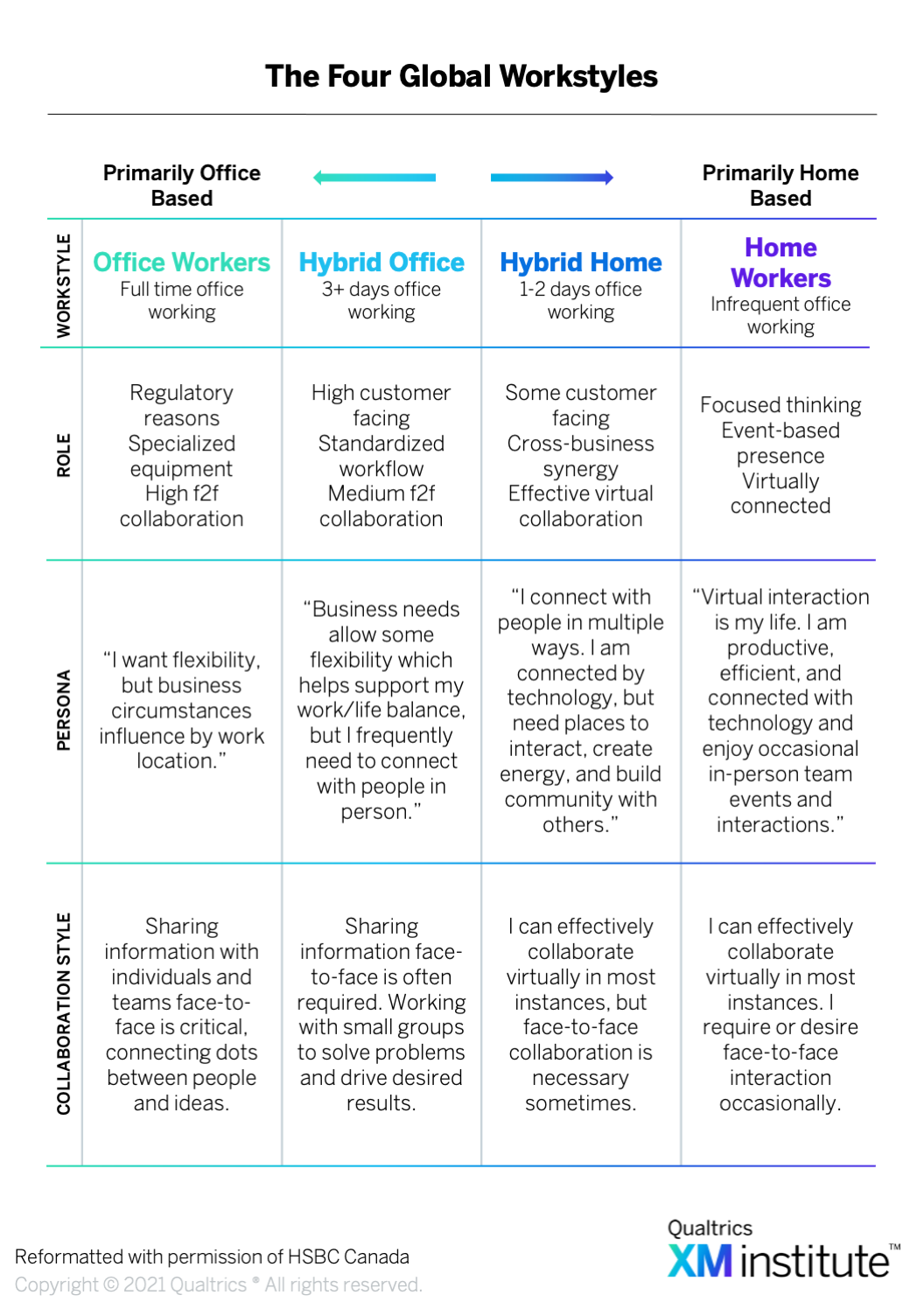 :
Office Workers

. These employees work full-time in an office, often due to business circumstances like regulations, specialized equipment, or required face-to-face interactions.

Hybrid Office.

These employees spend 3+ days in the office. While they have some flexibility in their role, these workers, who are often customer-facing, frequently need to connect with people in-person to share information or problem-solve in small groups.

Hybrid Home

. These employees can work virtually most of the time, only visiting the office one or two days a week. Employees in this group are effective virtual collaborators, but find face-to-face interactions necessary – and energizing! – in some instances.

Home Workers

. These employees work from home full-time. Members of this group tend to work in positions that require long stretches of focused thinking and are skilled at using technology to collaborate virtually. However, they may still join in the occasional in-person team event or face-to-face interactions.
Selecting a Workstyle
To identify their personal workstyle, employees meet with their manager, and they jointly agree on which of the four personas best suits the needs of the individual employee while still supporting broader strategic and business objectives of their team and the bank overall. For example, an employee who works in communications and writes internal messages may not need to be in the office many days a month, yet they may choose to come in regularly because they find working from home isolating. Another employee who, say, focuses on human-centered design work – such as persona design or journey mapping – may need work from an office to hold workshops and access materials, but they might choose to come in later in the day so they can drop their kids off at school. 
In addition to helping each report select the most appropriate workstyle on an individual level, managers also look at the new operating styles of the team in aggregate to ensure the collection of workstyles are fair and effective for the team as a whole. Once all the workstyles have been confirmed, the manager enters them into a central system, which the bank uses for tax and real estate purposes, but which can be changed at any time as employees learn more about what works best for them and their teams.
With these new workstyles in place, managers are then encouraged and empowered to adjust team culture to adapt to the needs of their employees. For instance, so far Natasha has created new rhythms for socializing on her team, instituted a new open-door policy, and secured technology exceptions to fit her team's different accessibility needs and workstyles. To help managers continuously monitor and refine their team culture, they can tap into the existing listening posts HSBC Canada has in place, which provide insight into the individual work, mental, and physical needs that must be met for employees to remain engaged and productive.
To support this process of selecting and implementing these workstyles, HSBC Canada has created a number of guidelines and principles:
Global Future of Work Principles and Considerations

. The bank defined a vision for its future-of-work employee experience:

We are a customer-focused organization with individual flexibility balanced by productivity, effectiveness, and team commitment

. To bring that vision to life, the bank identified three specific principles –

Customer Focus

,

Team Commitment

, and

Individual Flexibility

– that employees should use to inform their workstyle decision . In addition to describing what each of these principles looks like, HSBC Canada also created a set of accompanying questions employees and managers should consider to ensure their selection adheres to each of the three principles.
Equity and Inclusion Considerations. The bank recognized that equity and inclusion considerations are also key for designing a successful – and fair! – hybrid work environment. To help managers ensure that the workstyles their reports have selected create an unbiased and inclusive environment, HSBC Canada provides managers with a list of questions for them to reflect upon prior to meeting with their reports . These reflection questions encourage managers to focus on employee performance and outcomes rather than manager bias towards historical norms.
Team Norms Guidance. Once the new team workstyles are in place, managers are responsible for developing ground rules around how the team will engage with each other in the new hybrid environment. HSBC Canada provides managers with starter questions to help kick off this conversation and encourages them to ask each team member to supply their own proposed rules . As a group, the team then discusses and agrees upon a set of new team norms.
The Roll-Out
To roll out the four global workstyle personas, HSBC Canada created a number of different events and resources. For example, the CEO of the bank discussed the new hybrid work model at her quarterly town hall, which she structured around an established "Ask Me Anything" exchange session where people could submit questions beforehand or ask live. The new hybrid work model was also discussed during team meetings as well as one-on-one meetings with individual employees.
Given the central role managers play in implementing the new work model on their teams – translating the Future of Work vision into meaningful changes for their reports – HSBC Canada created a variety of different resources to help this important group communicate and support this new hybrid environment. The goal of these enablement materials is to provide managers with the information and training they need to have effective conversations with team members and, ultimately, make decisions that create a positive and productive work environment. These resources include:
Toolkits. The bank has supplied man

agers with examples and talking points (see Figures 2-5 for examples) to explain and discuss what the hybrid model personally means for their reports. 

Workshops.

Managers can attend workshops where they learn about how to use the toolkit and ask facilitators outstanding questions about the transition.

Hybrid model champions.

Human resources designated hybrid model

champions

throughout the organization to provide managers with a point of contact they could turn to for additional advice and support.

Advanced notifications.

The day before HSBC Canada sent its company-wide communication to all employees regarding the new hybrid environment, it emailed managers to let them know exactly what the message to employees contained and provided them with additional information on how to talk about the changes with their teams. 

Resource center.

The bank created a Sharepoint site for all managers so they have a single repository for all relevant materials, including toolkits, workshops, and FAQs. 
Lessons Learned
Here are some of the key lessons HSBC Canada learned during the process of designing its future of work, which may be relevant to other organizations looking to create an engaging and productive post-pandemic experience for their employees:
Define clear team norms. When everyone is working in person, teams often evolve unspoken norms, such as expectations around taking sick days or participating in casual social events. In hybrid work environments, these norms don't develop organically in the same way, so teams should discuss and articulate a set of agreed-upon team norms. This could include things like creating a calendar for team vacation days, developing meeting norms, and systematizing ad hoc communications in lieu of open-door policies. These norms will not only make team collaboration more productive, they will help virtual employees feel included and ease new hires onto the team more seamlessly.
Leverage managers to drive change.

Middle managers are ultimately the stewards of change. They are the ones who are responsible for executing plans, leading teams, and directing collective efforts to produce results. Consequently, any major transformation effort needs to focus on

activating these middle managers

as part of its change model. HSBC effectively embraced these key stakeholders by equipping them with the tools, knowledge, and support they needed to introduce and reinforce the new workstyles with their teams. 

Celebrate team performance.

One major concern for employees who spend less time in the office is reduced casual facetime with leadership, which may affect their long-term career trajectory as the people responsible for making promotion decisions are less likely to recognize and celebrate remote employees. To avoid this, managers need to intentionally showcase their team and highlight individuals' successes to upper management. For example, they can invite reports to appropriate meetings with leadership, explicitly call out individuals' contributions during presentations, and not accept all the credit for their team's work. By consciously evaluating individual and team successes, employees won't feel obligated to appear in person just to get the necessary recognition from leadership to advance their careers. 

Actively uncover employee needs.

A successful transformation from in-office work to a hybrid environment requires continuous, transparent communication between employees and their managers and leaders. Managers should set up regular one-on-one meetings with their reports to discuss what they need to optimize their productivity. These conversations should include inquiries into their mental, physical, and social wellbeing so the organization can adjust to keep employee experiences positive.

Plan non-work-related team events.

While the exact format and cadence will vary from team to team, it's important that managers schedule explicit time for team social gatherings, whether the events are in-person or virtual. Keeping up social cohesion is essential in a hybrid work environment as it makes working with peers more enjoyable. To ensure they aren't scheduling events more frequently than employees want to attend, managers should regularly check in to see how employees feel about the type, timing, and number of team events. 

Reevaluate on a regular basis.

Designing the future of work by definition requires navigating uncharted territory. What worked a few months ago may stop working as the business landscape continues to shift and as employees' work and life needs continue to change. The organization needs to constantly review and adjust its efforts. It should systematically ask employees for feedback on the new work environment and reconsider communication styles and other team norms on a regular basis – like quarterly or biannually – to ensure teams are still operating optimally. 
This content is locked
Please register to gain access to all XM Institute resources.