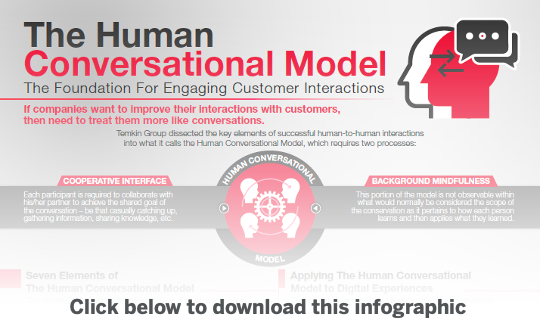 Human beings are naturally social, and one of the fundamental ways that we build rapport and bond with other people is through conversations. Organizations can tap into our innate affinity for engaging conversations to deepen relationships with their customers – as well as employees, partners, suppliers, etc. – by designing interactions that mirror the key elements of compelling everyday conversations. To help organizations do this, we created the Human Conversational Model, which we introduced in the report, Humanizing Digital Interactions. Download this infographic for an overview of the model and specific advice on how to apply it to your digital CX efforts.
There are two versions of this infographic – one 8.5 x 11 in and one poster-sized – available for download.
This infographic was originally published by Temkin Group prior to its acquisition by Qualtrics in October 2018.
This content is locked
Please register to gain access to all XM Institute resources.