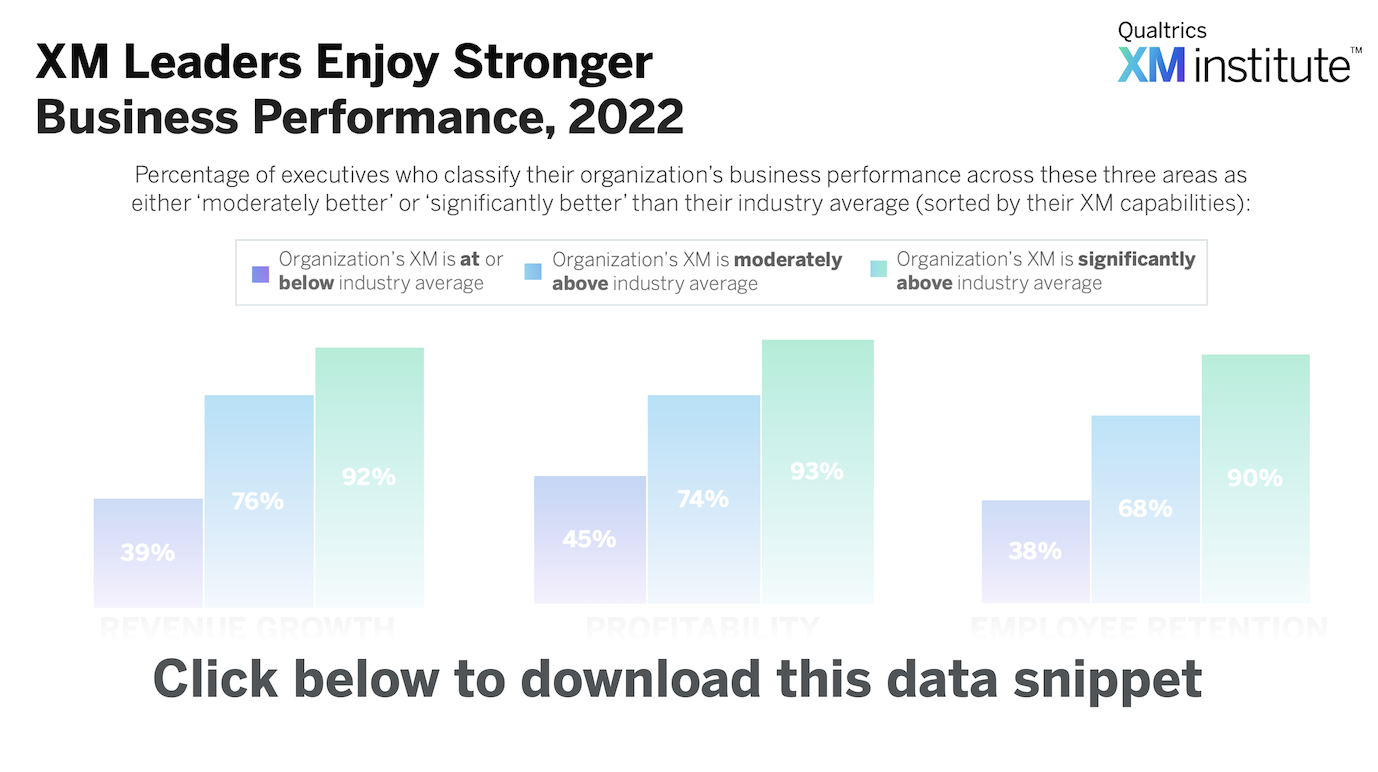 As part of our 2022 XM Executives Study, we asked executives around the globe to evaluate how their organization's current Experience Management (XM) capabilities compared to industry competitors. We also asked them to assess their organization's performance regarding revenue growth, profitability, and employee retention compared to industry competitors over the past year. To understand the relationship between XM capabilities and business performance, we cross-tabulated executives' responses to these two questions, looking at the percentage of executives who report revenue, profitability, and retention that's 'moderately' or 'significantly' better than their peers and who classified their XM capabilities as either 'significantly above,' 'moderately above,' or 'at' or 'below' industry average. 
We found that 93% of executives with 'significantly better' XM capabilities also reported above average profitability, compared to just 45% of executives with 'at' or 'below average' XM capabilities. This trend holds true across all three business performance areas. Executives who classify their XM capabilities as 'significantly above average' are 2.4 times more likely to report both higher revenue growth and higher employee retention compared to their peers with mediocre or subpar XM.  Use these insights to make the case to internal stakeholders that investing in building your organization's XM capabilities will have a positive impact on key business metrics. 
This 2022 XM Executives Study surveyed 1,541 executives at large organizations (2,000+ employees) with headquarters in Australia, Brazil, Canada, France, Germany, Japan, Mexico, Singapore, the United Kingdom, or the United States. To see more on the state of Experience Management around the world, check out our data snapshot, Global Executives Study: The State of Experience Management, 2022. 
To use this Data Snippet, download and include it in presentations. The graphic is free to use but must retain the copyright notice.