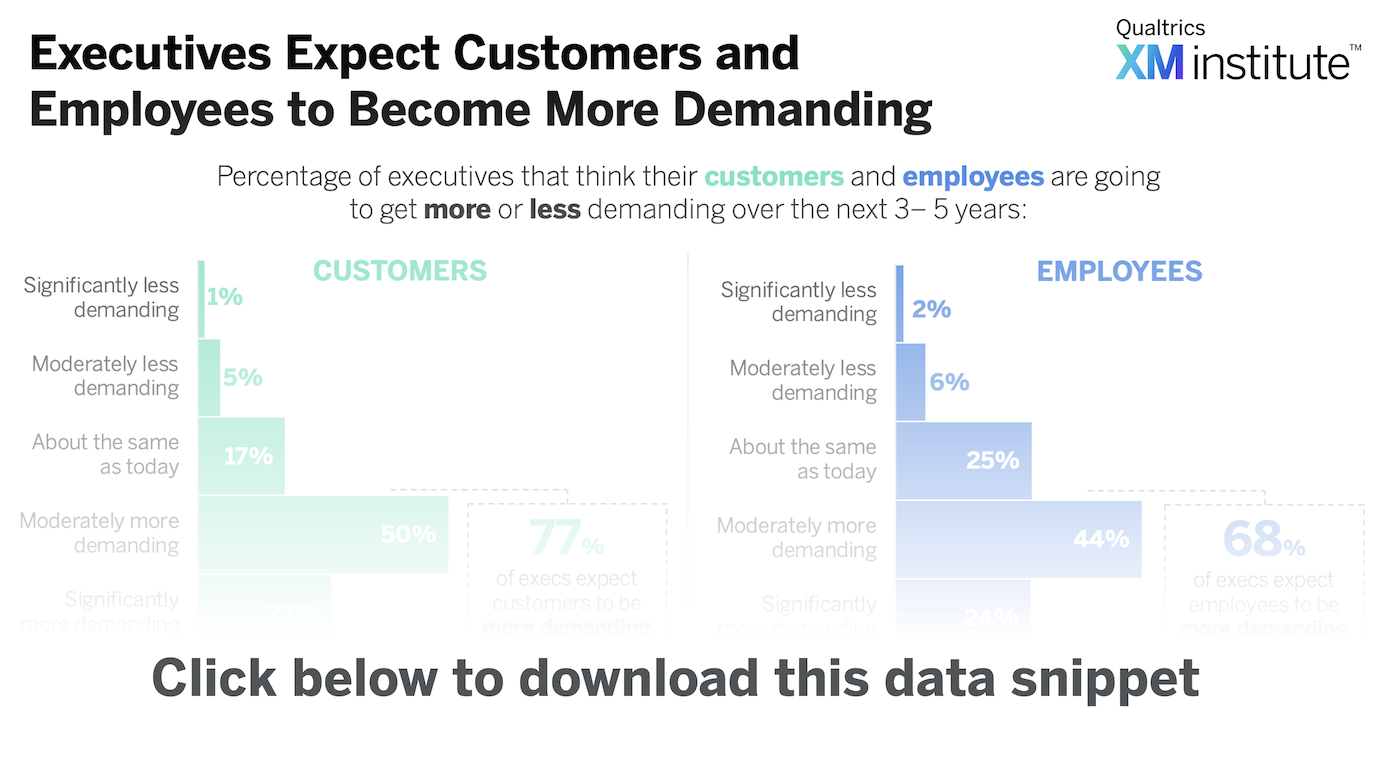 As part of this year's Global Executives Study, we asked executives to answer the question, "Looking ahead to the next three to five years, to what degree do you think your organization's customers [or employees] will become more or less demanding than they are today?" In this data snippet, we compare the percentage of executives who believe their customers and employees will become more demanding versus less demanding.
We found that 77% of executives think that their customers will become more demanding over the next three to five years, while just six percent expect their customers to become less demanding – a 71 percentage point gap. Sixty-eight percent of executives expect employees to become more demanding over this same time period, 60 points higher than the 8% of executives that think employees will be less demanding. 
One of the factors contributing to this trend is that customers and employees are now comparing the experiences they have with an organization to the experiences they're having with the best, most experience-centric organizations in the world. So their expectations around what constitutes a "good" experience are continuously rising. Customers and employees are also increasingly willing to walk away from organizations that don't meet these expectations. Organizations lose an estimated $4.7 trillion every year from bad customer experiences, and employees around the world are quitting their jobs to seek out better opportunities. Use the insights in this data snippet to help you make the case for why investing in improving customer and/or employee experiences is critical to your organization's financial success over the next few years.  
The data for this snippet comes from a global executives study that Qualtrics XM Institute conducted in the fourth quarter of 2021. Using an online survey, XM Institute collected data from 1,541 executives of companies with 2,000+ employees within Australia, Brazil, Canada, France, Germany, Japan, Mexico,
Singapore, the United Kingdom, and the United States, for a total of approximately 150 respondents from each country. To see more data from executives around the world, check out the data snapshot, Global Executives Study: The State of Experience Management, 2022. 
To use this Data Snippet, download and include it in presentations. The graphic is free to use but must retain the copyright notice.