The Voice of the Community is a monthly blog recapping the Qualtrics XM Institute's community, XM Pros, and celebrating our members.  Over the past two years, we've grown to nearly X,000 members (update at milestones) across the globe, connecting and sharing best practices in real-time and online. 
Some online discussion highlights from members this month include:
XM Pros Member Highlights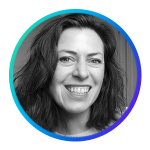 Sara Schumann is the Associate Director of Strategy at Boston University, based in Boston, Massachusetts. Every job she's had was fueled by her drive to make people happy. Sara has worked in retail, hospitality, sales, marketing, higher education, and even had her own business. CX gave her a way to grow in her current industry – and forge paths that aren't usually available in alumni engagement.
Recently, Sara has become more and more interested in Employee Engagement, particularly Employee Experience. She is excited by the burgeoning opportunities that XM is creating by looking at operational data, experiential data, and the impact that an organization's culture has on the way the data is used, reviewed, and the way that actions are made based on the data.
What is her current focus? Sara's current focus is to create customer journeys for our various alumni and student populations. She loves the strategy, design thinking, and systems considered (human and technology) when implementing XM.
What is a recent success she is proud of? Sara is proud that her team, with a diminished staff, was able to support five additional units across their organization due to the procedures they have in place to help and support external customers. Sara and her team have successfully expanded the numbers and type of customers they serve both internally and externally.
What does she enjoy outside of work? Sara loves to run (and got a PR last weekend)!  She loves to read and is currently listening to a fantastic book called Cues by Vanessa Van Edwards; it's all about how our gestures make us appear more competent, warm, or the opposite. She's fascinated by the way that EX and CX intersect and has been reading everything she can on the topic. One book that she found that aligns the two is Engagement Magic; Five Keys for Engaging People, Leaders, and Organizations by Tracy Mylett, Ed.D.
Why did she join the XM Pros? "I love talking about CX and EX. But, I was prompted to join XM Pros after I earned my XMP certification. The monthly topics are pertinent to my work."
April Events Recap
The demand for new digital experiences remains high, as consumers continue to prefer virtual transactions. It is important that XM professionals design these new experiences to include human interaction.
April's virtual meetups were hosted by Jim Crawford, Business Process Engineer in Innovation Services for Oklahoma Human Services. He shared how his organization designed an online parent/caregiver portal to help essential workers find childcare so they could get back to work. Prioritizing human-centered design and implementing feedback was critical to the success of the digital program.
Log into the XM Pros Online to check out the Topic of the Month presentation and member discussion. Not a member? Join us today.
Upcoming Events
The community has a robust set of ongoing activities. Join us for some of these upcoming events:
Getting the Most out of Maturity Assessments

. Maturity assessments are critical for any XM professional. They provide insight into the strengths and weaknesses of XM programs and enable you to track progress to higher maturity levels. In this brief presentation, Moira Dorsey, XM Catalyst,

shares five ways organizations can get the most from maturity assessments.

Not a member?

Join us

to access the full presentation.

Virtual Meetups, Getting the Most out of Maturity Assessments

. Join fellow XM Pro Katie Anthony and Moira Dorsey, XM Catalyst for an interactive discussion on the value of maturity assessments and how to implement learnings to build stakeholder alignment and help demonstrate the value of XM. May's virtual meetups are on Wednesday, May 18th at 7 pm ET and Thursday, May 19th at 11 am ET.  Learn more and

register for the meetups here. 

Ask an expert: Q&A with James Scutt.

Join James Scutt, XM Catalyst, for a weeklong Q&A session from May 23rd to 27th in the XM Pros online forum. Learn more about

Expert Q&A and James' expertise here

. 
About XM Pros
Launched in April 2020, XM Pros is a free community for XM professionals who want to learn, connect, advance their careers, and shape the future of the XM profession. Members of XM Pros can participate in a variety of interactive offerings, such as the XM Pros online forum, Expert Q&A sessions, Topic of the Month discussions, Virtual Meetups, 1:1 Peer Matching, XM Learning Lab discussions, and, when safe, local in-person events.
The bottom line: Join XM Pros to connect with your peers and take advantage of a variety of community offerings!
Ashley Elder is the XM Pros Community Leader with the Qualtrics XM Institute