The Voice of the Community is a monthly blog recapping XM Pros activity and celebrating our members. With over 5,000 members spanning the globe, there is so much knowledge within the community. Over the past year, the community has doubled in size, and members connected and learned from one another online and in real-time. Some discussion highlights from members this month include:
The XM Institute published valuable resources for XM professionals this month. Well-being has continued to be a top priority for XM leaders and their programs. The XM Institute published a recent study calculating a Well-Being Index of consumers in 24 countries based on their level of happiness, healthiness, and financial security. Learn more about the Well-Being Index and which countries scored highest here.
XM Pros Member Highlights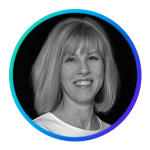 Nicole Cogan, FXCP, is a Senior Lead, CX Manager, at Lumen, based out of Denver, Colorado, and has been an experience advocate for most of her career. Whether in marketing or customer experience, Nicole has worked in a variety of roles that define the end-to-end customer experience. She's naturally curious so she enjoys talking to her customers to understand their needs and goals when engaging with a technology partner.

What is her current focus?

Nicole is

focused on Digital Experience Management, specifically applying CX methodology to online experiences. Her main focus is working on her organization's customer portal and API Developer experiences.

What is a recent success she is proud of?

Over the past two years, Nicole has been focused on changing the culture at Lumen to be more customer-centric. She's proud to say in 2020 over 90% of Lumen's employees have completed the Journey Awareness training she created. Now, Nicole is "walking the talk" by applying XM to DX experience to ensure great experiences when launching her organization's products and services.

What do you enjoy outside of work?

Nicole

moved to Denver 11 years ago and loves to take advantage of hiking, camping, winter sports (snowboarding and snowshoeing) and simply enjoying exploring Colorado.

Why did you join the XM Pros?

"

My past experiences with professional "groups" proved to be a gold mine for learning from others and making good friends along the way.

"
November Events Recap
November's Virtual Meetups focused on planning your 2022 XM priorities. Karyn Furstman, Head of CX Strategy & Solutions, at Designit, and Bruce Temkin, Head of XM Institute, led the discussion on identifying XM priorities for 2022 and planning for the upcoming year.
Organizations are at an interesting turning point for XM growth triggered by COVID. This potential growth is reliant on XM professionals taking advantage of the current moment. Executives across almost every industry have realized the importance of listening and responding to all the human beings they touch. 
Bruce and Karyn discussed how XM professionals can define the narrative within their organizations, define the key aspects they expect to see in 2022, and define the specific initiatives to support those key aspects. Log in to the XMPN Online Forum for the event recap and corresponding Topic of the Month presentation, and to join the discussion. Not a member? Join us today.
Upcoming Events
The community has a robust set of ongoing activities. Join us for some of these upcoming events:
Recap the best of the XM Professionals Network in 2021. As the year comes to a close, it is an ideal time to reflect on 2021 XM themes and the learnings XM professionals will bring into 2022. Watch Ashley Elder and Laura Wells of the XMPN Team review the past year's topics and share top insights and learnings from the community in this

brief presentation

.  Not a member?

Join us

.

Join your fellow XM professionals at our Virtual Meetups. We're looking forward to Adam Korengold, Analytics Lead at the National Institutes of Health, hosting our December Virtual Meetups on Wednesday, December 15th at 7 pm ET/10 am AEST and Thursday, December 16th at 11 am ET/6 pm CET. Learn more about registering for the meetups

here.

Adam will lead the discussion sharing top 2021 XM insights and ways to bring them into 2022.

Ask an expert your XM questions. Join Bruce Temkin, Head of Qualtrics XM Institute, for a weeklong Q&A session from December 13-17th, 2021 in the XMPN Online Forum. Learn more about Expert Q&A and Bruce's expertise

here

.
About XM Pros
Launched in April 2020, XM Pros is a free community for XM professionals who want to learn, connect, advance their careers, and shape the future of the XM profession. Members of XM Pros can participate in a variety of interactive offerings, such as the XM Pros Online Forum, Expert Q&A sessions, Topic of the Month discussions, Virtual Meetups, 1:1 Peer Matching, XM Learning Lab discussions, and, when safe, local in-person events.
The bottom line: Join the XM Professionals Network to connect with your peers and take advantage of a variety of community offerings!
Ashley Elder is the XM Pros Community Leader with the Qualtrics XM Institute