The Voice of the Community is a monthly blog recapping XM Pros activity and celebrating our members. With over 3,700 members spanning the globe, there is so much knowledge within the community. June's theme was focused on driving actions from journey maps. Members shared how they've evolved their journey mapping practices over the past year and how to get buy-in from other parts of their organization. Some discussion highlights from members include:
XM Pros Member Highlight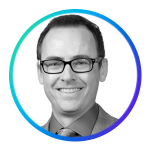 Matt Schulz is the Physicians Relations and Patient Experience Manager at Central California Faculty Medical Group and University Centers of Excellence, an organization that advances the health of communities through excellence in patient care, education, and research, based in Fresno, California. He has found that his transdisciplinary background in organizational development, leadership, marketing, and operations is a perfect match with the fundamental focus and purpose behind Experience Management. Matt is passionate about helping equip people to use their gifts and skills to make a difference in the lives of others. He loves solving problems with, and most importantly for, people. Matt is energized by creating space for a diverse range of individuals to bring their expertise to fruition for a common good to create the best patient experience possible.
What is his current focus?

Matt's organization is fairly young in the XM space, so much of his current efforts are focused on creating more awareness about what XM is, how it differs from satisfaction, and shifting the mentality from "that's something the Marketing Department does" to "this is something we all play a role in." His organization has a good amount of first-generation programming in place and most of it developed as independent and siloed from other related efforts. In working to acknowledge and encourage leadership and staff, Matt developed an overall framework that shows the interconnectedness of his organization's various efforts, laid the foundation for creating a case for change, and implemented "phase one" improvements in current programming in alignment with their patient experience goals.

What recent success is he proud of?

Matt is really proud of his team, and the organization overall, in taking the time to learn more about patient experience and why it matters. His organization has been very open to his proposals for new programming, including an organization-wide annual patient experience training program, and the creation of various tools and resources to equip medical site leadership.

What does he enjoy doing outside of work?

Matt loves gardening, pruning his sago palms (no joke), and collecting rocks and shells from the central coast region in California and adding them to his family's "backyard oasis." What he loves most is being a soccer dad, running his kids back and forth from ballet, baseball, drums, and piano lessons. He loves those moments.

Why did he join XM Pros?

"I'm a constant learner and I'm an extrovert! There are so many amazing people and ideas out there, so when I heard that Qualtrics was launching the XM Institute, I knew it was a community I had to join! I'm a

problem-led leader

and knew that XM Pros would give me the opportunity to connect with more people like me, and just as importantly, people

not

like me!"
June Events Recap
June's Virtual Meetups focused on the future of Journey Mapping. Isabelle Zdatny, XM Catalyst, and Kristina Kittle, VP at Walker, led the discussion on how (and why) to do journey mapping sessions virtually and how to bring customer and employee journey mapping efforts together.
Isabelle and Kristina featured special guests Lisa Franchetti and Sara Brandon from Neighborhood Health Plan of Rhode Island and discussed their experiences in journey mapping, both in-person and virtual, and how they've implemented organizational change based on the "moments of truth" they uncovered. Log in to the XM Pros Online Forum for the event recap, corresponding Topic of the Month presentation, and to join the discussion. Not a member? Join us today. 
Upcoming Events
July's focus is XM in B2B. B2B organizations are embracing XM as an organizational discipline, but it is still a new process for many. To drive organizational success, teams must embed XM capabilities into their existing B2B processes. Watch XM Scientist Craig James' ten minute presentation kicking off the Topic of the Month discussion on the building blocks for a world-class B2B CX program here. Not a member? Join us.
We're looking forward to XM Scientists Craig James and James Bampos and XM Pros Champion Gia Reed, CX Strategist at Workday, hosting our July Virtual Meetups on July 21st at 7pm ET/9am AEST and July 22nd at 11am ET/5pm CET. Craig, James, and Gia will lead an interactive discussion on the importance of XM in B2B, including the challenges and successes that come with building B2B programs.
Learn more and register for the Virtual Meetups, offered at two different times, here.
About XM Pros
Launched in April 2020, XM Pros is a free community for XM professionals who want to learn, connect, advance their careers, and shape the future of the XM profession. Members of XM Pros can participate in a variety of interactive offerings, such as the XM Pros Online Forum, Expert Q&A sessions, Topic of the Month discussions, Virtual Meetups, and, when safe, local in-person events.
The bottom line: Join XM Pros and take advantage of the many community offerings! 
Ashley Elder is the XM Pros Community Leader with Qualtrics XM Institute