Launched earlier this year, the XMPN is a free community for XM professionals who want to learn, connect, advance their careers, and shape the future of the XM profession. Members of the XMPN can participate in a variety of interactive offerings, such as the XMPN Online Forum, Expert Q&A sessions, Topic of the Month discussions, Virtual Meetups, and, when safe, local in-person XMPN events.
The XMPN saw a flurry of activity in November and welcomed community members from around the globe, including France, United Arab Emirates, Jamaica, Japan, and Romania. Our new members bring knowledge from industries spanning aviation, legal, higher education, and agriculture.
XMPN Member Highlights:
Anne Witherspoon is the Executive Vice President and Chief Client Experience Officer at Texas Capital Bank based out of Richardson, Texas. She is passionate about breaking down silos and improving the experience employees and clients have with an organization. Driven by creating operational excellence combined with innovative strategy, Anne is obsessed with creating the design and culture to effectively deliver service excellence.
What is her current focus?

Anne's focus is improving the client and employee experience by utilizing unstructured and unsolicited data to better understand the real-time implications of an experience.

What recent success is she proud of?

While Anne has many recent successes, her most proud is surviving 2020 thus far!

What does she enjoy doing outside of work?

Anne is an avid reader, runner, and enjoys spending time with her family.

Why did she join the XMPN? "

I joined the XM Professionals Network for many reasons- continued learning and networking opportunities within the Experience Management (XM) profession, my respect of Qualtrics and what they have accomplished in the industry, and my love of Bruce Temkin's work and leadership within the XM community. I'm constantly trying to learn more about what others are doing in the industry to help improve our program overall and the virtual meetups are such a great way to share and compare and network with other XM professionals."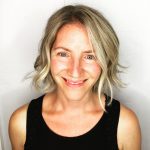 Jessica Davis is the Senior Researcher, Experience Insights & Analytics at Express Scripts based in Austin, Texas. She loves providing experience data and feedback to teams. Jessica describes herself as an "analytical brain combined with natural empathy for people." She especially enjoys diving into data to determine the root causes of issues and sharing feedback with product and service teams to drive improvement. She finds most teams really do want to provide an excellent experience and, when they understand the challenges and frustrations experienced, they work really hard to resolve them.
What is her current focus? 

Jessica was hired by her current company to manage their relationship Net Promoter Score survey, which is a holistic measure of member experience across their products and services. Her organization had just merged with another company that had its own NPS program. She has been working with the other NPS team for more than a year to better understand their program, determine which parts to adopt, which parts of her existing program to keep, and getting stakeholder approval for the changes. At the same time, she has been working with cross-functional teams to create a strategy for driving initiatives based on NPS feedback. 

What recent success is she proud of?

Her organization's NPS has remained stable but flat since 2018. In Q2 2020 they saw a statistically significant increase in NPS, increasing 8 points from Q1. While her team is not yet at the stage where they are deliberately trying to improve NPS through initiatives across the company, Jessica believes the increase is driven in part by an increasing customer-centric mindset around the company.

What does she enjoy doing outside of work?

Jessica has three school-age children so a lot of her time outside of work is spent sharing in their activities – watching their football games, band concerts, and school plays, etc. She enjoys staying active, including teaching her kids to water ski over the summer 

Why did she join the XMPN?

"For two reasons: 1. To give the benefit of my years of experience with up and coming professionals and 2. To learn more from my more experienced colleagues."
November Events Recap
November's Virtual Meetups highlighted the myths and merits of NPS in CX. Aimee Lucas, Craig James, and Catherine Jeppsen led the conversation, highlighting the benefits of a well-implemented Net Promoter Score program, and the risks when NPS is misapplied. Attendees shared specific scenarios that supported both the pros and the cons of using NPS in CX programs and generated a great discussion. Log into the XMPN Online Forum for the detailed event recap, presentation slides, and to join the conversation.
As we reflect on 2020, the November Topic of the Month focused on Gratitude. Experience Management Professionals have the ability to bring positive influence to the people around them. Bruce Temkin, Head of the XM Institute, kicked off the month of gratitude with a brief presentation that focused on how to increase personal gratitude, the level of gratitude within organizations, and the level of gratitude throughout the world. Log in to the XMPN Online Forum to join the discussion on making gratitude go viral. Not a member? Join us today. 
Upcoming Events:
December's Topic of the Month kicked off with a brief presentation from XM Catalyst Moira Dorsey on Propelling CX Efforts to the Next Level. Ask any executive and they'll tell you they want to lead their industry in customer experience. But how do you get your XM program to the next level? Learn more about December's Topic of the Month and what organizations need to focus on delivering breakthrough customer experiences here.
We're excited to have XM Institute Catalyst Luke Williams host our December Virtual Meetups on December 16th at 7pm ET and December 17th at 11am ET to reflect on 2020 trends and how to address them to deliver great experiences in 2021. Learn more and register for the Virtual Meetups, offered at two different times, here.
The bottom line: If you're not yet a member, join the XM Professionals Network (it's free).
Ashley Elder is the XM Professionals Network Leader with the Qualtrics XM Institute