Happy new year! 2022 was a banner year for us here at XM Institute. While we did publish 83 new resources – no easy feat! – what made the past year so successful for us wasn't the quantity of content we published, it was the quality of what we created. To provide even more useful advice for XM professionals, we developed several brand-new types of content in 2022: 
How-to Guides

offer clear, step-by-step instructions on how to carry out a specific Experience Management activity. 

Deep Dives

explore one organization's standout XM practice in considerable detail so you can adopt elements of it within your own program. 

XM Discussions

are video interviews with an XM leader about how they are using Experience Management to drive value for their organization. 
… plus, we expanded our portfolio of existing practical content, publishing a number of new tools and Expert Answers.
These practical new resources joined the wide variety of other content we published this year in our XM Library, which now contains more than 700 individual assets. I know that's a lot of content to explore. So to help you decide where to start, I'm here – as I am every year – to highlight our top content of 2022, which we've split into three categories: our most popular new resources, my favorite new resources, and our all-time top-performing resources. I've also included a bonus section at the bottom showcasing some of our most interesting data tidbits of the year. (P.S. Don't forget to subscribe to our monthly XM Journal to keep up to date on all of XM Institute's content and activities.)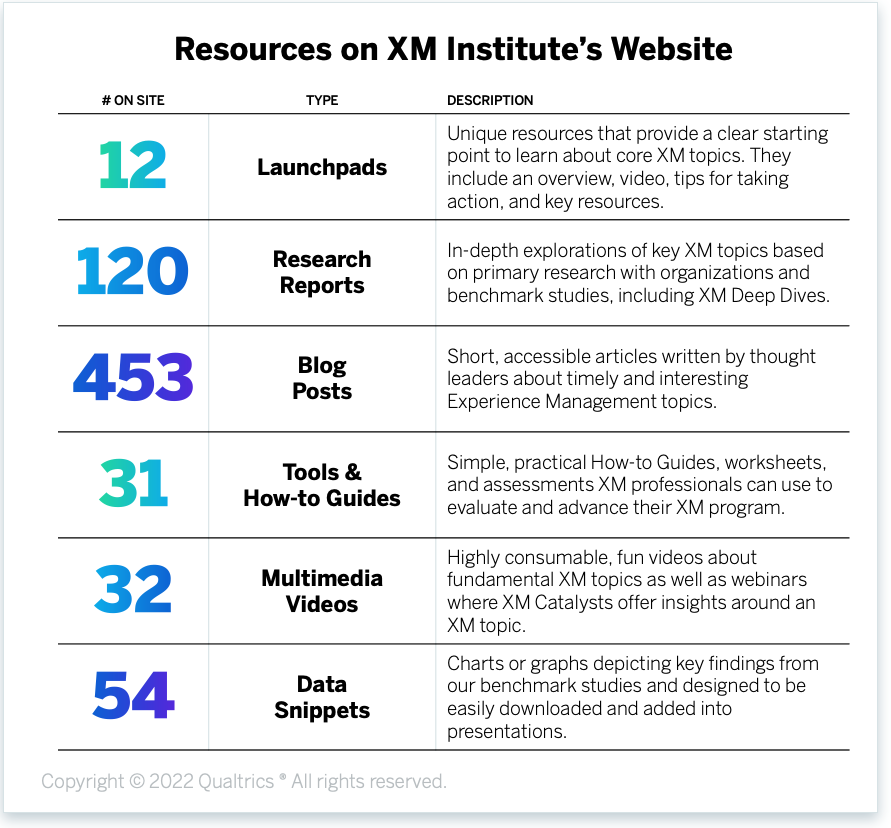 The Rising Stars: Most Popular Content of 2022
Given the volume of content we published this year, competition for the top spots was fierce, but the seven most popular assets we published in 2022 were:
The Unsung Heroes: Isabelle's Personal Favorite Content of 2022
Narrowing down my "favorite" pieces of content from 2022 was a long and agonizing process. But, after much consideration, here are the seven resources we published over the last year that I think are particularly useful and powerful: 
The Heavyweights: All-Time Most Popular Content 
Since we launched our website in the middle of 2020, a few resources have remained consistently popular quarter-to-quarter and year-to-year:
Expert Answers.

Experience Management is still a relatively new discipline. And while forging a new field is exciting, it also means that many of us are struggling with questions that don't yet have universally recognized answers. It is no surprise, therefore, that our Expert Answers resource, an FAQs page where XM Institute faculty and experts from around Qualtrics tackle some of the most common questions we hear from XM professionals, quickly rose up the ranks of content to become one of our most popular assets ever. Find answers to questions on topics ranging from how to measure the ROI of CX to how many questions you should include on an employee pulse survey to how to convince your executives to become more involved in your XM efforts. 

XM Operating Framework

(Launchpad). "Launchpads" are a unique type of resource geared towards helping people learn the basics of a fundamental XM topic. Our most popular Launchpad is a primer on the XM Operating Framework, the blueprint organizations should follow to master the discipline of Experience Management. Like all Launchpads, this one includes a short opening video, an overview of the topic, tips for taking action, and a list of key resources you can check out to build your knowledge in this area. This formula is so popular, in fact, that three other Launchpads also make our top 10 all-time list:

Driving Insights with X- and O-Data

,

Maturing Your XM Program

, and

Fundamentals of Customer Experience

. 

What is Experience Management?

(Multimedia). Interested in learning what Experience Management is but not interested in reading lots of text? You're not alone. This short, fun video – which introduces the fundamentals of XM and lays out a business case for why it's important – remains one of the most visited assets on the site. Watch it yourself or share it with any colleagues or leaders who still need a quick explanation of what Experience Management is all about. And if this teaser just whets your appetite and you would like to learn more, you can always check out our

Introduction to Experience Management Launchpad

.

CX Maturity Assessment

(Tool). Becoming customer-centric doesn't happen overnight – it takes years of systematic focus on making changes across multiple teams, departments, and projects. Our CX Maturity Assessment will help you evaluate the current state of your program and develop plans for reaching your CX goals. No surprise, therefore, that it continues to be one of our most downloaded pieces of content ever. We also have

employee experience (EX)

,

XM

, and

Digital CX

maturity assessments available… not to mention a Launchpad entirely dedicated to

Maturing Your XM Program

and

a blog post

sharing tips on how to use our maturity assessment. We are really committed to helping you mature your program!

XM Professional (XMP) Certification Handbook

(Tool). One of the most reliably popular resources on the site is the handbook we created to accompany our

XM Professional (XMP) Certification

– the premier credential recognizing an individual's professional experience and expertise in the discipline of Experience Management. This tool includes everything you need to know to prepare to earn your certification, including the exam blueprint, the application process, and sample questions you can use to test your knowledge. Wondering whether you should become certified? Check out

this blog post

spotlighting some amazing XMPs from around the world who explain why they decided to earn this credential.

Best Practices For Designing Survey Questions

(Research Report). This research report has been a proverbial tortoise in the race to the top of our content charts, methodically climbing the ranks over the course of several years. Given its subject matter – advice for writing surveys that are both informative for the business and engaging for respondents – its staying power shouldn't be all that surprising. This report lays out 16 best practices for crafting survey questions, which we derived from a series of interviews with survey methodology experts across Qualtrics. These practices span three categories (question wording, response options, and question selections) and include lots of examples to help you apply them to your specific XM program. 

The Five Essential Elements of CX Program Governance

(Blog). Another sleeper hit is this blog post breaking down the five elements of a strong CX governance model: a CX Core Team, Executive Sponsor, Steering Committee, Working Group, and CX Ambassadors. A theme we frequently return to – even within this very post – is that customer experience transformation requires consistent, enterprise-wide dedication to making improvements over multiple years and across multiple teams. To coordinate and catalyze all these different efforts, organizations need to create CX teams and governance structures that provide the appropriate decision-making, alignment, accountability, and conflict resolution. This post not only explains what these five elements are and why they're important, but it also shares three tips you can follow to maximize the impact of each one. When done well, a governance model like this will help you ignite initial CX momentum and overcome the inevitable inertia that comes with any large-scale change effort.
Interesting Data Tidbits from 2022

This year, we published a number of research studies and data snippets, each full of interesting XM data points. Here are seven of the XM factoids I found most notable this year:
Hopefully, this list introduced you to valuable resources and ideas that you can use to shape and improve your XM program in the coming year. To stay up to date with all our latest content, sign up to receive our monthly newsletter, the XM Journal.
The bottom line: We are looking forward to bringing you even more great content in 2023 and beyond!
Isabelle Zdatny, XMP, CCXP, is an XM Catalyst with the Qualtrics XM Institute