Happy New Year! It feels good to say goodbye to 2020 and hello to 2021. I hope that you and your family have a happy, healthy, and prosperous year!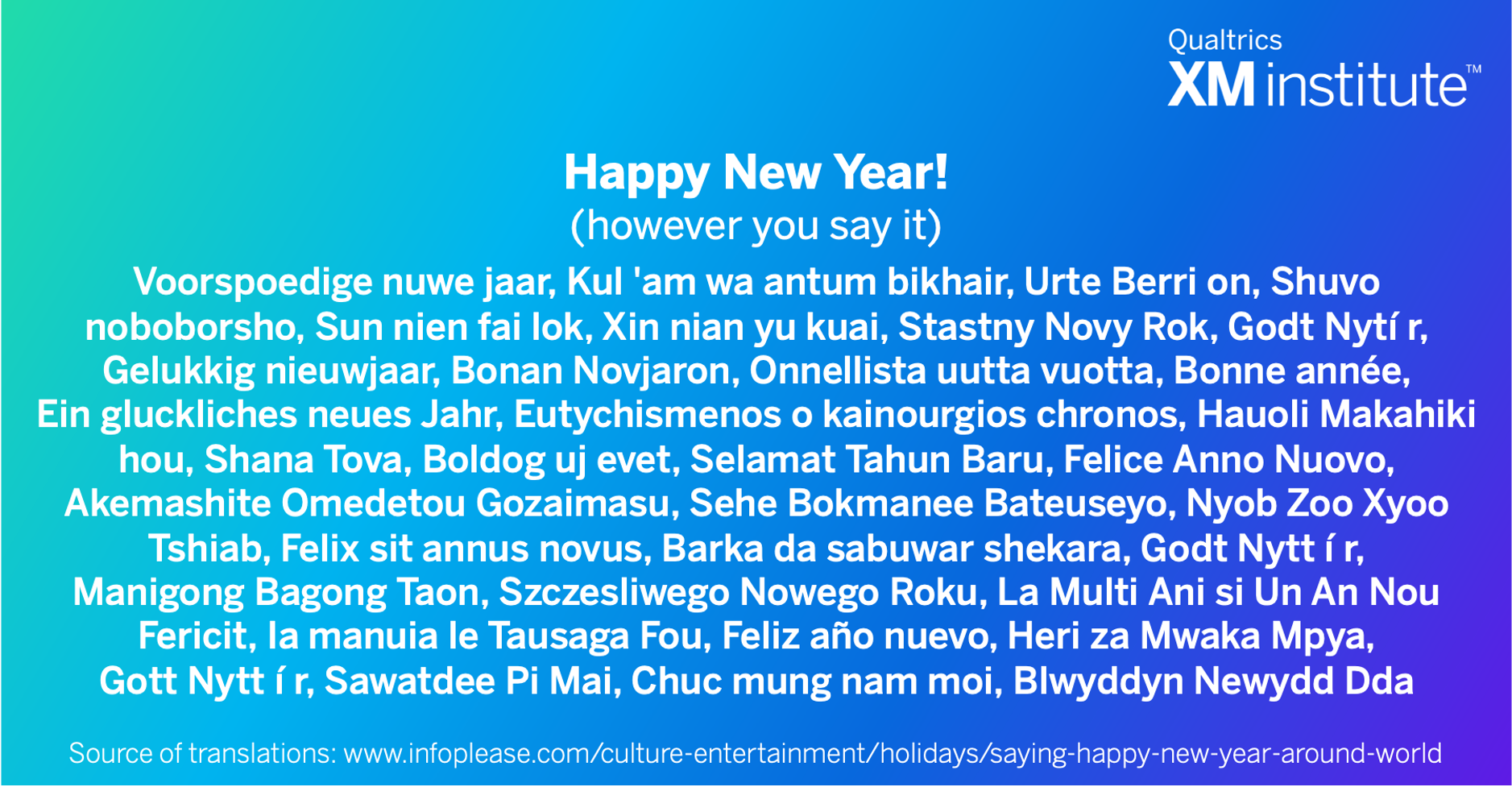 2020 was challenging in so many ways, as our families, friends, and communities faced health, economic, political, and social distress. While the COVID cloud continues to darken our lives, we can start to see a light at the end of the tunnel. With luck, vaccinations will free us from the virus' grip later this year. 
Let's Make 2021 the Year of Positivity
As we enter into 2021, I'd like to introduce a theme for the year: Positivity. Given the challenges of last year, let's make a conscious effort to focus on the positive aspects of everything around us this year.
"Keep my word positive. Words become my behaviors. Keep my behaviors positive. Behaviors become my habits. Keep my habits positive. Habits become my values. Keep my values positive. Values become my destiny." – Mahatma Gandhi
We can make a difference! I believe that the global community of Experience Management (XM) professionals can bring positivity to the world if we collectively work at it. Here are some ways that we can bring this theme to life:
Share positive stories

. Let's amplify the good things that are happening at work, at home, and in society. Our voices can drown out the sounds of negativity.

Create positive moments

. Let's seek out (and act on) opportunities where we can do something to improve someone's life, from little gestures to large commitments. Our actions can spark a chain of positive reactions.

Assume positive intent

. In all of our discussions — from work to politics– let's assume that the other people's intentions are as valid as ours. Our attitudes can minimize the world's adversarial discussions.

Support positive causes

. Let's dedicate more of our time to helping causes that we think are important for improving the world, like feeding the hungry or eliminating racism. Our collective actions can make the world a better place.

Establish positive rituals

. Let's make positivity an integral part of our everyday lives. This post lists

19 positive psychology interventions

, which includes areas such as gratitude, empathy, and optimism. Our positive thinking will shine through in all that we do.
Three XM Recommendations for 2021
In addition to making 2021 the year of positivity, I believe that our XM skills will be critical for helping organizations navigate what will be another very unique year. 2021 won't look like any other year or even be a repeat of last year. Instead, we're entering a transition from chaos to normalcy. Here are three recommendations for applying XM in 2021: 
Prepare to Normalize

. During the second half of 2021, I expect that organizations will shift from

Reorient to Normalize phases of COVID recovery

. During this period, customers and employees will settle into somewhat stable patterns that combine returning to historical behaviors with continuing some COVID-propelled patterns. Use your XM capabilities to uncover these patterns and to restructure your operations around them. 

Keep modernizing

. In 2020, we found a pattern across organizations that effectively used XM to navigate the changing times. They adjusted their listening posts, rallied their organizations around the most important insights, heavily focused on employees, and prioritized action over measurement. These weren't just the appropriate reaction to this moment, they're the right direction for

modernizing your XM programs.

Don't fall into the trap of shifting your XM efforts back into a static, measurement-centric mode. 

Be bold

. As the environment stabilizes, it will create an opportunity for some organizations to leapfrog their competitors. Use your XM capabilities to be one of those leaders. I've outlined

seven bold XM moves for 2021

, which are particularly critical as you prepare to enter the Normalize phase of recovery. Especially pay attention to the seventh recommendation on the list, "stay uncomfortably positive."
Tap into XM Institute Resources
As you make your way through 2021, remember that XM Institute is here to help. Make sure to take advantage of our resources:
I'm looking forward to 2021, and hope that you join me in making it the year of positivity!
The bottom line: Goodbye 2020 and hello to a year of positivity.
Bruce Temkin, CCXP, is the Head of the Qualtrics XM Institute