Last week, I gave two presentations at the Qualtrics X4 Summit that focused on how to adopt experience management (XM). Here's a glimpse of that content…
First of all, let's get aligned: what do you expect to see in the future?
More or less demanding customers? (I say more)
More or less demanding employees? (I say more)
More or less access to data and analytics? (I say more)
More or less time to respond to changes? (I say less)
Attendees at X4 almost universally agreed with my point of view. If we're accurate, then organizations that succeed will have to operate differently in the future than they do today. As you'll see below, they'll need to adopt XM. That's great news for X4 attendees, because it means there will be an increasing demand for XM professionals.
The Future Requires XM
How will XM help organizations compete in this changing environment? By creating the capabilities to:
Continuously Learn. Organizations need to more effectively sense and interpret what's going on all around them, collecting and analyzing signals from the actions and feedback of employees, partners, vendors, customers, and even competitors.
Propagate Insights. Organizations need to put actionable intelligence in the hands of people across their ecosystem who can use it, creating seamless access to the right information in the right form at the right time.
Rapidly Adapt. Organizations will need to act on the insights they've uncovered at an increasingly faster pace, finding ways to create new experiences and renovate existing ones.
XM can't be an afterthought or a veneer. It also isn't something that one or two departments think about. For an organization to succeed in an environment with more demanding customers and employees, more access to data and analytics, and less time to respond, XM must be woven into its operating fabric.
The XM Value Pyramid
To operationalize XM, you need to understand the XM Value Pyramid. It's made up of three components: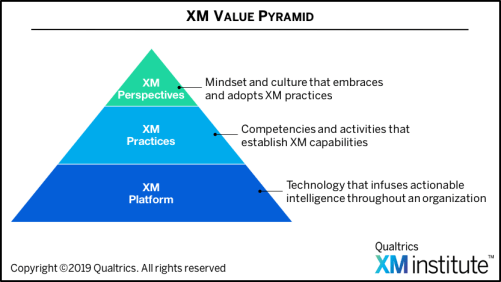 XM Platform: Your organization needs to be instrumented to collect and analyze experience data (X-data) and operational data (O-data), and then distribute the insights to facilitate action. At X4, Qualtrics announced more than 40 of these new instruments to add to our industry-leading technology. We're increasingly applying AI and machine learning to accelerate the discovery and actionability of insights.
XM Practices. Organizations need to change how they operate their business in order to leverage the increasing capabilities of the XM platform. This requires a new set of competencies and activities for creating leading-edge customer experience, employee experience, brand experience and product experience. The Qualtrics XM Institute is working on a competency model to help organizations master XM Practices.
XM Perspectives. The combination of XM Practices and the XM Platform will help you develop strong capabilities. But you won't gain full value unless your organization's culture and mindset embrace the new XM operating model. At X4, I introduced five XM Perspectives listed in the next section.
Five XM Perspectives
During one of my presentations at X4, I discussed these five XM Perspectives:
Lead With Purpose. Purpose aligns, motivates, and empowers customers and employees, so leaders need to communicate and embrace a consistent vision and set of values.
Make Change A Habit. Organizations naturally embrace the status quo and resist change. So they need to create an environment that embraces ongoing improvements and innovation.
Propel Insightful Decisions. The value of and access to analytics is growing, but people don't often embrace the potential of these data insights. Organizations need to create a mindset for using XM data to run their business and evolve well beyond just looking for a readout of metrics.
Magnify Key Moments. Not every interaction is equal, so organizations must be comfortable identifying and disproportionally focusing on the most important ones. To understand how to improve those key moments, you need to look at them through the lens of a person's journey.
Always Focus On People. Experiences are created and consumed by human beings (customers, employees, and partners), so cater to how they think, feel, and act. People are complex, so we identified six key traits of human beings to focus on.
Charting Your XM Future
I hope that you're as excited as I am about the power of XM. I believe that it will be the core area of organizational transformation for the next decade. Companies that thrive will embrace XM to continuously learn, propagate insights, and rapidly adapt better than their competitors.
We're at the very early stages of XM, so there's a lot to do. Companies won't master XM overnight, it will take a multi-year journey to understand and embed the required platform, practices, and perspectives. That's why we're creating the Qualtrics XM Institute, to support you along the way.  Here are some ideas for accelerating your XM journey:
Build single experience skills. You can establish XM capabilities by starting or enhancing your customer experience (CX), employee experience (EX), brand experience (BX), or product experience (PX) efforts. Look to evolve from sharing actionable insights to redesigning processes that incorporate the insights.
Combine CX and EX efforts. Across our research, you'll find that CX and EX are inextricably linked. We've found that engaged employees are a fundamental building block to good CX. If you combine those two areas, you can build on a common platform, and establish a strong, combined set of practices and perspectives. Along these same lines, you can also add PX and BX to existing efforts.
Build up centers of excellence. To master XM, you'll likely need to develop new practices and perspectives across your organization. So identify one or two to start building. Here are some good areas to consider: experience design, advanced analytics, and developing a change-minded culture,
Engage a strong partner. Companies that embrace XM will go through substantive change over many years. And we all know that transformation isn't easy, or linear. Rather than trying to do it alone, look for a partner that can help you go through the transformation. Start by checking out these great companies that can help.
Pick a strategic XM platform. As you think about your organization's path towards XM adoption, you'll be able to build skills faster and deploy change more effectively if you lock into a single platform. Not surprisingly, I strongly recommend Qualtrics. While there are good point solutions in the market, there aren't any providers that come close to Qualtrics when it comes to overall scale, architecture, trajectory, and R&D investments—components that are critical for supporting a successful long-term journey.
The bottom line: To thrive in the future, embed XM into your operating fabric.