This week I gave a keynote at the Customer Experience Professional  Association (CXPA) Insight Exchange in New Orleans. As always, it was a great event; there's almost nothing better than a group of enthusiastic CX professionals!  We've come a long way since we had the first CXPA event at Fenway Park in 2011.
The Overall Storyline
My speech was entitled The Past, Present, and Future of CX(PA). The core component of my remarks was a story about where the CX profession was at the time we founded CXPA, where it is today, and where we're heading in the future. Here's a summary of that storyline:
Where We Were: Isolated and Emerging
In 2011 when we launched the CXPA, the CX profession looked a lot like young children playing soccer. There were a lot of people doing the same type of thing, but they didn't follow the same rules, didn't head in the same direction, didn't coordinate their efforts, and weren't making a lot of progress. Each player seemed to be unaware or disinterested in other members of their team.
Where We Are: Professional and Refining 
Today, CX is like a symphony orchestra. We look like a well-coordinated group. We use the same vocabulary, a common set of tools and skills, and share our learnings. We have many fans of the beautiful music that we create from the stage, but we're still playing to a limited audience. The symphony is not a wildly popular musical genre.
Where We're Going: Transforming and Distributed.
In the future, CX will look more like Habitat for Humanity. Rather than projecting our knowledge from a stage, CX professionals will work alongside other people in the organization, collectively supporting a diverse set of projects. CX professionals will apply their deep expertise where needed but will spend more time coaching and distributing skills to the rest of the collective workforce.
I described each of the phases along the following four dimensions:
Practitioners: What CX pros are up to
Practices: What skills CX pros are using
Providers: How CX vendors are involved
Province: The mindset of other stakeholders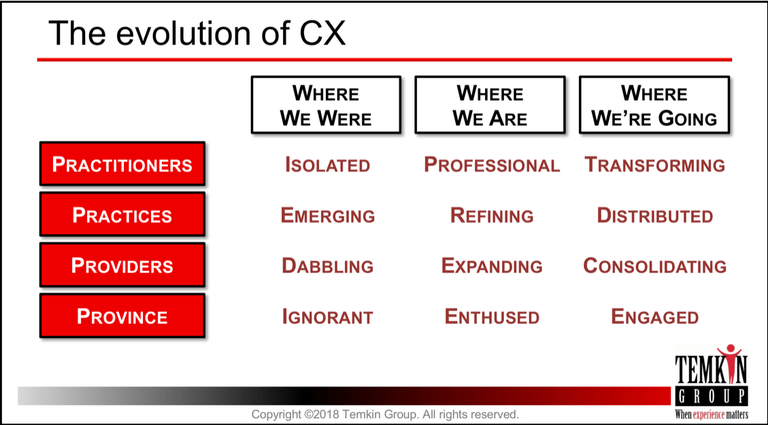 The Future: Federated CX Model
In the future, CX professionals will no longer be successful by just mastering tools like customer journey mapping, VoC programs, and experience design. We will need to distribute a bit of those skills and mindsets to other employees and partners across our organizations, so they can apply them in their day-to-day work. In this manner, we will be embedding good CX practices throughout the organization instead of just affecting the limited projects that we are a part of.
The approach for CX that will become more prevalent is what we call the Federated Customer Experience Model. It's built on three components: CX Centers of Excellence, Enterprise CX Coordination, and Distributed CX Skills and Mindset.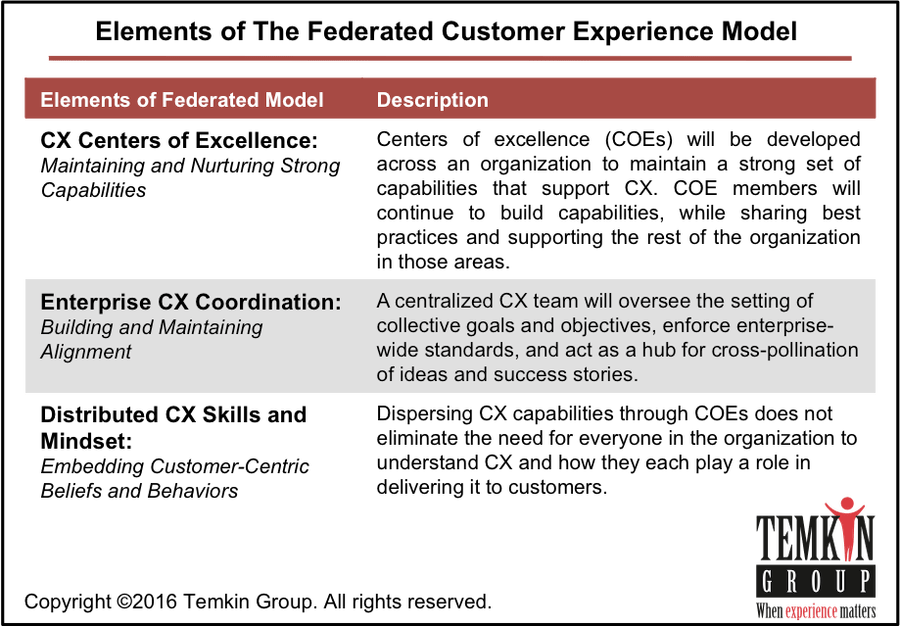 We further defined how the federated model will look in our report Propelling Experience Design Across An Organization.  To succeed, we need to focus on the needs of three types of employees:
Experts are highly trained professionals who use CX methodologies as an integral part of their everyday work. They are often housed in a centralized design team.
Boosters are employees who reside in different parts of the organization and have been moderately trained on CX methodologies, but it is not the core responsibility of their day-to-day work.
Dabblers are employees who have received basic training on CX methodologies, but use it only on an ad hoc basis. Instead of following strict processes, these Dabblers adopt the methodology to suit their own needs.
To get a sense of federation, let's look at customer journey mapping. Rather than just focusing on the few projects that experts can lead, we will want to enable employees across the organization to use the foundation of journey mapping in a lot of their work, which is described below in what we call the Customer Journey Mapping Pyramid.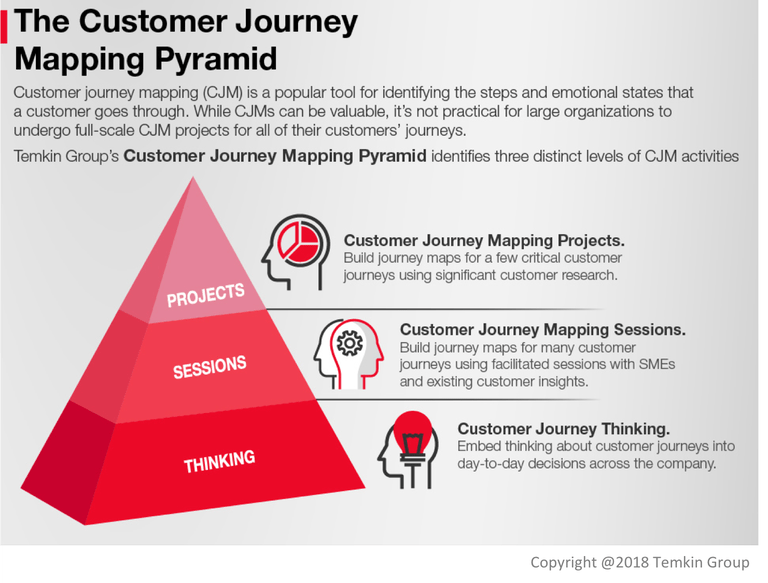 At the base of the pyramid is Customer Journey Thinking™. It's a very lightweight approach that almost all employees can use in their day-to-day work. All it requires is for them to ask (and answer) the following questions:
Who is the customer? Start by recognizing that different customers have different needs. So it's important to understand who the person is before we think about their specific journey.
What is the customer's real goal? To understand how customers will view an interaction and what's shaping their expectations, you need to think about what they are really trying to accomplish.
What did the customer do right before? (repeat three times) When customers interact with your company, it's almost always part of a longer journey. So you need to think about where they've been prior to the interaction in order to understand how they will respond to an interaction with your company.
What will the customer do right afterwards? (repeat three times) When customers interact with your company, it's almost never the last step on their journey. So you need to think about what they will do next to understand how you can best help them.
What will make the customer happy? Rather than just aiming to satisfy customers' basic needs, think about what it will take to provide each customer with the most positive experience–given what employees know about customers' real goals and their entire journeys.
My Recommendations
The future of CX and the profession is in all of our hands. We have the power to grow and evolve, and to make CX a source of differentiation for our organizations and an inspiration that improves humanity around the world.
My speech included references to Alexander Hamilton (along with several homages to Hamilton, the musical.) This quote captures my feelings about the future of our CX community:
Happy will it be for ourselves, and most honorable for human nature, if we have wisdom and virtue enough to set so glorious an example to mankind! – Alexander Hamilton
I closed out my remarks with the following recommendations:
Focus on people (employees and customers)
Connect CX to business and brand success
Stay positive and passionate
Support our collective community!
The bottom line: Our CX community can improve the world!
This blog post was originally published by Temkin Group prior to its acquisition by Qualtrics in October 2018.