I recently chatted with LEGO about their customer experience efforts; they've got a lot of interesting initiatives underway. One of the things that really caught my eye was a tool they call the "experience wheel." They were gracious enough to let me share it.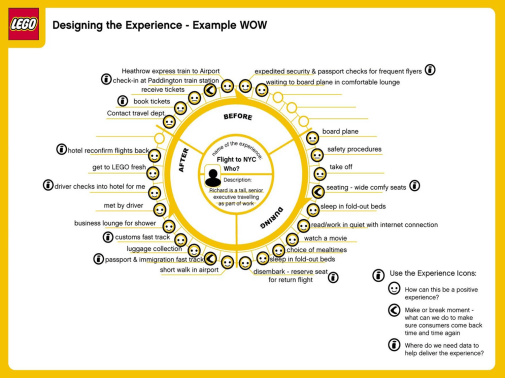 This is an example of the output after a couple of steps; showing an approach to design a WOW experience for a flight to NYC. Here are some of the reasons that I really like this tool:
It's great to have a formal approach to describing/designing experiences
It starts with the description of a specific customer (in the center)
It recognizes the life cycle of experiences: before, during, and after
It's easy to use and simple to understand
If you've got a tool that works for you, I'd love to see it!
The bottom line: Experience design can be a discipline!
This blog post was originally published by Temkin Group prior to its acquisition by Qualtrics in October 2018.