As you may know, XM Institute's goal is to create a thriving community of XM professionals. So I spend a lot of time thinking about the XM profession. From my vantage point, it's a great time to be an XM professional. The field is young enough that you can shape its evolution, impactful enough that you can improve your organization, and meaningful enough that you can leave your mark on the world. Who wouldn't want to be an XM professional?!
And XM Institute is here to help. Hopefully, XM professionals are tapping into all of our resources. If not, here's my recommendation for what you should be doing…
Subscribe to the Monthly XM Journal
XM Institute regularly publishes content that is meant to inspire XM professionals about the opportunities of XM and provide practical guidance in how to put XM into practice. We have lots of resources to help you succeed. Read about some highlights from Q1.
A great way to keep up with all of this content is to subscribe to the monthly XM Journal.
Join XM Pros
Launched in April 2020, XM Pros is a free community for XM professionals who want to learn, connect, advance their careers, and shape the future of the XM profession. We already have more than 3,500 members who participate in a variety of interactive offerings, such as the XM Pros Online Forum, Expert Q&A sessions, Topic of the Month discussions, Virtual Meetups, and, when safe, local in-person events. Highlights from last month include:
Virtual Meetups

focused on combating burnout on an organizational level. XM Catalyst Benjamin Granger, Ph.D., XMP, and XM Pros member Chris O'Neill led the conversation, highlighting Chris's experience at Mars. The group had an active discussion centered around whether the organization or individuals are responsible for combating employee burnout.

The

Topic of the Month

showcased a brief presentation from XM Catalyst Luke Williams on Demonstrating the ROI of XM. XM is a key differentiator, and it is more important than ever to be able to effectively measure and communicate the ROI of your XM program.

Discussions in the community

included measuring the ROI of XM in the public sector, expanding CX programs to other countries and best practices on managing global differences in responses, and determining who should conduct customer outreach for closed-loop follow-up with dissatisfied customers.
Earn Your XM Professional Certification
In February we introduced the XM Professionals (XMP) Certification, the world's first credential that recognizes an individual's professional experience and expertise in the discipline of experience management (XM). The goal of the XMP is to:
Establish the "XM Profession," by defining a clear domain of XM expertise

Recognize and celebrate the people who are mastering the XM discipline

Motivate people to enhance their XM skills and aspire to become XM Professionals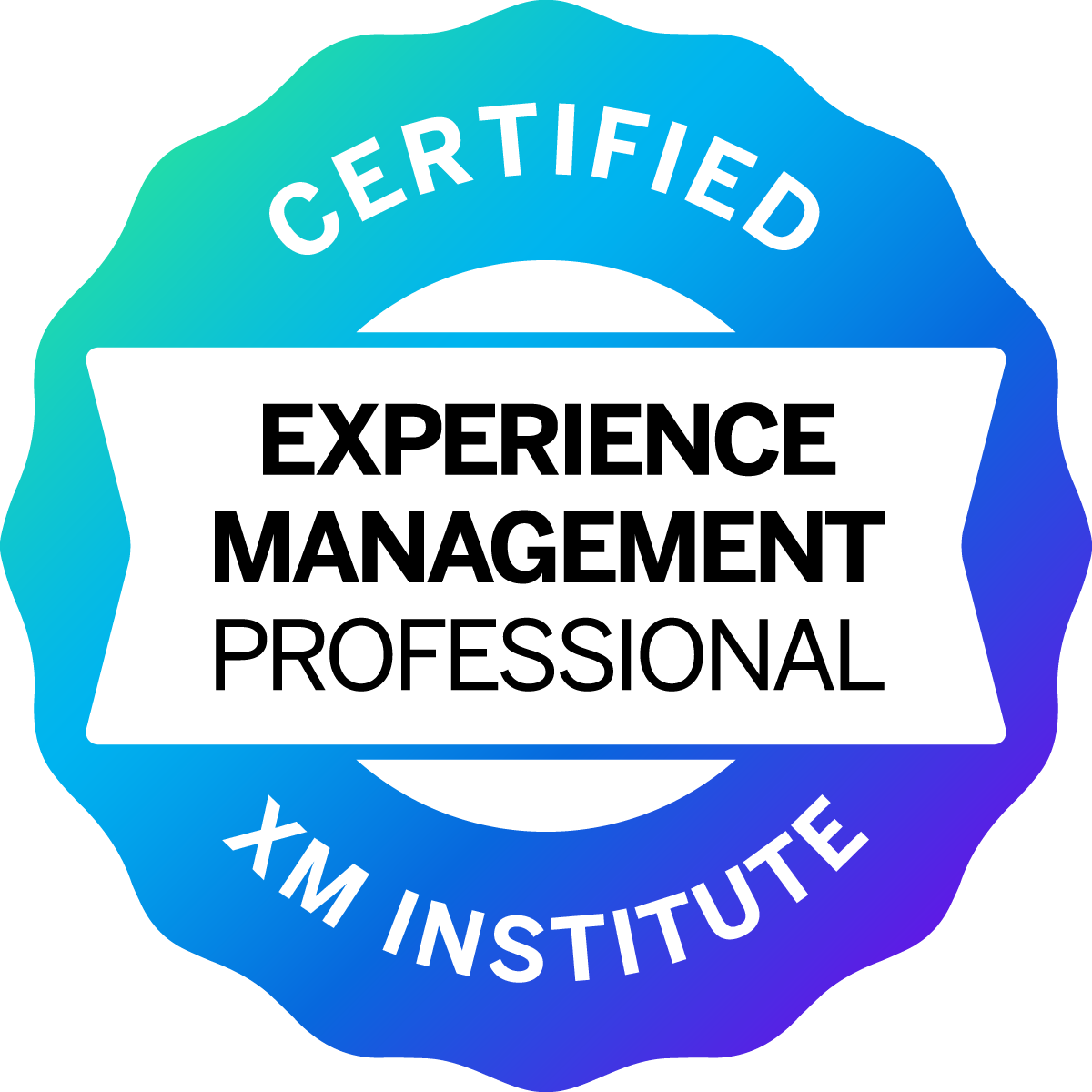 It's been great to see XM professionals around the world sign up for this important credential. Here's feedback from some of the early XMPs:
Phillip Bland, XMP

(Customer Experience and Insights Manager / Service NSW):




"

Becoming an XMP certified professional in a growing global community was intrinsically important to me, to have my skills and capabilities recognised via a robust assessment process validating my years of experience in the field. Being an XMP provides confidence to my internal and external stakeholders of my team's capability to implement high quality experience monitoring and design solutions. Experience management in government is a critical way forward to deliver outcomes for our citizens now and into the future. I am honoured and excited to play a role within government within the XM field, and to share practice and learn from professionals all over the globe

."

David Landman, Ph.D., XMP

(Global Head of Talent Assessment at Goldman Sachs):




"

XMP certification is a great validation of all that I've learned and experienced over the past 10+ years leading Experience Management. It feels really special to have the official 'credentials' from Qualtrics – demonstrating that I meet their high bar in terms of knowledge and experience to make the cut for XMP

."

Anusha Ramachandran, XMP

(Director, Customer Intelligence & Insights at Navistar): "

Earning the XMP certification serves as a validation of the knowledge and experience I have gained thus far in this discipline and has allowed me to build on my confidence and passion for serving as an XM Enabler and Change Agent. Sharing my accomplishment of earning the XMP certification has validated my ability to help move my organization further along in the XM journey and amplifies my interest and intent to grow into a successful XM leader

."

James Scutt, XMP

(Head of Customer Experience Strategy and Deployment at Post Office, Ltd.): "

I had been looking for a certification programme that would demonstrate my knowledge and experience of modern XM programme leadership, as opposed to a more traditional CX-only based certification. The XMP covered exactly what I was looking for across Customer, Employee, Brand, and Product Experiences. The XMP is a great way to bring an extra layer of credibility to my qualifications, while defining a high standard for XM Professionals. The credential also allows me to easily show my certification in the fast growing XM industry

."

Sean Clayton, XMP

(Head of Advisory Services at Walker Information): "

As the head of a team of XM Scientists at Walker, we are increasingly advising clients on engagements that span across different experience domains.  Mastering XM as a discipline and demonstrating proven expertise is mission critical to the strategic value of the guidance we are providing. The XMP is the only certification I've seen that does this holistically and which has the backing of the XM Institute to continue advancing XM as a discipline

."
If you're an XM Professional, consider applying for an XMP and take advantage of a 20% discount through the end of June.
The bottom line: It's a great time to be an XM Professional
Bruce Temkin, XMP, CCXP, is the Head of Qualtrics XM Institute