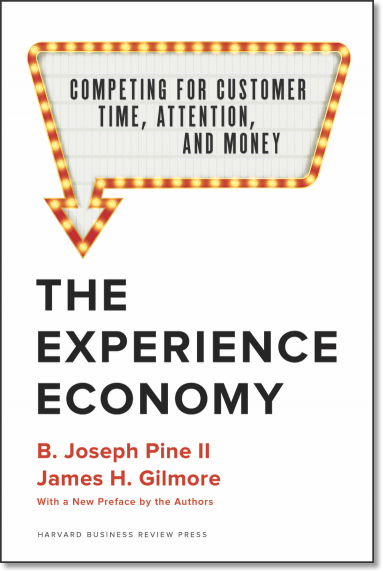 Welcome to the Experience Economy. That's the title from an HBR article written by Joe Pine and James Gilmore in 1998. It was a seminal article, laying out the important role that experiences play in building differentiation. Pine and Gilmore went on to write an amazing book, The Experience Economy: Work Is Theater & Every Business a Stage.
The Experience Economy was more than an article or a book, it was the start of a movement. And it continues on today. As a matter of fact, Pine and Gilmore are rereleasing the book with a new forward. They've also created an online training series focused on helping frontline employees stage remarkable experiences.
I caught up with Joe Pine during his global travels to discuss the Experience Economy. Here are his answers to some questions I posed:
Q: How has your view of the Experience Economy shifted since you originally introduced the concept?
Pine: Interestingly, not that much! My partner Jim Gilmore and I always thought that the experience staging would grow many-fold, that every year more and more companies would embrace the Experience Economy, and it would be both caused by and cause goods and services to be increasingly commoditized. One big difference is that we used to talk about the nascent, the emerging Experience Economy — and now we say it is here. Experiences have become the predominant economic offering, what people prefer over mere goods and services. I remember having to argue with people about it, making the case of the shift into the Experience Economy; now, however, I just describe it and everyone gets it.
Q: What role does new and emerging technology play in the future of the Experience Economy?
Pine: One of the big growth arenas is in experiences that fuse the real and the virtual, including virtual reality, augmented reality, and many more possibilities I wrote about in my book Infinite Possibility. Digital technologies also enable companies to mass customize their offerings so much more than in the past, for anything that can be digitized can be customized. And that's actually how I discovered the Experience Economy, by realizing that customizing a good turned it into a service, and customizing a service turned it into, yes, an experience! So companies can now know who their customers are, where they are, their context at this moment, and how to fulfill their individual wants, needs, and desires. The "Wow!" effect that engenders can turn such interactions into engaging experiences. I'm also enamored with the potential of 3D printing, for it makes matter programmable, effectively digitizing materials to be (almost) instantly customized to the individual.
Q: I like to talk about Experience Management as a discipline that need to be woven throughout an organization's operating fabric. How does that mesh with your view of the Experience Economy?
Pine: I think that's true — while companies can make progress by feel, by art rather than science, it will tend to be sporadic and lessen the chances of truly embracing today's possibilities. Also understand that many companies aim their Experience Management activities too low, at merely making their interactions with customers nice, easy, and convenient. These are all well and good — and often very necessary before proceeding further — but do not rise to the level of staging a true, distinctive experience. As a distinct economic offering, experiences are about offering customers time well spent, not the time well saved of services. So, yes, make the service aspects of your offerings frictionless, and then use the time saved to build atop this to offerings that are engaging, memorable, and personal, experiences that customers view again as time well spent.
Q: Can you share a couple of the coolest examples you've seen of a company shifting it's approach and embracing the Experience Economy?
Pine: My favorite experience stager these days is the Princess Cruise Lines unit of Carnival Corp. for its Ocean Medallion program. The Medallion is an IoT device (speaking of new technologies) that enables the cruise ship to mass customize everything on the ship — and eventually off it — to each individual guest, family, or other unit (such as wedding parties or reunions). Guests upload their passport data beforehand and then simply walk up and onto the ship without ever having to show it, as Princess crew members have tablets that identify each guest by name and picture based on their unique Medallions and welcome them aboard. Guests also specify their preferences before boarding, which Princess uses to create a mass customized itinerary that can be updated as it learns more and more about each guest. It can even learn about context, knowing for example that on the pool deck with the kids your favorite drink is an iced tea with no lemon, while in the bar with your buddies it's a coconut mojito, and at dinner with your spouse it's a glass of Shiraz! True, though, that as a cruise company Carnival has always been in the experience business, but now it is elevating that experience for every guest, eventually on every ship.
One of the cool things I see happening turning service providers into experience stagers is retailers, restaurateurs, and others actually charging admission for the experience! Next in Chicago, Trois Mec in LA, Noma in Copenhagen, and a host of other restaurants, for example, now have you go online to reserve a table, pay the admission fee, print out your tickets, and then present them at the reserved time for the dining experience. Even Venice, Italy, is starting to charge admission to alleviate the overcrowding in the city center.
And I'll also mention hospitals, of which so many are taking on experience-related themes or purpose statements, such as Holy Redeemer in Philadelphia with "My. Life. Story.", Mosaic Life Care in St. Joseph, MO, with "Live Life Well", or Mid-Columbia Medical Center in The Dalles, OR, with "Personalize. Humanize. Demystify." I work more in healthcare than any other industry for the basic reason that research shows that the better the patient experience, the better the outcomes, and that is what healthcare is truly about.
Q: What advice do you have for a non-traditional experience company like a chemical manufacturer or shipping company to embrace the Experience Economy?
Pine: It may seem like a stretch, but even B2B manufacturers or service providers. First, they can understand a basic principle that in today's Experience Economy, the experience IS the marketing. So they can stage marketing experiences that generate demand for their offerings., such as CASE Construction Equipment does with its Tomahawk Experience Center in the north woods of Wisconsin, or the World of Whirlpool on the banks of the Chicago River.
Any company can also turn mundane interactions into engaging encounters by understanding that work IS theatre. It's not a metaphor — work as theatre — but a model for work, understanding that whenever workers are in front of customers, they are on stage and need to act in a way that engages those customers. In shipping, a costumed UPS route driver performs an act of theatre with every package she delivers, while FedEx's overnighting is absolutely, positively theatre when its employees deliberately rush about to convey the impression of speed as the essence of the company.
Whenever I work with B2B companies I also make the same point as earlier that mass customizing their goods turns them into services, and their services into experiences — and that B2B customers can far better gauge the value of such customization than consumers can. Moreover, no business customer buys their offerings because they want their offerings; they are always the means to an end. If you supply the end rather than the means — and that means focusing (as healthcare should) on outcomes, not inputs — then you will gain much more economic value. In fact, you can then go beyond staging experiences to guiding transformations for your individual customers. And there is no greater economic value you can create than to help customers achieve their aspirations.
The bottom line: Make sure to read the book!