I recently had the opportunity to hear Derrick Hall, CEO of the Arizona Diamondbacks, speak at the Arizona State University, Center for Services Leadership (CSL) Compete Through Service Symposium. Hall was extremely passionate about customer experience. His goal: "Treat our fans, employees, and players better than any team in sports."
Hall's perspective as a senior executive was so refreshing that I scheduled a follow-up interview. The call started with some baseball talk (I confessed to being a passionate member of Red Sox Nation) and included a brief interruption by Tony La Russa, the Diamondbacks' Chief Baseball Officer. Needless to say, I really enjoyed the conversation.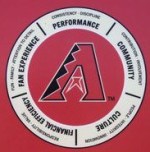 Hall joined the D-backs in May 2005 as Senior Vice President, Communications, was named president in September 2006 and CEO in January 2009. He proudly points to the core operating framework he adopted called the "Circle of Success." It describes how the Diamondbacks organization needs to focus on five things:
Performance (on the field)
Community
Culture
Financial efficiency
Fan experience
You can tell a lot about a person's true priorities when they are faced with difficult decisions. Last year was a very tough season for the Diamondbacks, winning the fewest games in MLB. It would be easy for Hall to blindly focus on the team performance. But Hall is so committed to the culture, fan experience, and community items that he told me that the organization was cutting baseball payroll this year instead of cutting those other items.
I asked Hall about the connection between baseball operations and the rest of the organization, which is an area that I've seen clearly split-up within other professional sports teams. Hall told me hated places that he had worked where there was a sense of "us" and "them." Hall lets players know that they are part of the broader organization and many of them show up with their families for team holiday parties and barbecues. Hall also actively encourages players to improve the fan experience. He sends handwritten notes to players thanking them for signing autographs during batting practice.
Hall talks about his "one fan at a time" philosophy. He explained that there is a lot of competition for fans' attention, and many things they could do instead of going to a Diamondbacks game. So he wants to be aggressive at winning and retaining every fan. That's why he implemented a customer service policy called FAWTSY (Find A Way To Say Yes). The organization quickly responds to every voice mail, text message, and email, viewing every complaint as an opportunity to improve. The team also assigns people to proactively reach out to every season ticket holder and holds focus groups with 20 season ticket holders on every home stand.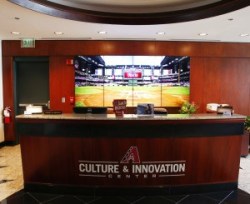 Despite the focus on fans, Hall made it clear that "the fan doesn't come first, employees do." He told me that if employees feel respected and taken care of, then they will treat the fans the way that the organization wants them to be treated (I couldn't agree more).
The Diamondbacks use several mechanisms to engage employees. Instead of celebrating people leaving with going away parties, the organization starts employees on the right foot with arrival parties. Hall also holds a "President's Roundtable Lunch" with 13 to 15 randomly selected employees every month. The first Friday of the month the team holds a session over lunch called "On the Couch with D-Hall," where Hall discusses what's going on with the team in the format of a late night show.
Hall takes culture so seriously that he renamed the front office as the "Culture & Innovation Center." The Diamondbacks have won a lot of awards for the quality of their work environment. According to the Diamondbacks website, the organization was named by Yahoo! as "the best workplace in sports" and named the "Most Admired Company for Workplace Culture" by AzBusiness Magazine and BestCompaniesAZ for the seventh consecutive year.
Hall sets the tone for his organization. He told me "I like to thank every one of my ushers with a hand shake and a hug" because he wants them to feel important. He sends the game day staff notes and letters and mentions them by name in the team magazine. He also doesn't believe in watching the game from a private box, unless he is hosting someone like the commissioner. He likes to sit with the fans and shake their hands and listen to what they have to say. He tries to get to any fan that is hit by a ball to make sure they are okay, then gives them his personal card. And when he sees trash on the ground, he does what he wants all of his staff to do–pick it up and throw it away.
What does Hall see as his next "big thing" in fan experience? Creativity in technology. He envisions a fan experience that blends the best of two worlds: the comfort and information watching the game at home on a large screen TV and the excitement of seeing a game live in the stadium.
I'm not surprised that Hall was named as the "Best Boss" in sports in 2013 by TeamWork Online.
The bottom line: Customer-centric organizations need leaders like Derrick Hall.
This blog post was originally published by Temkin Group prior to its acquisition by Qualtrics in October 2018.