As Aimee Lucas and I continue our series on the Customer Experience (CX) principles and practices that propel Employee Experience (EX) efforts, we arrive at my personal favorite – the measurement of X-data!
While the measurement of expectations, preferences, perceptions, and attitudes (X-data) is central to both CX and EX, it's interesting to me that professionals within the two fields often approach it differently. In some cases, the differences are necessary as the employee-organization and customer-organization relationships are fundamentally different. The next and final piece of our series will focus on these meaningful differences, but in this article, I focus on what shouldn't be different and present three measurement principles that are widely used among CX professionals that can drive EX measurement efforts forward. 
1) Transform traditional surveys into digital conversations
One of the most noticeable differences between EX and CX measures is the way items and questions are presented. Many organizations still rely solely on annual and biennial employee engagement surveys that include dozens of statements that employees either agree or disagree with. While there is nothing inherently wrong with this, CX professionals have learned that there are other approaches that can yield more actionable insights and create a better survey experience. To kick start this, take an existing EX measure and follow these 3 steps: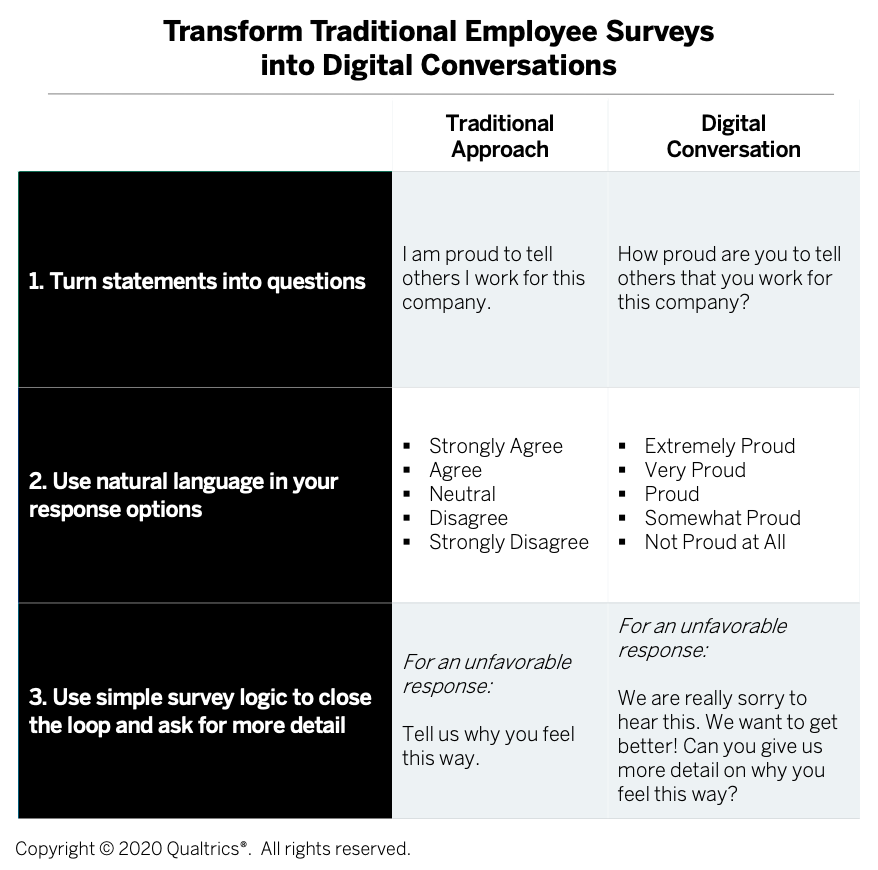 2) Instrument a mix of relational and transactional measures
While relational and transactional experience measures are well-established in both fields, I have found that CX professionals are generally better at instrumenting both within a holistic XM effort. For example, most organizations do some form of transactional measurement around specific moments across the customer journey, which complement and are analyzed alongside relational metrics like CSAT or NPS. Far fewer organizations have done this systematically within their EX measurement programs. And when this is done, it often takes the form of disorganized and non-strategic lifecycle and ad hoc surveys.
But employees go through meaningful journeys just like customers do, and integrating insights from both relational and transactional, journey-based EX measures makes perfect sense. To get started on this path, take these three simple steps: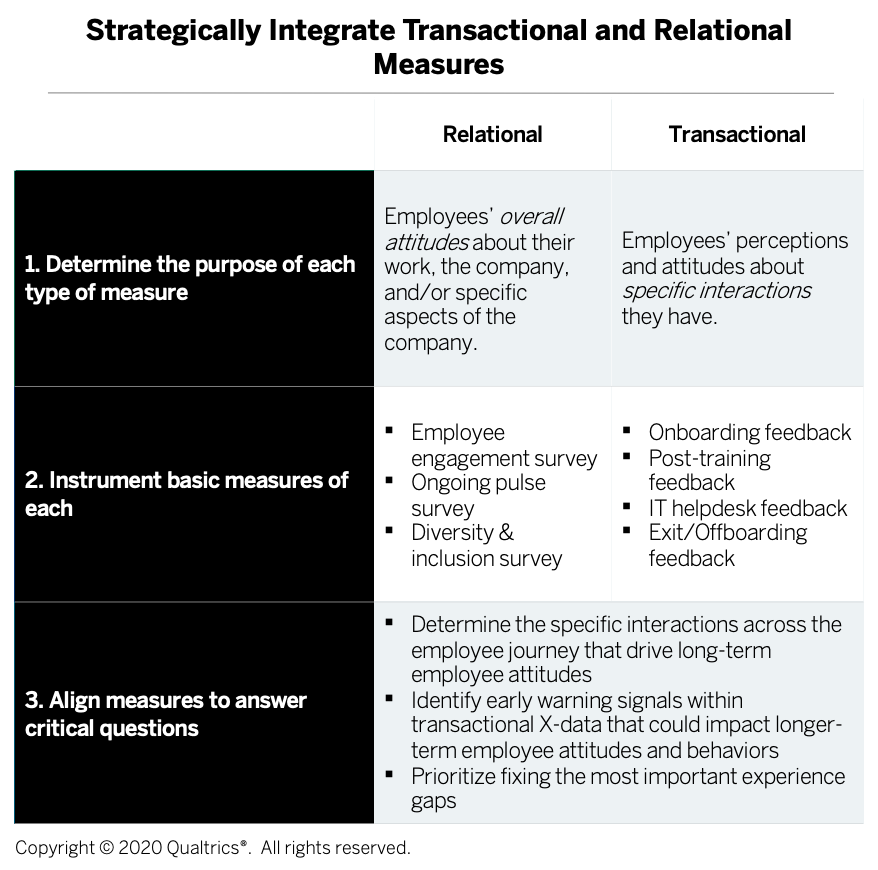 3) Make feedback a part of the experience
Another measurement tactic that CX professionals use extensively is embedding measures of experiences within the experiences themselves. One of my favorite examples of this is rideshare, which most of us are very familiar with. The final step in the process of taking a ride is giving feedback on the ride and our driver. In other words, giving feedback is built into the rideshare experience itself. 
This is relatively easy for digital employee experiences like completing the online job application, enrolling for benefits, or submitting an IT ticket. But this isn't always possible or relevant for all experiences. So what about experiences that are not directly digital? Think about the experience or journey from the employees' perspectives and answer these simple questions:
How critical is this particular journey to employees and is it worth measuring? 

What technologies are the employees likely using or have access to during the experience? 

What is the most seamless way to ask for their feedback? (e.g., email, digital intercept, follow up email, etc.)  
The answers to these questions will help you identify better and more seamless ways to collect feedback from employees. 
While meaningful differences do exist between the relationships employees and customers have with organizations, the similarities are far more abundant. The three measurement principles outlined in this article will help organizations create consumer-grade EX measures and take one step closer to aligning XM efforts.
This blog post is the third in a series of more in-depth pieces on this topic. The first installment is a webinar on Getting Started Adopting CX Principles to Propel EX Management, and the second is a blog post on Three CX Principles that Can Help Propel EX. 
Benjamin Granger, Ph.D., is an XM Catalyst with the Qualtrics XM Institute